Kid who protested Emergency - Nagpur's Mr Popular set to don CM mantle
Read more below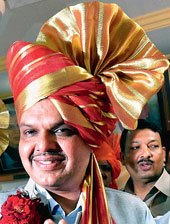 ---
Published 29.10.14, 12:00 AM
|
---
Fadnavis in Mumbai. (PTI)
Nagpur, Oct. 28: Corporator at 21, mayor at 26, now chief minister-elect at 44 — Devendra Fadnavis has always been an early starter.
But the state BJP chief's first political act should be a record-breaker: he was hardly five or six.
At first sight, it was a childish tantrum: Devendra was refusing to go to his school, Indira Convent. But the Nagpur kid had a political reason.
The Emergency was in force and his father Gangadharrao, a struggling politician from BJP-parent Jan Sangh, had been jailed for joining anti-government protests.
"He refused to go to a school named after the Prime Minister whom he blamed for jailing his father," said an old friend, journalist Yadu Joshi.
Devendra was shifted to Saraswati Vidyalaya, from where he passed his boards.
Joshi was narrating the tale soon after Devendra was elected BJP legislature party leader today, paving the way for him to become Maharashtra's first BJP chief minister and its second youngest after Sharad Pawar (aged 37 in 1978).
With the BJP the largest single party, Devendra said the governor had invited him to form the government. He will be sworn in at the Wankhede Stadium at 4.30pm on Friday, party general secretary J.P. Nadda said.
"We wish to take the Shiv Sena along but since this process (talks) is taking time, a small cabinet will take oath at the swearing-in. The talks with the Sena will continue," Nadda added.
'Good' & 'grounded'
"I'm extremely happy and proud today," Devendra's mother Sarita, a homemaker, told a TV channel at the family's home, from where he must now shift to Mumbai. "But I'm also worried, for it is a crown of thorns."
Those who know Devendra believe that the pragmatic and "grounded" politician with understated self-confidence and cool efficiency would handle the job with a maturity beyond his years.
Count among them the man he will replace in the hot seat. Congress leader Prithviraj Chavan described Devendra just a fortnight ago as "an outstanding parliamentarian" and a "good person" who would make "a competent chief minister".
"He'll certainly give a transparent government to Maharashtra," said a neighbour as he set off fireworks in front of the Fadnavis home, a stone's throw from a Rashtriya Swayamsevak Sangh shakha.
Sarita recalled that roughly at the same time he had changed schools, Devendra had begun attending the morning exercises at the shakha.
It's a bond that has never weakened, with the young man joining the Akhil Bharatiya Vidyarthi Parishad as a first-year college student in 1989, becoming a councillor in 1992 and Nagpur's youngest mayor in 1997. Two years later he was in the Assembly, aged 28.
Yet, people from both the BJP and the Congress say, the ever-smiling law graduate is seen as a moderate because unlike the hawks in the city where the Sangh is headquartered, he listens to everyone irrespective of ideology and is unassuming and accessible.
Goodwill galore
Devendra has been a rare politician who enjoys goodwill among their opponents, as Chavan's praise exemplifies.
As crackers burst in Nagpur to celebrate the imminent crowning of the first chief minister from the city, this correspondent saw several local Congress leaders beaming in satisfaction.
It wasn't just hometown pride or the boost to the Vidarbha statehood demand, for which Devendra has been a staunch campaigner and his party a supporter-in-principle. It had a lot to do with the man's personal qualities.
Devendra's well-wishers included the late Congress leader Shrikant Jichkar, a former minister in the Rajiv Gandhi cabinet, who spoke highly of the then twenty-something lawmaker's knowledge of economic matters.
After every budget, Jichkar used to analyse it for the public at an auditorium in Nagpur. Devendra never missed the event despite his ideological opposition to Jichkar's politics.
After Jichkar's death in an accident in 2003, Devendra on his own came forward to continue his legacy by holding the event every year.
But his popularity extended beyond party politics --- till his marriage, Devendra was Nagpur's most eligible bachelor, a label regularly prefixed to his name in newspaper articles.
He is now married to Amruta Ranade, associate vice-president and branch head with Axis Bank, and has a daughter.
A food aficionado, Devendra faced a major weight problem till he brought it under control a few years ago, after which he even modelled for a local clothes brand and his posters dotted the city.
Like father…
Many see in Devendra a reflection of his hardworking and soft-spoken father. When Gangadharrao entered active politics four decades ago, old-timers say, the Jan Sangh had no takers in RSS hub Nagpur.
But a string of humiliating electoral routs failed to deter Gangadharrao, who eventually built a local base for the Jan Sangh and later the BJP by winning over the Dalits and backward classes.
"Gangadharrao was a skilled organiser, a man of the masses. This boy has fully inherited his father's values and virtues," Devendra's aunt Shobhatai Fadnavis, a minister in the former Sena-BJP government, told a news channel. Shobhatai is now a member of the state legislative council.
When Gangadharrao, who never won a popular election but became a member of the legislative council, died in 1988, Devendra was a teenager.
"He wanted to follow in his father's footsteps and join electoral politics but waited till he graduated in law because he felt it would aid his political career," Sarita said.
Two mentors
After a stint in student politics, Devendra joined the Bharatiya Janata Yuva Morcha, the party's youth wing, while doing his LLB from Nagpur University, around the time L.K. Advani was touring the country on his Ram rath.
Then Nitin Gadkari brought him into the BJP and became his mentor, paying his debt to Gangadharrao who had initiated him into politics.
After entering the Assembly, the young Devendra drew attention with his grasp of issues, clear reasoning and skilful articulation during debates. One of those keenly impressed was Gopinath Munde, who took Devendra under his wings.
Munde needed a counterweight against Gadkari and the young lawmaker provided him with just that. By 2002-2003, Gadkari and his former protégé had begun drifting apart.
Had Munde not died in a road accident in June, he would have been the favourite to become chief minister, a post Devendra has now bagged defeating a last-ditch show of strength by Gadkari.
"A combination of perseverance and opportunity has brought Devendra where he is," said the chief minister-designate's close friend Sandip Joshi, a BJP corporator.
"I remember Munde today," Devendra said in his first reactions this evening.
Last lap
Devendra's stature had risen dramatically when the BJP appointed him head of its Maharashtra unit last year in the lead-up to the Lok Sabha and Assembly elections.
When Narendra Modi praised him at an election rally in Nagpur, it was an unmistakeable sign to the party seniors who fancied themselves the young state chief's rivals.
Sarita said her son might someday want to shift to New Delhi. Devendra too has never made a secret of his national ambitions.
A few days ago, during an informal chat, he told this reporter he had been interested in contesting the Lok Sabha elections but drew back when he saw Gandkari was eyeing a move to the capital. Ironically, Gadkari tried a switch back after the state elections but failed.
Of all Devendra's real and purported ambitions, one is looking more and more difficult by the day. "He still wants to earn a doctorate in law, despite his busy schedule," Sarita said.
With the schedule now bound to get busier, this is one thing that could remain a stubborn spoiler in a glittering CV of early starts.