Kerala's fresh challenge: Fighting ostracism virus
People returning from abroad or other states are branded as 'carriers'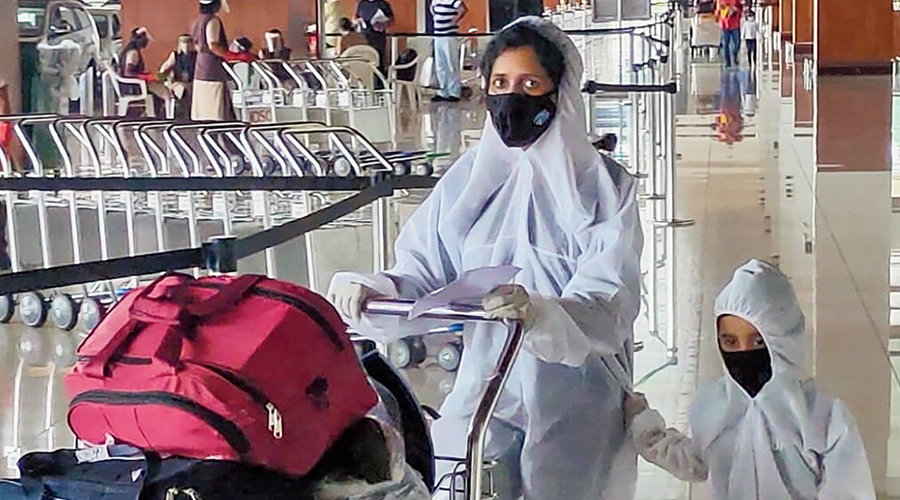 ---
---
Kerala, praised for its handling of the Covid-19 crisis, faces a fresh challenge: that of people returning from abroad or other states being branded "carriers" and ostracised.
The trend has surfaced at a time the state is witnessing a new wave of infections following the relaxation of travel restrictions that has allowed many Keralites to return home.
A thirty-something man returning from the Gulf was shocked when his family refused him entry — and even a glass of water — in Edappal, Malappuram, on Sunday morning.
The devastated man, who cannot be named, was then taken to the nearest quarantine centre by local health official N. Abdul Jaleel.
"He had chosen his ancestral house for home quarantine since his aged parents-in-law, wife and kids live in his own house nearby," Jaleel told The Telegraph on Monday.
"But his joint family feared that allowing him in would expose them to infection," Jaleel said.
Also on Sunday, an ambulance driver was beaten up after he took two youngsters, who had arrived from Udupi in Karnataka, to an institutional quarantine centre at Eroor, Kollam.
A local man attacked the driver after learning from him that the two passengers had come from outside the state. The driver needed hospital treatment for his bruises. His assailant has been booked for assault.
Many others too have spoken of the way "outsiders" are evoking fear among Keralites.
A Bangalore-based central government employee who recently visited his ailing parents in Kozhikode felt his presence was making some of his neighbours fearful.
"I could feel their fear. Some of them wouldn't even come out of their homes when I greeted them from the street. Perhaps they thought that anyone coming from Bangalore was a carrier," the official, who declined to be named, said.
A state government official who had to go on home quarantine in Kottayam last month after returning from Chennai said his neighbours openly showed their fear of him.
"My immediate neighbours even kept their windows shut," the official, who didn't want to be named, said.
"One evening my son, who resembles me, went out to buy milk. Soon, the police paid me a visit after a neighbour complained that I had stepped out," he said.
"But I must appreciate the efficiency of the police, who were at my home even before my son had returned with the milk."
Kerala had witnessed the cost of Covid-19 ostracism early during the epidemic when many patients from Kasargod, suffering from other diseases, were denied entry into Karnataka's Dakshina Kannada for treatment and died in ambulances waiting at the interstate border.
Dr Mohammed Asheel, executive director of the Kerala Social Security Mission, a state health department arm and one of the pivots of the state's fight against the virus, said his department had already engaged the local bodies in creating awareness.
"We have increased surveillance to avoid such incidents," Asheel said. "The government's stand is that no one should be harassed in the name of Covid-19."
The campaign with the slogan "Fear the disease, not the patient" is visible across the state.
A judicial member of the state human rights commission, P. Mohan Das, said he would initiate action against any assaulters.
"Some people are genuinely afraid about visitors carrying the virus. But that doesn't mean they can beat up anyone," Das said.