Kerala damage-control on CAA, temple cases
The state cabinet took the call over the widespread demand from Opposition parties to withdraw the cases, provided the charges are not serious in nature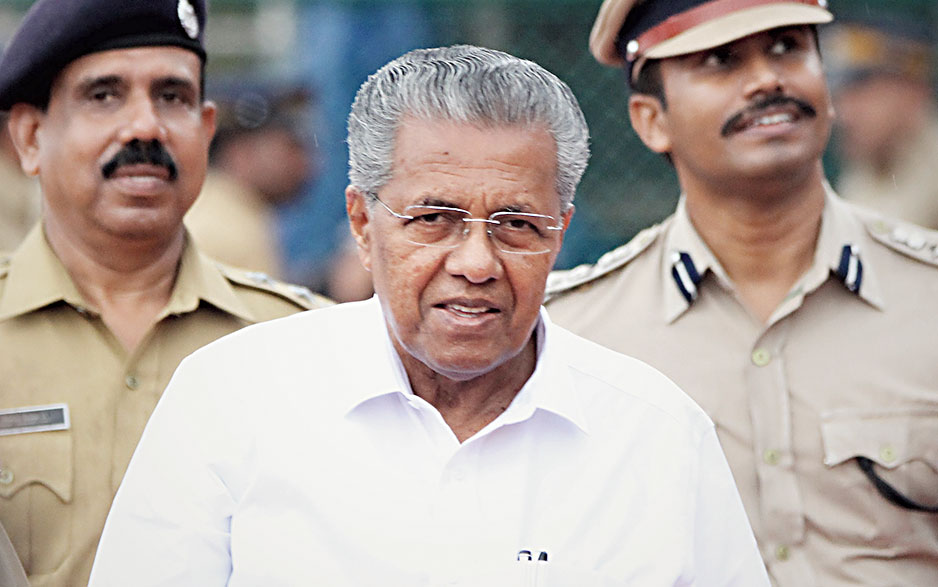 ---
Bangalore
|
Published 25.02.21, 01:34 AM
|
---
The Kerala government has decided to withdraw all non-serious cases against those booked for protesting against the citizenship matrix and women's entry to the Sabarimala temple in a significant pre-poll move.
The state cabinet on Wednesday took the call over the widespread demand from Opposition parties to withdraw the cases, provided the charges are not serious in nature. But it did not explain what kind of cases would be withdrawn since most of them were booked under criminal offences such as rioting and unlawful assembly.
The Opposition welcomed the decision, but they expressed a larger concern on how the prosecution would decide what is a serious case and what is not.
Leader of the Opposition Ramesh Chennithala described the decision as "wisdom that dawned late."
 "We have been demanding this for a long time. We are happy that the government has taken this decision at least now," Chennithala told reporters.
There is no clear idea about how many people have been booked for taking part in these protests. But Opposition parties have all along claimed thousands were booked under charges ranging from rioting to unlawful assembly for protesting against the Citizenship Amendment Act. 
A large number of people were also booked over protests against the Left Democratic Front government's decision to implement a court order that lifted all age barriers for women's entry to the hill shrine.
Massive protests had rocked the state for several months after the government decided to implement a September 2019 Supreme Court verdict that allowed women of all ages to enter the Sabarimala temple. 
The protesters argued that allowing women of childbearing age was traditionally disallowed since the deity, Swami Ayyappan, is a "perpetual celibate".
But the Left government had backed anti-CAA protests in the state that saw some of the biggest rallies against the law that discriminated against Muslims. Yet thousands more, including writers and scholars, were booked under similar charges for merely expressing solidarity with the anti-CAA movement.
Chief minister Pinarayi Vijayan who had informed the Assembly in January that no cases have been booked against anti-CAA protesters had come under fire when details emerged about hundreds of cases.
The Kerala chapter of National Confederation of Human Rights Organisations had secured details of 519 cases filed between January 1 and March 23 last year against anti-CAA protests after filing a series of RTI applications in several districts in the state. 
While majority of the cases were booked against Muslim right wing parties such as Welfare Party of India (WPI) and Social Democratic Party of India (SDPI), and Congress party, a handful of cases were slapped on Left parties and their student wings, as well.
Sajeed Khalid, state secretary of the WPI welcomed the withdrawal of cases. "Taking it at face value, we welcome the decision. But we want clarity on what are serious and non-serious cases," he told The Telegraph.
A state-wide shutdown organised by the WPI, SDPI and some Dalit organisations on December 17, 2019, had ended up 46 people including its leaders and some well-known scholars and writers, who had only expressed solidarity, getting slapped with cases. 
 "We hope this is not just a pre-poll gimmick and the cases will be withdrawn," Khalid added.