Kashmir: Place with no news even about ourselves
Life in the time of lockdown: When little else works, poetry might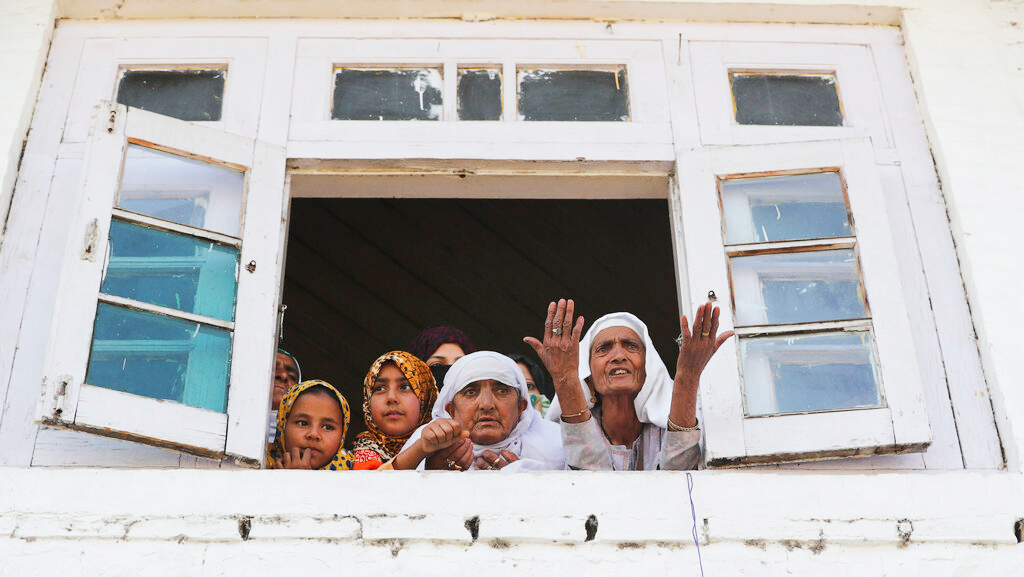 Kashmiri women watch a protest march from the window of their house in Srinagar on Friday, September 13, 2019.
(AP)
---
Anantnag
|
Published 15.09.19, 08:25 PM
|
---
The past five weeks have successfully insulated us from the outside world as well as from each other even in the immediate neighbourhoods. Through some divine providence, it dawned on me that the only way to negotiate with the seclusion, which has all the trappings of a medieval siege, was through the aid of poetry — Farsi, Urdu and Kashmiri.
The overwhelming "de-communication", aided by visibly brash state control on people's movement, pushed me to attribute new values to the rhymes from old bards. This verse from Mirza Ghalib, Urdu's most famous poet, has become biographical as well as therapeutic: Hum wahan hain jahan se hum ko bhi/ Kuch hamari khabar nahin aati (We are at a place where we receive no message even about ourselves).
A little more than a month into the officially enforced blockade, when I finally managed to speak to my sister in Nairobi thanks to a partial lifting of the ban on landline phones, I heard a poignant story about the death of an acquaintance's sister.
Gulshan Majeed, former university professor and a known literary critic, lost his sister in early August. The information could not travel from Anantnag town to Majeed in Srinagar, a measly 50km away. So he remained oblivious to the tragedy and couldn't attend her funereal rites or other rituals.
Around mid-August when my maternal uncle, a retired senior bureaucrat, and his wife returned from the Haj pilgrimage, we — my mother and I — kept guessing like the astrologers of yore. Only 6km separated us but it took us a week to actually receive the news and another two weeks to meet them in person.
For the first few days, I retained my curiosity about the outside world, political developments, my mobile phone, social media and possible e-mail messages. As the days waned into an ever-expanding monochrome of unyielding blockade, I started to grow confident about dealing with my solitude through the age-old wisdom of our sages.
A verse from Lalla Ded or Mother Lalla, a 14th-century saint who is buried in my hometown yards away from the historic Jamia Masjid, enamoured my thoughts.
Guran dupnam akui wachun/ Neabra dupnam ander achun (My guru gave me only one advice: From the outside return inside).
For the first three weeks, my family or siblings had no inkling if we were alive. When I finally managed to call a family friend in New Delhi to pass on the message to my wife and children in Lahore and London, and siblings in Nairobi and Melbourne, they cried in collective relief.
Exchange of messages with my wife through an unaccustomed medium gifted me new meanings for this wonderful and romantic verse from Dag Dehlvi, one of Urdu's classical giants: Chahiyay paighamber donoon taraf/ Lutf kya jab doo ba doo honay lagi (A messenger is needed from both sides: What's the fun in interacting face to face).
After a little more than four weeks, when I connected to my wife on the landline, which had suddenly been restored, all she could muster was a sequence of uncontrollable sobs. Having practised for such a scenario in my mind for weeks, I was able to calm her sooner than expected.
My four-and-a-half-year-old daughter was, as usual, demanding but her tone sounded subdued as though she understood the unwholesome current of the time. "Baba, please tell the army to restore the Internet so I could do a video call."
Her innocent commentary felt like a throbbing stab of pain that made me cry well into the night. There was little else to relieve the agony.
My initial response to the curfew that followed the constitutional clear-out was to remain wilfully ignorant about the "news" generated at an industrial scale to safeguard the ever-expanding frontiers of national interests.
Regardless of my caution, I was regularly subjected to a digested version from a variety of characters in the neighbourhood — from the doodhwala to old ladies and a plethora of officials, retired and in service, who felt compelled to hang on to the only possible vocation in the circumstances. Everyone could see the glaring anti-Kashmiri hatred and the obvious but infantile triumphalism trumpeted with a religious zeal.
Occasionally, I also benefited from a few Kashmiri newspapers that started to publish from the third week of the siege. Certainly, they seem to have been emasculated into extended official bulletins that are a reminder to the glorious days of the USSR's Pravda news agency.
In the official imagination, everything is normal with schools and government offices functioning with little or no aberration. One particular news caught my fancy. It quoted national security adviser Ajit Doval as saying most Kashmiris were happy at the abrogation of Article 370.
Since we are blessed to live under the largest (and perhaps the heaviest) democracy, it was easy to understand that we had been quarantined for our own safety, lest we burst into a frenzy of joy and cause self-harm. Since this had an overwhelming democratic approval, I had no choice but to feel blessed.
The only reality in currency is fantasy. Any suggestions otherwise is worthy of nothing but guillotining.
In such a situation, I have been consoled by a Farsi verse of the universally famous Rumi, the Sufi poet. Mun ghung khawab deedam-o-aalum tamam kurr/ Mun aajizum zi guftan-o-khalk az shaneednush (I, the mute, saw a dream but the whole world is deaf; While I can't speak, they are unable to hear).
Kashmiris are overwhelmed by a feeling of loss and an extreme existential crisis. A famous son of Kashmir, Allama Muhammad Iqbal, of Sare jahan se achchha Hindustan hamara fame, offers a candid piece of reasoning: Taqdeer kay kazi ka yeh fatwa hey azl say/ Hey jurm-e-za'eefi ki saza marg-e-mafajaat (The eternal decree from the Judge of Fate is that the frail only deserve death).
Murtaza Shibli is a British Kashmiri author and journalist who lives between Srinagar, Lahore and London. Shibli dictated this article over a landline phone to Subhajoy Roy of The Telegraph in Calcutta on Saturday night.
Twitter: @murtaza_shibli