Kashmir MP sets terms for contesting
Baramulla MP and NC leader Akbar Lone set the condition of restoring the pre-August 5 position for contesting in polls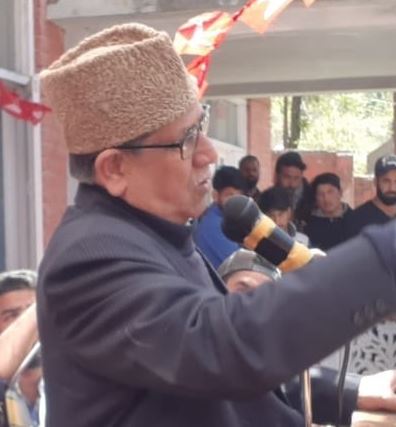 ---
|
Srinagar
|
Published 08.01.20, 10:28 PM
---
A National Conference MP on Wednesday said his party would not contest any election till Jammu and Kashmir gets its special status and statehood back.
The pledge comes at a time the rival People's Democratic Party is staring at a crisis after some of its leaders acquiesced to the decision to scrap the status and conduct business with Delhi.
Baramulla MP and NC leader Akbar Lone set the condition of restoring the pre-August 5 position for contesting in polls, referring to the twin decisions that day which led to scrapping of Article 370 and the bifurcation of state into two Union Territories.
"We won't take part in the elections till that is done," Lone told reporters after a party meeting.
An NC spokesperson said it was Lone's personal opinion and any call on it will be taken by the party leadership after they are out of jail. NC leaders Farooq Abdullah and Omar Abdullah are in jail.
Eight former ministers and legislators, all previous or current leaders of the rival PDP, on Tuesday presented a memorandum to lieutenant-governor G.C. Murmu, seeking the return of statehood and domicile rights for permanent residents.
They included three former ministers Altaf Bukhari, Dilawar Mir and Ghulam Hassan Mir. Bukhari and Hassan are no longer part of the PDP. The other five former legislators are still part of the party.
This is seen as a precursor to the launch of a third front which is willing to do business with Delhi without asking for the restoration of the special status.
Sources close to them said they are roping in more leaders from different parties and their numbers are likely to swell in the coming days.
A PDP source said the leadership alone could take any action. "Our top leaders including Mehbooba Ji (Mufti) are in jail. They only can take any action," he said.
PDP spokesman Firdous Tak said the leaders met the lieutenant-governor in their personal capacity. "They did not represent the PDP during the meeting," Tak said.
One of the eight leaders who met Murmu said they were floating a new party "which will think on different lines", unlike the NC and the PDP. "The old parties have lost their relevance," he said.
Lone, the MP, said politicians would be used and thrown by New Delhi. "They do not have any public standing and will be rejected by people," he said.