Kashmiri pandit businessman's daughter dares his killers
In a string of attacks, Makhan Lal Bindroo, 68, a pharmacist, and Virendra Paswan, a non-local vendor, were gunned down on Tuesday by militants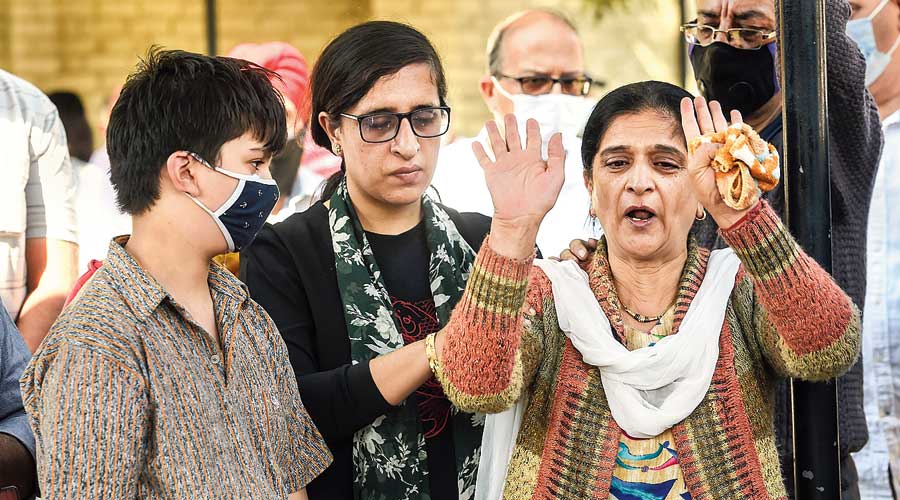 Smriddi Bindroo (centre) in Srinagar on Wednesday.
PTI
---
Srinagar
|
Published 07.10.21, 01:59 AM
|
---
The daughter of prominent Kashmiri Pandit businessman Makhan Lal Bindroo, who was killed by militants on Tuesday evening, has vowed to follow in her "fighter" father's footsteps and dared the killers to have a debate with her and prove that they are right.
In a string of attacks, Bindroo, 68, a pharmacist, and Virendra Paswan, a non-local vendor, were gunned down on Tuesday. Militants have carried out several attacks targeting BJP men, non-locals and Kashmiri Pandits since the 2019 scrapping of the state's status.
"I don't have a single tear in my eyes. Because he (Bindroo) is (was) a fighter. He died like a fighter. He always said I will die with my shoes on," Smriddi Bindroo, an academic, said at her residence in Srinagar's Indra Nagar locality.
"Whoever is the person who shot my father dead, mister, come in front of me, if you have any education. My father gave me education and politicians gave you guns and stones, you want to fight with guns and stones, that is cowardice."
Bindroo and his family never migrated from Kashmir even during the peak of militancy in the 1990s. In the last 30 years of militancy, Bindroo was joined by his wife at the pharmacy daily where they dispensed medicines during the day and returned home late in the evening.
Bindroo's death is being seen as a setback to the process of bringing back migrant Kashmiri Pandits.
Among many who visited Bindroo's Indra Nagar residence was former chief minister Farooq Abdullah.
Smriddi proudly recalled her father's contribution in giving them the best education. "I am an associate professor, I started from zero. My father started with a bicycle. My brother is a famous diabetologist today. My mother sits in a shop. This is what Makhan Lal Bindroo made us. A Kashmiri Pandit, he will never die. You can just kill the body," she said.
She challenged the militants to a "face to face debate" if they had "guts and courage".
"Then we will see what you are. When you can't utter a word, then you will understand that you can only throw stones and open fire from behind," she said.
Smriddi appeared to be arguing that the gun-wielding militants lacked education and were being misused by politicians, in line with the dominant narrative in the country.
However, many in Kashmir argue that militancy has attracted many educated youth, who have taken up arms after all peaceful means to achieve their goal failed.
"You have killed a body, but what that body produced is me. This is what I am, my father's daughter," the young academic, in her 30s, thundered.
"I being a Hindu (but) have read the Quran and the Quran says that the body will die but his spirit stays. Makhan Lal Bindroo will be alive in spirit."
Smriddi said she used to ask her father if he was scared. "He would say: 'If I live in fear, then every day will become difficult to live. If I die, it will only be once,'" she quoted her father as saying.
Siddarth, Bindroo's diabetologist son, said he had expected his father to die a natural death.
"That is because he lived a natural life, an extraordinary life. He made a name for himself as a pharmacist, became famous because he was a man of principles. He sold genuine medicines. All, young and old, loved him," he said.
The doctor said he had moved out of Kashmir for work, but his father encouraged him to come back.
Siddarth said they had no information about any threats received by his father, adding that he would have continued going to the shop even if he had.