Kashmir list bares fears of demographic changes
Local and Muslim officers can hardly be spotted in key positions in the new Union Territory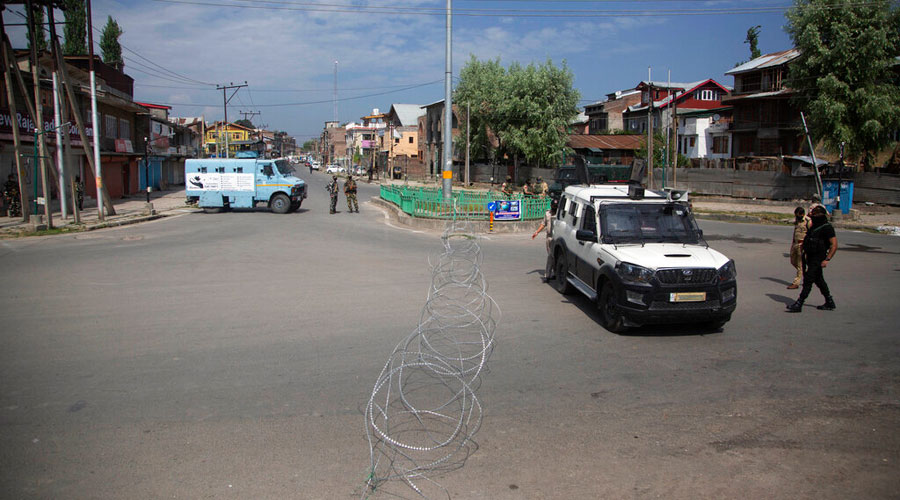 Soldiers patrol a road during curfew in Srinagar on Tuesday.
AP
---
Srinagar
|
Published 05.08.20, 03:35 AM
|
---
The Jammu and Kashmir Raj Bhavan's official website perhaps provides a hint of why the fears of demographic changes in the new Union Territory might not be unfounded.
A year after the scrapping of Article 370 on August 5 last year, Kashmiri and Muslim officers can hardly be spotted in key positions in the new Union Territory, accentuating the apprehensions of the Muslim-majority population.
The Valley accounts for ne-arly 55 per cent of Jammu and Kashmir's population. Muslims, who include those from the Valley and Jammu, make up nearly 70 per cent of the Union Territory's population. The population of 16 of Jammu and Kashmir's 20 districts is predominantly Muslim.
The make-up of Lt Gov. G.C. Murmu's secretariat, however, does not reflect even the semblance of a proportional representation. None of the 13 officers named in the Raj Bhavan website as members of the LG's secretariat is Muslim, nor is any of them from the Valley. Murmu, a 1985-batch IAS officer of the Gujarat cadre, is from Odisha and had served as principal secretary to Narendra Modi when he was Gujarat chief minister.
A Kashmir administrative officer said the process of keeping Kashmiri and Muslim officers away from key positions started after Mehbooba Mufti lost power in 2018. "It picked up pace over the past one year," he said.
The BJP's Kashmir face, Sofi Yousuf, denied his party had any plan to change the demography. "We need the people of Jammu and Kashmir first…," Yousuf, the Jammu and Kashmir BJP vice-president, told this newspaper. "There are a lot of people (Muslims) in top places…. But if our country is one, how does it make a difference."
None among chief secretary B.V.R. Sumbrahmanyam, director-general of police Dilbagh Singh and Chief Justice Gita Mittal is from Jammu and Kashmir.
Of the four advisers to Lt Gov. Murmu, two are Farooq Khan and Baseer Khan but they don't trace their roots to the Valley.
None of the divisional commissioners or the police chiefs of Kashmir and Jammu is Muslims or from the Valley.
Of the seven deputy inspectors-general of police heading the seven ranges in Jammu and Kashmir, two are Muslim but none from the Valley. Of the 20 district heads of the civil administration — deputy commissioners — nine are Muslims but only four of them are from the Valley.
Jammu and Kashmir has 23 police districts, seven of whom have Muslim police chiefs and three from the Valley.
Curfew lifted
The Srinagar administration late on Tuesday lifted the curfew it had declared in the district for August 4 and 5 in view of the first anniversary of the scrapping of Article 370 after critics pointed out that such restrictions flew in the face of the official all-is-well narrative.