Kashmir: Curbs, forces foil march to UN
The 'UN Chalo' call was the first attempt by suspected separatists to make their presence felt since the revocation of the special status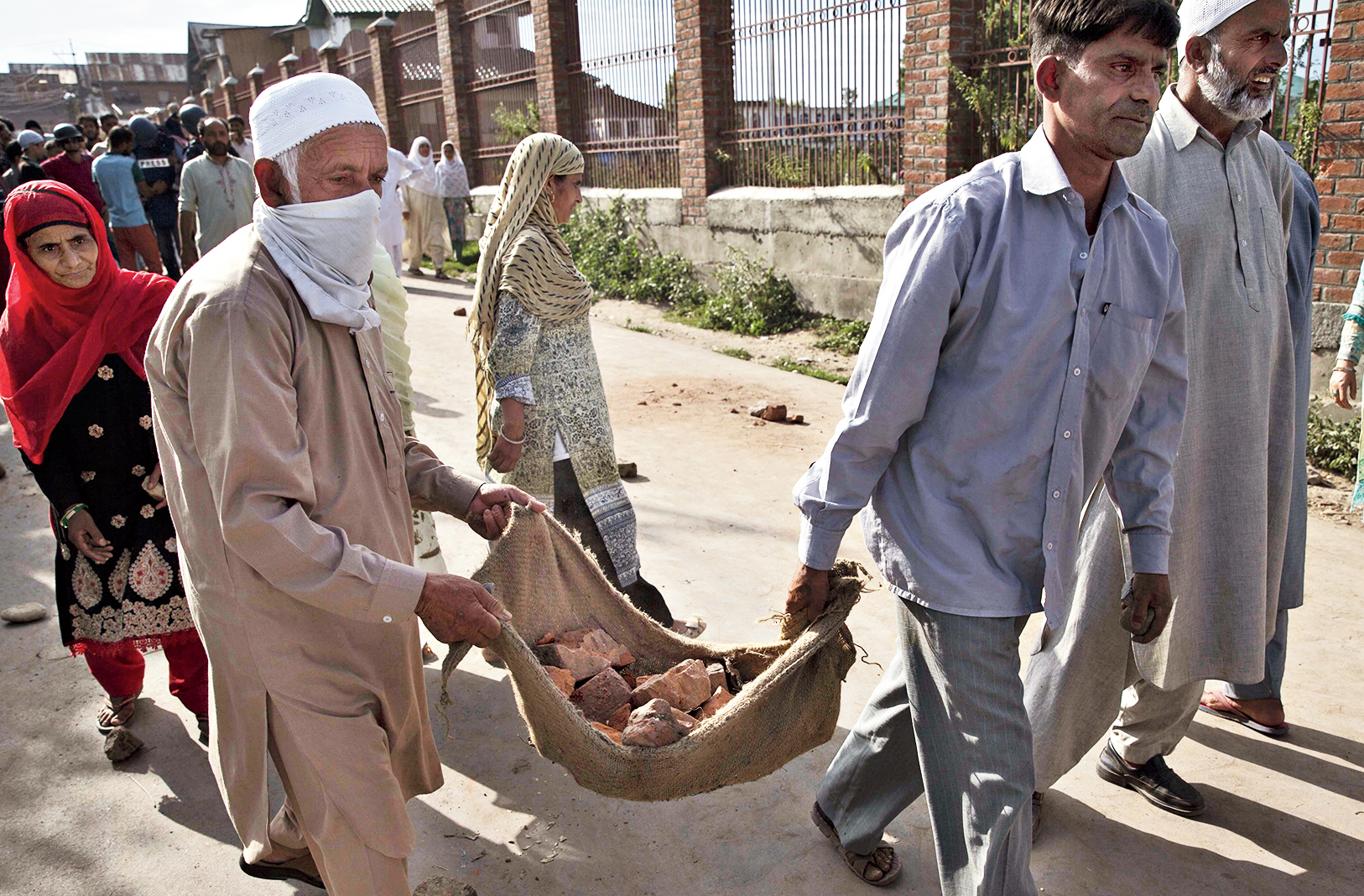 ---
|
Srinagar
|
Published 23.08.19, 09:53 PM
---
Tightened curbs and tens of thousands of security force personnel on Friday foiled a protest march to the United Nations office in Srinagar that had been called by unknown people and apparently advertised through word of mouth.
Hundreds had descended on the streets in Soura, Srinagar's pocket of resistance, looking to answer the call to march to the UN's Military Observer's Group for India and Pakistan in Sonwar near the city centre. But the forces, on their toes through the day, prevented them.
With mobile and Internet services shut across Kashmir, it was difficult to ascertain whether any other attempt was made elsewhere in the Valley to hold a march. Police sources acknowledged clashes between the forces and protesters at multiple places.
The "UN Chalo" (March to UN) call was the first attempt by suspected separatists to make their presence felt since the revocation of the state's special status on August 5.
But this time they had to rely on an archaic mode of communication: posters. These posters reportedly appeared at only a few places but the news about the protest call apparently reached far and wide, prompting the authorities to impose a slew of restrictions.
Police sources said they were investigating who were behind the posters.
No local newspaper carried the call for the march — toeing the government line has become the new normal with the Valley media, anxious not to ruffle feathers in the administration and invite punitive measures.
During all previous agitations, such protest calls would be published prominently on the front pages of local newspapers.
Unconfirmed reports said Pakistan radio had broadcast the news.
Hundreds of barricades were erected on all the roads leading to the UN office, with directions not to allow any movement. Journalists were prevented from reaching the government media centre near the UN office, the only place where they can access the Internet.
Friday prayers were not allowed at major mosques, including the Jamia Masjid, to pre-empt any march. Choppers kept vigil from the air.
Similar restrictions had been clamped during the Id-ul-Zoha festival earlier this month to deny people a chance to gather in large numbers and protest.
The curbs were eased on Friday evening.
While the posters have been attributed to the Joint Resistance Leadership of the separatists, this could not be independently confirmed. The Joint Resistance Leadership is helmed by the separatist trio of Syed Ali Shah Geelani, Mirwaiz Umar Farooq and Yasin Malik.
Geelani and Mirwaiz are under house arrest and Malik is in jail. Hundreds of leaders and activists from the pro-India and separatist camps have been arrested or detained and those that are free have gone into hiding or are lying low.
The Valley has been in a lockdown since August 5. Although there has been some relaxation in the curfew-like restrictions, most businesses are shut and most children are staying away from school. The authorities have reopened schools up to Class VIII at many places.