Karnataka: Sangh Parivar outfits launch shun halal food campaign
Ugadi, or the New Year, falls on April 2 and people in southern and coastal Karnataka consume meat, usually mutton, the day after the festival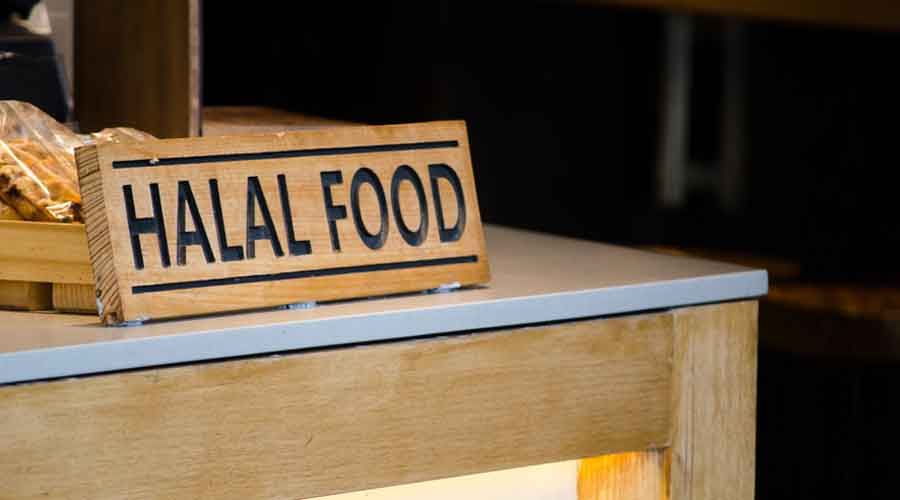 Representational image.
File photo
---
Bangalore
|
Published 31.03.22, 02:41 AM
|
---
Sangh parivar outfits have embarked on yet another communally polarising campaign in Karnataka by urging Hindus not to buy any halal product, including meat which is consumed in large quantities a day after the Ugadi festival.
Several Sangh parivar outfits and their sympathisers have come out in the open to "educate" people about not patronising halal food.
The trigger for the latest campaign against Muslims and their way of life is an appeal by Mohan Gowda, state spokesperson for the Hindu Janajagruti Samiti, exhorting Hindus not to patronise halal meat shops. Ugadi, or the New Year, falls on April 2 and people in southern and coastal Karnataka consume meat, usually mutton, the day after the festival.
While urging Hindus not to consume halal meat, Gowda made disparaging remarks claiming that the purchase of halal-certified products was tantamount to supporting anti-national activities. "It has come to our notice that earnings from selling halal-certified dates are being used for terrorism and anti-national activities. Patronising halal products is tantamount to supporting anti-national activities."
This is the latest communally polarising campaign by the Sangh parivar that had for years railed against beef consumption, love jihad and religious conversion before embarking on drives against the hijab and Muslim vendors at temple festivals.
Some Sangh parivar activists opened a "jhatka" meat shop in Nagamangala in Mandya district, around 120km from Bangalore, and promised more such outlets. Political secretary to the chief minister, M.P. Renukacharya, has offered financial assistance to open such non-halal meat shops.
In the halal form of slaughter, animals are killed with a cut to the jugular vein and are left till the blood drains out completely. In the "jhatka" method, the animal is killed instantaneously.
Chief minister Basavaraj Bommai tried to play down the anti-halal campaign by saying his government stood for development and peace. "As far as my government is concerned, there is no Right wing or Left wing. Our central idea is peace, development and security for the common man."
"Many organisations will keep banning something or the other. So we know what to respond to and what not to. We won't pay any attention to what is not needed," he said.
Former chief minister H.D. Kumaraswamy urged Hindu youths not to destroy the society. "Where are you leading this state to? I appeal with folded hands to Hindu youths, please don't destroy this state. We will be here today and gone tomorrow. Even those who are doing all this won't be here forever. Please don't destroy this garden of peace called Karnataka. If this kind of boycott continues, you will not see a good future for this state," he cautioned.
The Janata Dal Secular leader asked Sangh parivar organisations whether they would allow a Dalit to work as a temple priest. "Will you allow Dalits to do puja in temples? You talk about Hindus. While Dalits and people from the backward classes build temples, you (Brahmins) enjoy the fruits of the shrines," he said.
More Sangh parivar outfits such as the Vishwa Hindu Parishad, Bajrang Dal and Sree Ram Sene have come out in support of the halal boycott call. BJP national general secretary C.T. Ravi too extended support to the campaign, describing the practice as "economic jihad".
 "Halal is an economic jihad. What is wrong if Hindus say they don't want to eat halal food, just like Muslims say they would eat only halal food? The halal meat might be prasada for them, but not for us," said Ravi. "Will Muslims buy meat from a Hindu? So, why are you saying Hindus should buy from Muslims?" he shot back at reporters who questioned the logic behind such a campaign.
Sree Ram Sene chief Pramod Muthalik sought a "Halal-mukt India" and equated the practice to "jiziya", the tax on non-Muslims imposed by Mughal ruler Aurangzeb.