Karnataka cops oppose student activist's release
Amulya Leona Noronha has been in judicial custody for 87 days now in a sedition case linked to the CAA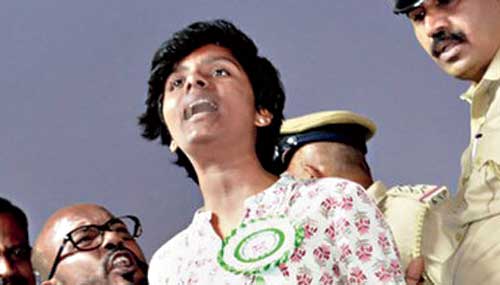 ---
---
Karnataka police have objected to the bail application filed by student activist Amulya Leona Noronha who has been in judicial custody for 87 days now in a sedition case linked to the Citizenship Amendment Act.
Responding to the bail plea filed in Karnataka High Court on behalf of Amulya, who was arrested on February 21 after she had chanted "Pakistan zindabad" at a protest, the police argued that if released she might endanger peace and tranquillity and called the journalism student from a middle class family in a plantation town an "influential person".
The police told the court: "It is submitted that in view of the antecedents of the petitioner and also having strong links with some organisations, if the petitioner is released she may abscond and may not cooperate with the investigation, which is not yet completed.
"The petitioner being an influential person may threaten and influence the witnesses and hamper the case of the prosecution. The petitioner fleeing from justice is also not ruled out."
A popular speaker at protests against the Centre's new citizenship matrix, 19-year-old Amulya had chanted "Pakistan zindabad" thrice on stage during the February 21 public meeting in Bangalore but added "Hindustan zindabad" in the same breath in keeping with her belief that good things should happen to all countries.
The police had dragged her off the stage and bundled her into a van before she could explain what she was trying to say.
She was booked under several non-bailable offences, primarily sedition. The police said its investigation had got hampered because of the Covid-19 pandemic.
Amulya, who hails from Koppa in Chikmagalur district, had also been charged with promoting enmity between groups, making assertions prejudicial to national integration and making statements promoting enmity or hatred between groups of people.
Ardra Narayan, a young graphic designer who had been arrested on the same day at a different venue, was granted bail on March 25. She had been arrested for holding a placard that read: "Muslims, Dalits, Kashmiri, Adivasi, Trans (transgender) liberation now."
Ardra was booked for promoting enmity between groups and wanton provocation with an intent to cause a riot.