Kafeel Khan and family move to Rajasthan for 'safety'
The doctor, who spent eight months in jail following his arrest over an anti-CAA speech at Aligarh Muslim University, said he had been falsely implicated by the UP government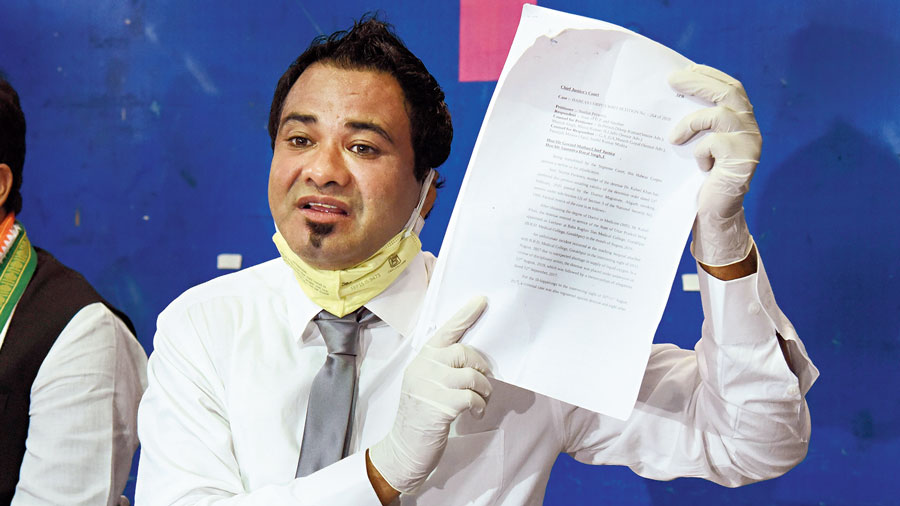 ---
---
Kafeel Khan, the doctor released from jail on Tuesday after Allahabad High Court nullified his National Security Act-driven imprisonment, and his family have arrived in Jaipur, saying they felt safe in a Congress-ruled state.
"There is a Congress government in Rajasthan. My family felt that we would be safe here. I wanted to spend some quality time with my family," Khan told a news conference in Jaipur.
The doctor, who spent eight months in jail following his arrest over an anti-Citizenship Amendment Act speech at Aligarh Muslim University, said he had been falsely implicated and sent to jail by the Uttar Pradesh government as he had exposed the system.
On Tuesday, Allahabad High Court had quashed Khan's detention under the NSA and ordered his immediate release, saying the Uttar Pradesh government had done a "selective reading" of his anti-CAA speech. The medical doctor had called for national integrity and not incited violence, the court observed.
Khan said on Thursday: "I was leading a simple life. I tried to expose the system as children died at BRD Medical College (in Gorakhpur) because of lack of oxygen. This did not go down well with our chief minister. A false case was lodged and I was sent to jail."
He added that he was tortured and asked "weird questions" after being arrested in January for the December speech at AMU. The Uttar Pradesh government had invoked the stringent NSA against him after he was granted bail in February and kept extending his detention by three months at a time.
"I was not given water for 72 hours after being taken into custody," Khan said.
"I was physically tortured after the STF arrested me. I was asked weird questions like if I have invented a powder to kill people and visited Japan to topple the government."
The doctor had made the same allegations in a video message on Wednesday.
"The interrogators told me that I had made a powder that would instantly kill people. I said, 'Brother, I'm a children's doctor, how can I make a powder? Are you talking about corona? If so, ask China.' They told me they had audio proof that I had planned to pull down the government. I asked them to show me the evidence, which they didn't have," he said.
"They asked me why I had gone to Japan. I said instead of Japan, you should have said Pakistan. Tell me, how can I go to Japan if my passport is (with the) court?"
Khan's passport was impounded on a court's direction after the 2017 Gorakhpur child death tragedy.
Khan said: "Often, they wouldn't give me anything to eat for five days at a stretch.... They tortured me mentally and physically."
He alleged that he used to be hung upside down and beaten in jail. "I used to treat children suffering from malnutrition, now I'm suffering from malnutrition myself because of the poor quality of jail food."
Khan had said in the video message: "People are saying the government may try to implicate me in one case or another. They can also get me killed in an encounter. Maybe this is my last conversation with you."
On Thursday, Khan said he had feared for his life after his arrest.
"State-sponsored victimisation of my family and myself has been going on. I feared (being) killed in an encounter. I'm thankful to the STF that they did not kill me while bringing me to Uttar Pradesh," he said.
Khan said he would urge Uttar Pradesh chief minister Yogi Adityanath to give him back his job in the state medical services.
"As the high court has quashed the charges under the NSA against me, I would write to the Uttar Pradesh chief minister to reinstate me in the medical service," Khan told the media conference in Jaipur.
"If I'm not allowed, I will hold medical camps in flood-affected areas of Assam as an activist."
He said his arrest had affected his family. "My 65-year-old mother, my wife had to frequently visit the Supreme Court during the pandemic. My brothers' businesses were destroyed. My seven-and-a-half-month-old son doesn't recognise me and runs off to my brother's lap. I don't think any government can cause me bigger pain than this," Khan said.