JNU students blame Shah
The talks with the HRD ministry remained inconclusive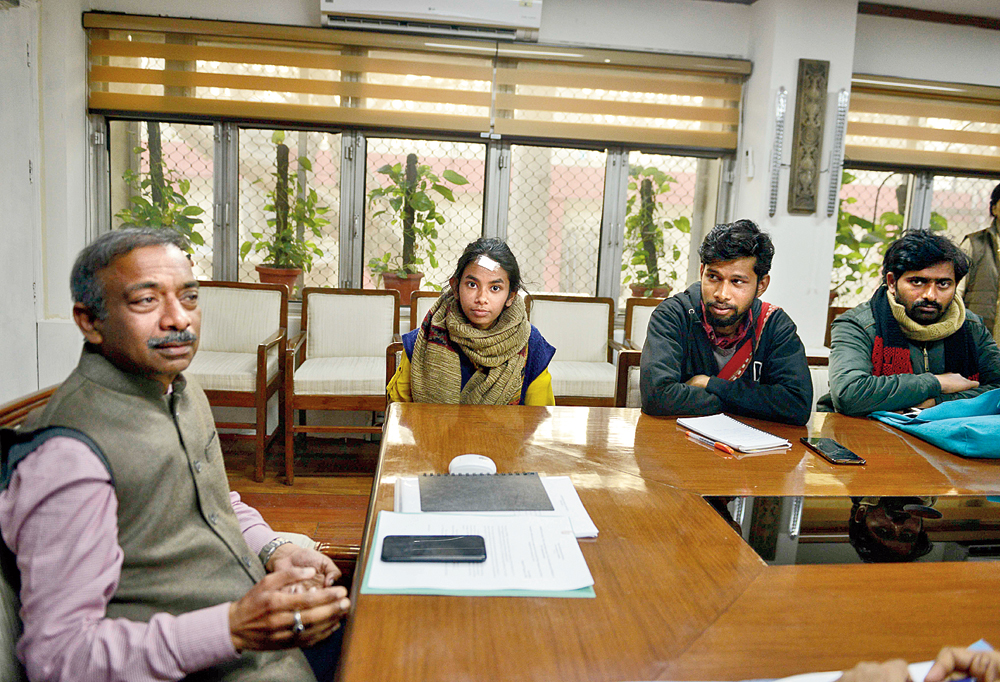 HRD secretary Amit Khare at the meeting with JNUSU president Aishe Ghosh and other JNU students at the HRD ministry in New Delhi on Friday
Picture by Prem Singh
---
New Delhi
|
Published 10.01.20, 09:48 PM
|
---
The Jawaharlal Nehru University students' union (JNUSU) on Friday trained its guns on home minister Amit Shah over police inaction during Sunday's attack on the campus, rejecting as "baseless" the description of their leader Aishe Ghosh as a suspect.
A JNUSU delegation, including its president Aishe, vice-president Saket Moon, general secretary Satish Yadav and joint secretary Mohammed Danish, met higher education secretary Amit Khare in the afternoon and told reporters that they had done nothing wrong as alleged by Delhi police.
The talks with the HRD ministry remained inconclusive. The delegation expressed satisfaction over certain assurances by Khare but said they would take a decision on the agitation after going through a circular the government would issue soon.
JNU has issued a circular saying that newly introduced utility and service charges have been withdrawn for the current semester. The students' union is demanding the rollback of the hostel fee hike and the removal of the vice-chancellor.
The HRD ministry said the University Grants Commission (UGC) had been requested to bear the cost of service and utility charges. Khare appealed to the students to withdraw their agitation.
Asked about Aishe being made a suspect by the police, Saket accused the force of maligning student leaders to hide its failure to halt the attackers.
Delhi police have used a picture in which Aishe is seen with a few students whose faces have been covered. Aishe's face was not covered. She has consistently maintained that she was rushing to help some students after an SOS call.
"There is order from the top to put the blame on us. You know who is giving orders, which ministry is calling the shots. The home minister himself is taking the call on JNU these days," Saket said.
He said the HRD ministry had issued points of agreement on December 10 and 11, on which the JNU administration has not acted upon fully.
"Why is the university not implementing it? Where does it get its impunity from? Why did Delhi police sit outside when the students were being attacked on January 5? Who stopped the police from coming inside?" Saket asked.
Asked if he was blaming the home minister for all the lapses, Saket replied: "Of course."
If Aishe wanted to attack students, what was the need for her to call the police about the attackers, Saket asked.
Aishe wondered why her complaint about the murderous attack on her has not been converted to a FIR. "My complaint has not been turned into an FIR till date. For them, the attack on me is not attempt to murder," she said, pointing to her head injury.
"But some video having my footage is being used to portray me a suspect. Why are Delhi police acting in a biased manner?" Aishe asked.
She challenged JNU vice-chancellor M. Jagadesh Kumar to release CCTV footage of the attackers entering the campus.
"Why is the FIR selective? Why are they suspecting me? From where? What is the proof? Just to create a narrative in the media. On what basis are you creating the narrative?" Aishe asked.
"I have not carried out any assault. Investigation will be done. I have full faith in law and order in this country. I do not have fear for anything because I have not done anything wrong…. Is there any video where I have put mask on my face and I am moving with rod? No. Calling somebody a suspect does not make the person a suspect. They have to have proof," she said.
"It is a repeat of 2016. The narrative was built on the basis of a doctored video and Kanhaiya (Kumar, former JNUSU president) was portrayed evil and JNU is evil. We will not back out from struggle. We have not done anything wrong. We will not take a step back. We take our fight forward," Aishe said.