JNU strike will continue, says students' union
They would carry on with their strike till the charges are rolled back absolutely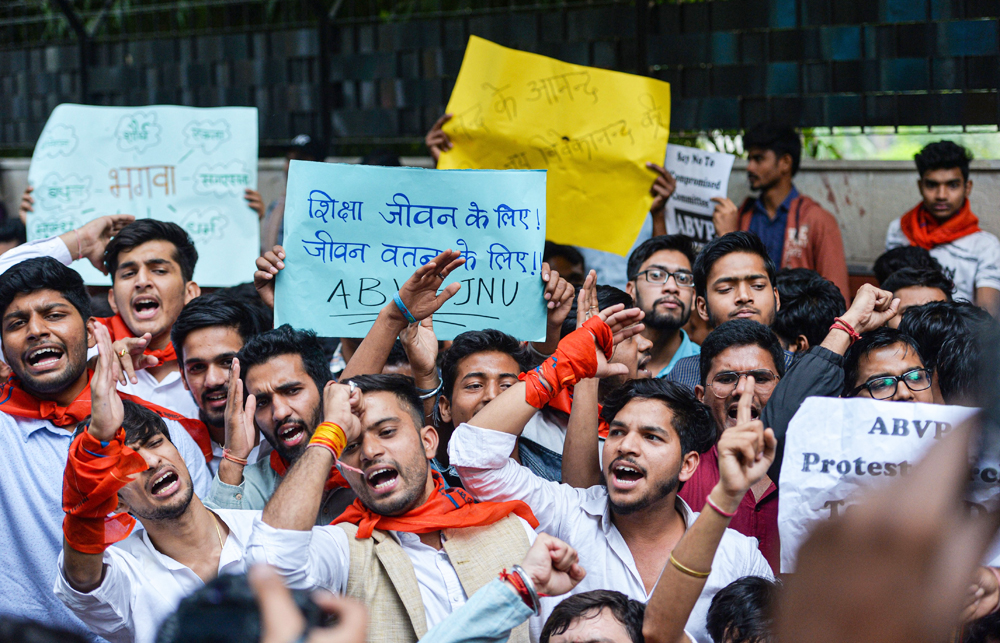 Jawaharlal Nehru University (JNU), Akhil Bharatiya Vidyarthi Parishad (ABVP) and Delhi University Students Union (DUSU) students raise slogans during a protest march from Mandi House towards Jantar Mantar pressing for their demands, in New Delhi, Thursday, Nov. 21, 2019.
PTI
---
New Delhi
|
Published 22.11.19, 07:01 PM
---
The strike in the Jawaharlal Nehru University will continue, its students' union said on Friday after meeting government representatives to discuss the hostel fee hike.
This was the second time the students' union had met the three-member committee constituted to end the stalemate caused by the hostel and mess fee hike. Coming out of the meeting on campus, the students' union members announced they would carry on with their strike till the charges are rolled back absolutely.
"We are not going to call off the strike. There is still no clarification on whether the committee has agreed to our demands. There have only been dialogues till now," union president Aishi Ghosh told students on campus.
"There is no question of calling off the strike. If there was no strike, we wouldn't have reached the level of deliberating with a government appointed committee. They better roll back the hike," she said.
JNU students' union secretary Satish Chandra Yadav told this website that the committee members "agreed" with the demand of student representatives.
"They listened to us and even agreed with us. Though they didn't give any definite answer in response to our plaints, they said they will recommend our case ahead," Yadav said.
The university has been in a complete shutdown since October 28, when the administration issued the decision to impose a hike in the hostel and mess charges.