Bandobast thicker than books in JNU
Data show university has slashed library budget and is spending on security instead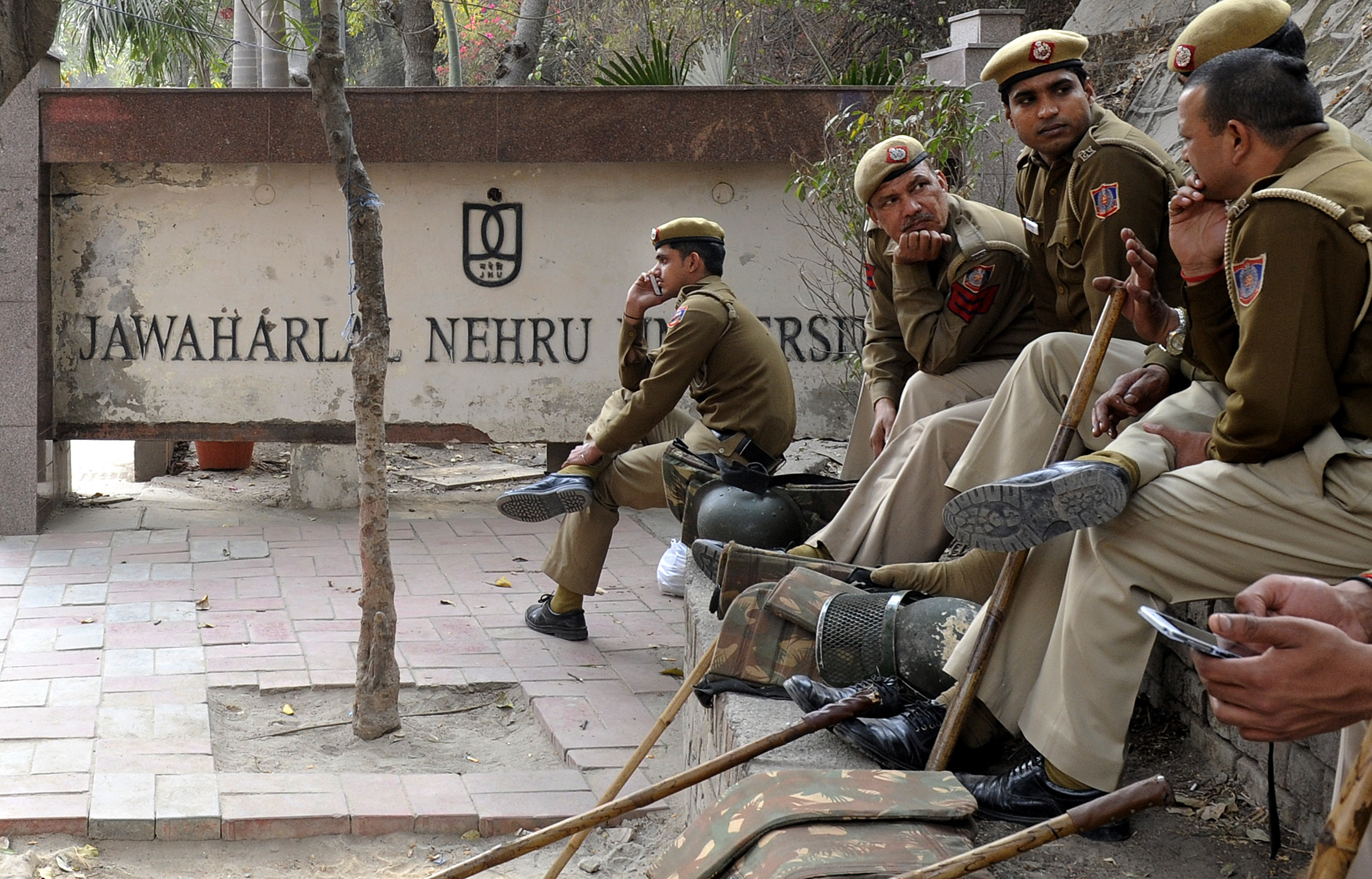 JNU teachers have warned that the massive cuts in academic spending would hurt quality of research and put the institution's eminence at risk.
The Telegraph file picture
---
New Delhi
|
Published 28.11.18, 10:31 PM
|
---
In the previous two financial years, Jawaharlal Nehru University's expenditure on its library was just over a fourth the money it spent on security, the university's annual report shows.
This financial year, the varsity felt compelled to do something about its library expenses: it cut the library budget further to Rs 1.7 crore. That's an almost 60 per cent drop from the Rs 4.18 crore spent on "journals and publications" in the last financial year, and a 45 per cent fall from the Rs 3.1 crore bill for 2016-17.
It's not clear how much JNU plans to spend this year on security — on the guards, CCTV cameras, video-recording of protests and the like — after spending Rs 9.52 crore and Rs 17.38 crore in 2016-17 and 2017-18, respectively.
JNU teachers on Wednesday accused the university of effecting massive cuts in academic spending overall in the past two financial years, warning this would hurt quality of research and put the institution's eminence at risk.
"The average academic expenditure as a proportion of total expenditure was down to 6.65 per cent (in the last two years) from 8.5 per cent (between 2012-13 and 2015-16)," JNU Teachers Association president Atul Sood said.
He feared that "most journal subscriptions will have to be discontinued".
Sood referred to how Delhi High Court had described as a "national waste of capacity" the around 90 per cent cuts JNU had made to its PhD and MPhil seats in 2017-18.
"The JNU administration is now squandering away JNU's hard-earned resources built on taxpayers' money contributions for decades. At stake is not only JNU's acknowledged eminence, but the idea of quality research work by teachers and students, international and national research collaboration, and access, to all," he said. Teachers and students were on strike on Tuesday against several moves by the administration, including the denial of leave to teachers even to attend seminars if they did not mark students' attendance.
JNU for the first time this year stipulated that teachers must mark students' attendance and sign on an attendance register themselves, prompting open-air classes in protest.
Sood said that this month's circulars had made "seminar participation, conference travel, project meetings, (and) prestigious fellowships contingent on faculty members' compliance with the diktats of the university administration".
"Currently, faculty are being denied leave to go out even to a seminar in Delhi, let alone take up their research collaborations in India and abroad, as are any students associated with their work."
JNU vice-chancellor. M Jagadesh Kumar and other officials did not respond to the teacher association's comments.
University finance officer Heeraman Tiwari had last week responded to the student protests against the library budget cut.
"The university has been allocating to the library every year only an amount of Rs 1.7 crore… from its grant received annually from the (regulator) UGC. However, in the year 2012, UGC gave a one-time bulk grant to JNU under the 12th plan for five years from which an extra amount was allocated for the next five years. Now that the 12th plan has ended, the library is running with its regular annual grant."