JNU-basher's virtual JNU date
Students distance themselves from lecture by general who has repeatedly questioned their patriotism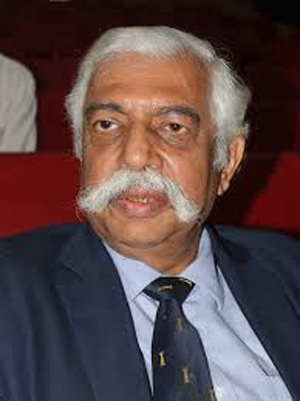 ---
---
An upcoming webinar by a retired general known for outbursts on news channels, often against JNU and human rights advocates, has dismayed students and teachers of the university's history department in whose name it's being organised.
Vice-chancellor M. Jagadesh Kumar had on Monday tweeted an invite for all, on behalf of JNU's Centre for Historical Studies, to the June 13 webinar where Major General (retd) G.D. Bakshi is to talk on "The Saraswati Civilisation: A Paradigm Shift in Indian History".
The invite contained a poster of the event that listed two professors of history and the dean of social sciences, D.N. Das, as the organisers.
On Wednesday, 14 of the centre's 21 teachers wrote to Kumar expressing surprise at the claim that the webinar was being hosted by the centre.
"The CHS has a set of nominated faculty members who coordinate the centre's weekly seminars, usually held on Wednesdays at 3pm,' they wrote.
'These members inform the faculty about designated programmes and also elicit names of speakers from them, which are then duly communicated and endorsed in a formal faculty meeting. The lockdown has given no reason to dispense with this system because the faculty has not decided to do away with this arrangement and faculty meetings have been conducted by the chairperson on Zoom.'
A query for Kumar that this newspaper sent to university spokesperson Poonam Kudaisya did not bring a response.
Bakshi, who has a PhD in strategic studies and military history, had in April released a book written by him whose title is the same as that of the seminar.
Several historians consider the river Saraswati, mentioned in the Rig Veda, a myth. It has, however, been a longstanding project for BJP governments since the reign of Atal Bihari Vajpayee to trace the path of the river, which is believed to have once flown through Haryana.
'Major General Bakshi's agenda, evidently, is to try and equate the Harappan civilisation, which he insists on re-designating as the Saraswati civilisation, with the evidence of Vedic texts,' Kumkum Roy, JNU professor of ancient history, said.
'The flaws and the futility of this line of argument have been demonstrated time and again, but this does not deter him from reiterating these. In his case, the argument seems to rely on invoking earthquakes, in pushing back the date of the civilisation to 8,000 or 9,000 years ago, and in assuring us that there is continuity between past and present in terms of the use of bindis, sindur, mangal sutra, bangles, yoga, meditation, the Shiva linga, boats, pots, a random set of material and cultural traits, etc.'
Roy added: 'Such comparisons of traits without placing them in historical context are not particularly useful as a historical method, irrespective of one's ideological predilections.
'Again, given his claimed technical expertise about tanks and chariots, it is surprising that he draws on the evidence of wheeled vehicles but fails to distinguish between the spoked wheel, mentioned in Vedic texts, and the solid wheel, documented from the terracotta toys found in the Harappan civilisation.
'The evidence for contact between the bronze-age Mesopotamian civilisation (3000 BCE onwards) and the Harappan civilisation, discussed and analysed in almost a century of scholarship, and its chronological implications are not even brought into this discussion.'
Referring to a talk by Bakshi in Calcutta last September, Roy said: 'Major General Bakshi's presentation had certain remarkable features. One was his recourse to the word 'bloody' with a frequency that was baffling and jarring, and abuse and insinuations hurled primarily against his invisible antagonist, Romila Thapar, professor emerita at the Centre for Historical Studies.
'While arguments and differences have always been part of the centre's traditions, abuse has not. Neither is it healthy, to say the least. It intimidates and silences other points of view-precisely what the learned gentleman claims he wants to avoid.
'Further terms of abuse that have been reserved for what the gentleman calls the army of Leftist historians include 'chamchas' - they are supposed to be the lackeys of scholars in Harvard and Oxford.
'Thapar and others are accused of not accepting any changes to colonial British ideas of history. This ignores over 60 years of scholarly work produced by her and others, rich in internal debates, as well as in debates with scholars both inside and outside India. It may be useful to remind Major General Bakshi that passion and insinuations are poor substitutes for serious scholarship.'
Several students of the centre, including students' union councillor Sucheta Talukdar, issued a statement on Thursday distancing themselves from the lecture by the general, who has often accused the university of misusing the freedom of expression and repeatedly questioned the patriotism of its student leaders and teachers.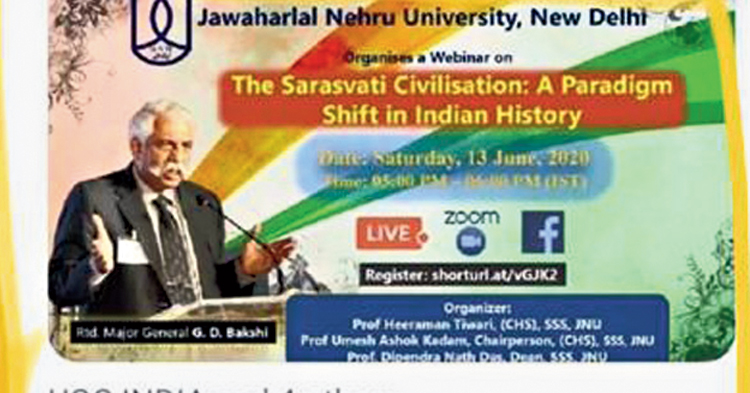 'It is also deeply concerning that G.D. Bakshi has often been in the limelight for making sexist and communal statements, apart from the constant vilification he has subjected JNU and its students to,' the statement said.
'Previous speeches and comments made by Bakshi have been flagged for their hate-mongering nature and factual inaccuracy.'
In response to the statements of the students and Roy, Bakshi told this newspaper: 'Any academic institution which likes to fossilise itself in a time period, I'm afraid, is negating the spirit of inquiry.... What I find very disconcerting is a refusal to engage in academic intellectual discussion, but to get back to sloganeering, personal vilification and attacks, which is in very bad form and poor taste and contributes nothing to academic evolution.'
He added: 'The stage is now absolutely set for a paradigm shift in (the study of) ancient Indian history. That is why we would like to take it out of the ambit of the pracharak and have a deep form of scientific discussion based on empirical facts, not ideological shibboleths.
'Unfortunately, in India, this process is being hampered by a set of Leftist ideologues who have monopolised our educational sector.... Initially, they -- Romila Thapar and others -- took their ideological moorings from Oxford. Now the empire has shifted to the other side of the Atlantic.'
Thapar is known for repudiating colonial historiography and establishing that ancient India drew its sense of history from a wide range of sources, and not merely religious texts.
Bakshi said: 'They say there were no chariots and horses in the so-called Indus Valley Civilisation. Today, we have discovered chariots in Baghpat (Uttar Pradesh, last year) belonging to that era.... There is a caste system. You just resort to abuse, 'You are Right-wingers, you are RSS, khaki chaddi, this and that'.... I have a PhD. Romila Thapar doesn't.'
Thapar received her PhD from the School of Oriental and African Studies in London in 1958.
Bakshi said his goal was to draw attention to discoveries that he believes establish the historical existence of the Saraswati.
'What we need is a multi-disciplinary approach for the resolution of some of the outstanding questions of history. Please go to Isro (Indian Space Research Organisation), the American Landsat satellite imagery. They have mapped the whole course of the Saraswati river, from the Himalayas to the sea.'
In a written reply to the Lok Sabha in 2013, the then minister of state in the Prime Minister's Office, V. Narayanasamy, had said Isro had prepared 'an integrated palaeo-channel map of River Saraswati... from the origin in Himalayas to Rann of Kutch. The origin of the mapped course of the River Saraswati palaeo-channel in northwest India was linked to Himalayan perennial source through Sutlej and Yamuna rivers.'
In the 1970s, America's Landsat had recorded images of groundwater in a definitive pattern near Jaisalmer, which some scholars said was a part of the Saraswati.