Jammu observes first shutdown since abrogation of Article 370
Jammu Chamber of Commerce and Industry accused the govt of putting the region 'on sale' to outsiders including a suspicion that Reliance would open 100 retail outlets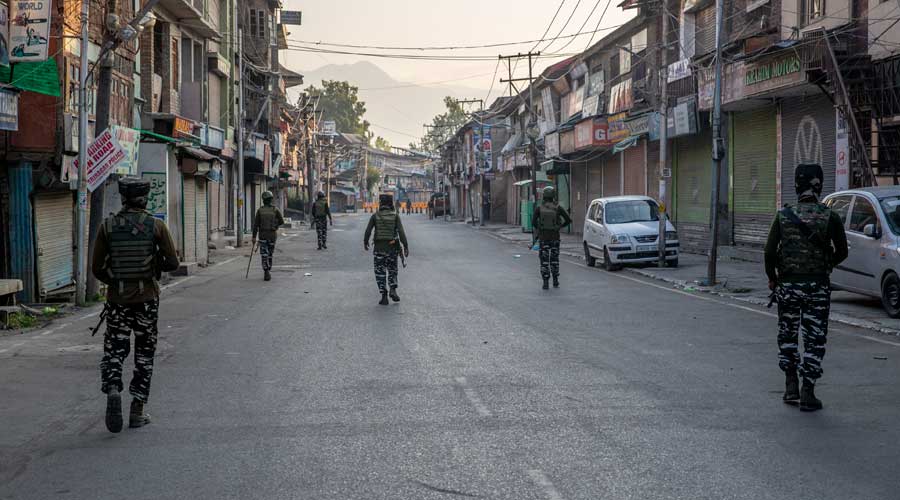 ---
Srinagar
|
Published 23.09.21, 02:00 AM
|
---
Jammu on Wednesday observed its first shutdown against the government since the abrogation of Article 370 provisions two years ago, accusing it of putting the region "on sale" to outsiders that included a suspicion that Reliance would open 100 retail outlets.
The strike was called by the Jammu Chamber of Commerce and Industry, whose office-bearers are close to the BJP and had for long been averse to going against the government.
Although Reliance Industries had on Tuesday categorically denied any plan to set up retail outlets in Jammu, it did not assuage the concerns of local traders who fear they would be thrown out of business if the behemoth entered the arena.
Many in Jammu had cheered the Narendra Modi government's move to scrap the erstwhile state's special status in August 2019. However, Wednesday's shutdown was a reflection of how people of Jammu were feeling increasingly unnerved over "outsiders" invading their livelihood.
Anger has been brewing in Jammu over a slew of measures including a new mining policy where non-locals reportedly got a larger share of the pie.
Matters came to a head recently when there were reports that Reliance would make a foray into Jammu. Local traders claimed they had credible information on such a possibility and had also seen advertisement hoardings.
Wednesday's shutdown by the chamber was supported by several political parties and groups.
Normal life remained paralysed in Jammu as markets wore a deserted look and vehicles largely stayed off the roads. Traders and political parties staged protests at several places while work in courts was also affected with the J&K High Court Bar Association supporting the shutdown call. Protesting traders carried placards that said "Jammu on Sale".
Chamber president Arun Gupta said 99 per cent of shops stayed closed.
"Even those areas that had never shut down before, even during the worst of crises, responded to our call," Gupta said, wondering why non-locals were choosing Jammu when Prime Minister Modi "wanted more and more people to settle in Kashmir".
"No store (by non-locals) is being opened there (in Kashmir)," he added.
Wednesday's shutdown was also against the government's decision to discontinue the annual Darbar move, a 150-year-old tradition where main government offices shuttled between Jammu and Srinagar every six months. Tens of thousands of Kashmiris would visit Jammu every winter during the administration shift, and Jammu traders fear the halt would badly affect their business.
A Reliance Retail spokesman had on Tuesday evening said the claim that the company would open 100 outlets in Jammu was "completely untrue".
"We have not opened any stores in Jammu. We have a few delivery points in the Union Territory of Jammu and Kashmir and these are set up by our delivery partners to support the small traders," the spokesperson had said.
Jammu Chamber of Commerce and Industry president Gupta, however, said the statement was "misleading" and the "situation on the ground is different".
Traders Federation Warehouse president Deepak Gupta, who led a protest at Nehru Market in Jammu, said 50,000 small shopkeepers would be rendered jobless if Reliance opened retail stores.
"We will not tolerate any decision that we feel is against the interests of the Jammu business community," he said.