J&K: Dossier against Fahad Shah, but little proof
Arrested on February 4, the scribe was booked under the Public Safety Act in a bid to prevent him from securing a third bail in a row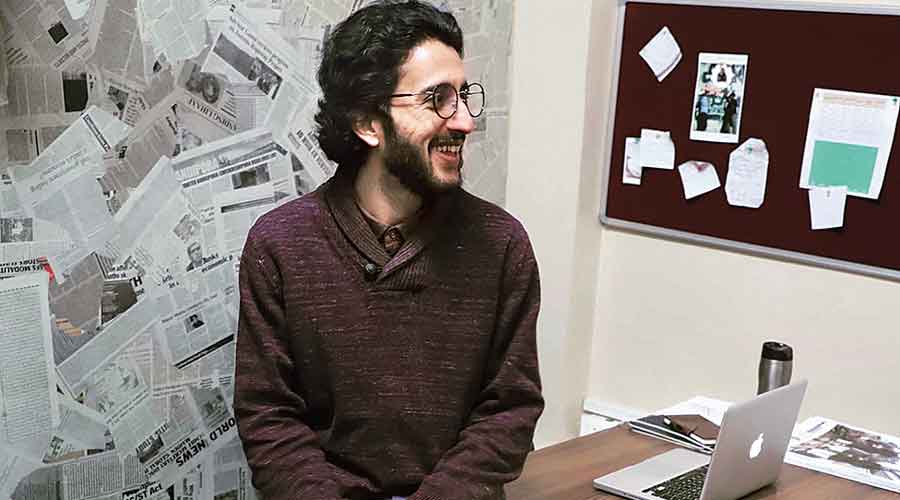 ---
Srinagar
|
Published 18.03.22, 03:21 AM
|
---
A four-page dossier stating the "Grounds for Detention" of journalist Fahad Shah under the stringent Public Safety Act uses pejorative labels for him and accuses him of peddling "ISI/separatist propaganda" but cites no evidence.
The dossier describes Shah, editor of the news website The Kashmir Walla, and his actions as "anti-national" and "anti-India", and calls him an "instigator" who is "filled with hatred" against India and is "glorifying terrorism" and sowing "seeds of hatred".
In the dossier, the police said Shah was a prominent journalist who began working in Delhi with The Christian Science Monitor and went to SOAS (School of Oriental and African Studies), London, and the US for studies before launching The Kashmir Walla.
Shah, arrested on February 4, was booked under the PSA this week, apparently to prevent him securing a third bail in a row. He had been booked twice under the anti-terror law UAPA on the charges of glorifying militancy through his reports, spreading fake news and inciting people but was granted bail twice.
The order for his detention under the PSA was signed by the deputy commissioner, Srinagar, on the basis of the dossier submitted by the Srinagar police chief.
Some of the accusations against Shah in the dossier:
⚫ "Propagating stories in particular selective narrative which is in line with ISI/separatist propaganda."
⚫ "You are an anti-national element under the garb of journalism."
⚫ "(His) modus operandi is to carry one or two stories per month which are based entirely on victimhood narrative and portrays anti-India sentiment, glorifies stone-pelters, terrorists and justifies separatism and violence."
⚫ "Continuously propagating stories which are against the interest and security of nation" and "stories mostly highlight allegations of Kashmir conflict and Indian state highhandedness".
⚫ "Followed selective particular pattern of disseminating anti-India sentiment in a very subtle manner."
⚫ "One sided and selective stories of a particular singular anti-state narrative" while "any other news item or story related to good governance or positive intervention by GOI hardly finds any mention".
⚫ "Misusing your profession by posting anti-national content which has a multi-dimensional adverse impact on sovereignty and unity of country."
⚫ "Posting content and news against government… resulting that seeds of hatred purely based on fake, disbelief and especially anti-national ideology are sown."
⚫ "Promoted separatism through articles, tweets and social media posts, to advance radical ideology."
⚫ "(Followed a) radical ideology right from childhood" and his aim "is to create a rift between groups".
⚫ "Posts glorifying terrorism by your selective pattern of disseminating anti-India sentiment."
⚫ "Filled with hatred against the union of India."
⚫ "Developed relations with anti-national gangs operating from across the border."
⚫ "Misguiding masses by circulating fake news."
Umair Ronga, Shah's lawyer, wondered where the evidence was to back the labels.
"They should have come up with the evidence in the FIRs registered against him but they did not. If they can bring some evidence of his involvement with the ISI, he will never see the light of day. The fact is they have no evidence, not even witnesses," Ronga told The Telegraph.
"In UAPA cases, it is not possible to get bail in six months or a year. But he got bail twice. Even the judge questioned their report."
The lawyer said the government had invoked the PSA against his client fearing the courts might grant him bail again. He said Shah would challenge the PSA charges.