Jammu and Kashmir: Bullets end fifteen years of trust
Slain golgappa seller's kin in Bihar rue his return to Valley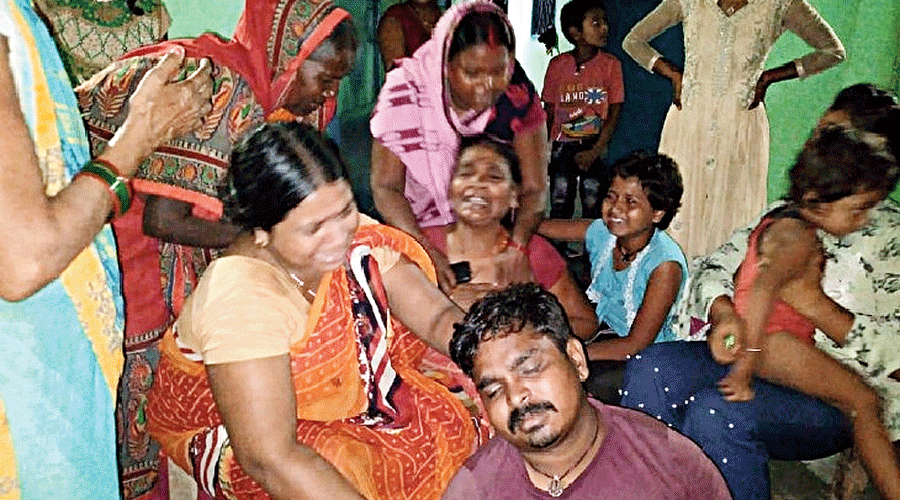 ---
Patna
|
Published 18.10.21, 01:09 AM
|
---
Golgappa seller Arvind Kumar Sah, 30, who was shot dead by terrorists in Srinagar on Saturday evening, had been running his trade in the Valley for 15 years and never thought he was in danger, his father said on Sunday.
"Arvind used to praise the nature of the Kashmiri people. I think terrorists sent by Pakistan killed him," his father Devendra Sah, a man in his 60s, said from the family's home at Parghari village in Bihar's Banka district.
"I can't help thinking that had we not been so poor, he would not have needed to go to Srinagar and get killed."
The wish to provide his family with a better life had taken a teenaged Arvind to Kashmir, where he ran his business from a thela — a four-wheel wooden pushcart. His family said he had never faced any problems before. But they now regret allowing him to return to Srinagar around three months ago.
People gathered outside the Sah home on Sunday to express sympathy and support as wails broke out inside from time to time.
Arvind's eldest brother, a mason, had died earlier this year. With the latest death, the family has lost its two main breadwinners.
Arvind had come home to participate in his brother's last rites. He returned to Srinagar after the second wave of the pandemic subsided.
"I never wanted him to go so far away to work. I would hear people talk about terrorists and would ask him not to go," a weeping Sunaina Devi, Arvind's mother, said.
"But he would say it was necessary for the family's betterment. He had started working for our sake at the age of 15."
Devendra was a day labourer and still does odd jobs in the village, earning paltry sums. Arvind's three surviving brothers too are day labourers, but work has dried up because of Covid. The family has 13 mouths to feed.
"He (Arvind) was fourth among my five sons. He used to send us money which helped us survive," Devendra said. "What will we do now?"
Chief minister Nitish Kumar has announced an ex gratia of Rs 2 lakh.
BJP Rajya Sabha member and former Bihar deputy chief minister Sushil Kumar Modi said he had spoken about the killing to Jammu and Kashmir lieutenant governor Manoj Sinha. Sushil said the Union Territory administration would provide Rs 11 lakh to Arvind's family.
"Sinha has assured me that arrangements are being made to send Arvind's body back," he added.
The family said it was in the dark about this. Arvind's elder brother Mantu Sah, who had left for Srinagar to bring the body back, said he had no idea whether Kashmir officials were arranging for sending the body home.
"Nobody from the government has contacted us to say when or whether they would send the body back. I have reached Delhi and will head to Srinagar," Mantu told The Telegraph over the phone.
"We are grieving. The least the government can do is smoothen the process (for the body's return to Bihar). It failed to save my brother; it should at least make arrangements so he is cremated with dignity at our village."
Arvind is the second golgappa seller from Bihar killed in Srinagar. Earlier this month, Virendra Paswan of Bhagalpur was shot dead in a militant attack.