Jamia cancels exams, shuts for winter
Student leaders had demanded that the exams and protests be allowed to continue simultaneously, which the varsity administration has denied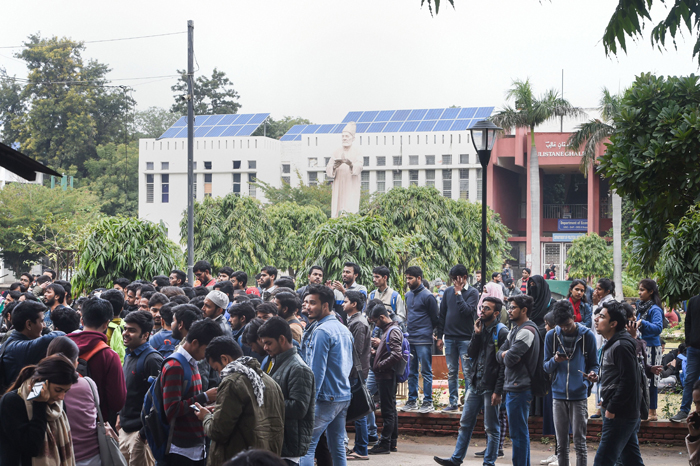 Students protest against the Citizenship (Amendment) Act and the NRC at the Jamia Millia Islamia in New Delhi
PTI
---
New Delhi
|
Published 14.12.19, 08:41 PM
|
---
The Jamia Millia Islamia on Saturday cancelled semester exams and closed for winter holidays ahead of schedule, disappointing student leaders, a day after police clashed with students during a march against the Citizenship (Amendment) Act.
Several students, police personnel, journalists and residents were injured on Friday when the police broke up the march with their batons and tear smoke shells. The marchers hurled stones after being caned and prevented for moving towards Parliament, following which the police entered the campus and thrashed several students.
On Saturday, Bihar politician Pappu Yadav and social activists Shabnam Hashmi and Khalid Saifi visited the campus separately and spoke to the students. The police remain deployed to enforce orders banning gatherings around the campus.
Asif Iqbal, a student leader belonging to the Jamaat-e-Islami Hind's Students Islamic Organisation, told The Telegraph that the students had decided to set up a protest site at Gate 7 of the campus and spread awareness about the Citizenship Act in the area.
"We will form teams to educate people and stage street skits about the issue. We will participate in the protests against the act on December 19, the day of nationwide protests," he said.
"We will not block roads or protest outside the campus till then, as outsiders started throwing stones yesterday and we faced the brunt."
Jamia's student leaders had demanded that the exams and protests be allowed to continue simultaneously, which the varsity administration has denied.
At Jawaharlal Nehru University, the administration removed the doors of several academic buildings where students have been picketing to enforce an exam boycott in protest against the hostel fee hike. Apparently, the authorities feared that the students would lock the doors.
While vice-chancellor M. Jagadesh Kumar, escorted by security guards, made rounds of the campus on Saturday, he was heckled by students who tried to prevent him from entering his car.
Kumar told ANI: "I was attacked today. I had gone to visit (the) School of Arts and Aesthetics, JNU, where around 10-15 students surrounded me. They were trying to pull me down and (were) in a mood to attack me. Fortunately, I was rescued by security and managed to escape."
A video of the incident shows a student clinging to the bonnet of the car as it drives away in reverse. Kumar had earlier climbed onto the car amid heckling by the students, who were demanding he talk to them.
"It is shameful that not only while leaving, his car tried to run over a student, whilst injuring other students near his car, but after going back he is tweeting complete lies and falsehoods," the JNU Students' Union said in a statement.
"(The) JNU administration has today sent goons to remove doors from their frames from multiple school buildings in an attempt to intimidate students. This act is not only beyond all reason and logic, but also shows the low to which the administration can descend."