Jal Shakti Abhiyan: Government launches scheme to save water
The scheme aims to provide piped water to every household within the next 5 years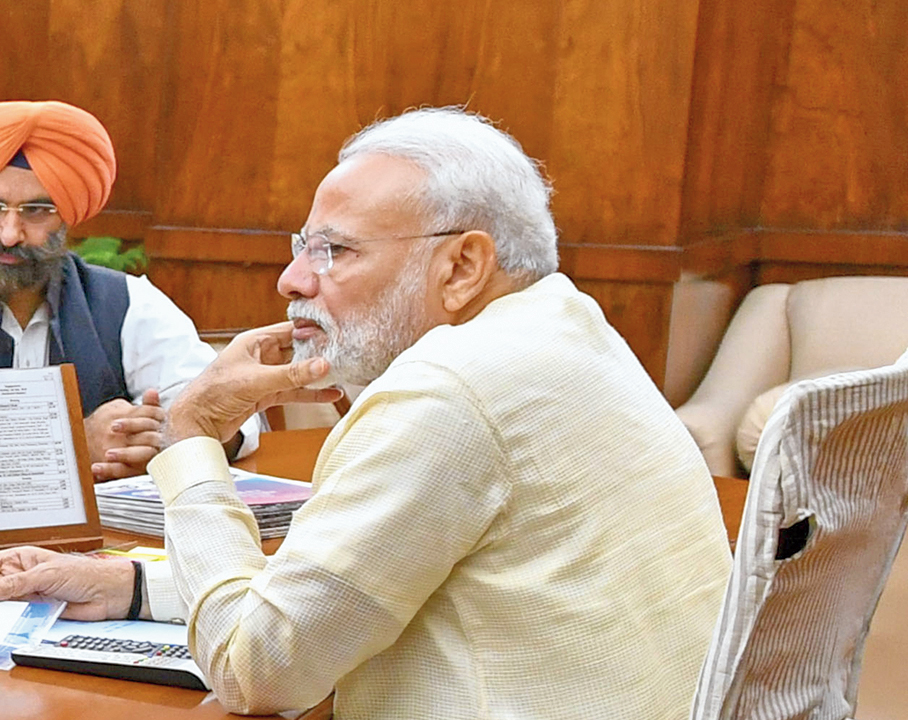 Prime Minister Narendra Modi in New Delhi on Monday.
(PTI)
---
New Delhi
|
Published 01.07.19, 11:54 PM
|
---
The Narendra Modi government on Monday kicked off a water conservation scheme that would focus on renovation of water bodies, regulating industrial consumption, harvesting rainwater and reuse of wastewater.
Union minister Gajendra Singh Shekhawat launched the Jal Shakti Abhiyan, which aims to provide piped water to every household within the next five years.
"The government wants to make jal shakti a jan andolan (people's movement)," Shekhawat told a media conference.
The launch of the scheme comes at a time every fifth block in the country faces scarcity of water, while per-capita availability has fallen from 1,816 cubic metres in 2001 to 1,544 cubic metres in 2011.
The Niti Aayog, the government's official think tank, brought out a report — Composite Water Management Index — in June last year that said 21 major cities, including Delhi, Bangalore, Chennai and Hyderabad, were expected to run out of groundwater by 2020.
According to a 2013 assessment on groundwater levels, 1,034 blocks among 6,584 have been categorised as "overexploited", which means exploitation of groundwater is more than the volume of recharge, leading to depletion.
As many as 253 blocks were categorised as "critical", or where exploitation of groundwater is close to the amount of recharge. Surface water is scarcely available in these blocks. According to norms adopted by the Centre, safe drinking water supply in rural areas should be 40 litres per capita per day.
Drinking water and sanitation secretary Parameswaran Iyer made a presentation at the media conference with details about the scheme. The strategy includes revival of traditional water bodies, reuse of wastewater without faecal contamination after treatment in urban areas and rainwater harvesting.
One key plan is to spend funds from the rural job scheme MGNREGA, the Pradhan Mantri Krishi Sinchayee Yojana and the Integrated Watershed Management Programme for renovation of water bodies in rural areas.
Two officials said the government was in the process of evaluating consumption of water by industries in sectors like cement, steel and power. The study would help the government benchmark consumption. The industries would be prescribed lower targets on consumption based on the benchmark.Shekhawat avoided a question on the likely expenditure. In 2017, the Centre had estimated the cost of providing piped water to each of the country's 25 crore families at Rs 6 lakh crore. Nearly two-thirds of households are yet to get piped water.