Jail for air pollution in National Capital Region
The ordinance seeks to 'implement a consolidated approach for monitoring, tackling and eliminating causes for pollution' not limited to 'stubble burning, vehicular pollution, road dust and urban construction'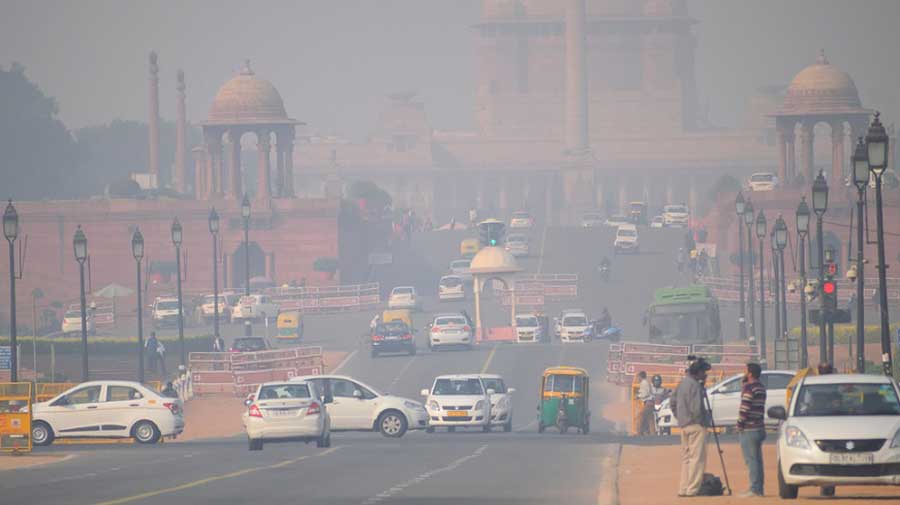 ---
---
The Centre on Thursday issued an ordinance to combat air pollution in the National Capital Region, mandating an end to stubble burning and a maximum punishment of five years' jail and a Rs 1-crore fine for any violations.
The ordinance allows the Centre to escape having to answer for air pollution to a former Supreme Court judge who had passed security-related verdicts unpalatable to the Narendra Modi government and, after retirement, condemned misuse of the sedition law.
Its promulgation prompted a Supreme Court bench headed by Chief Justice S.A. Bobde to adjourn till November 6 the hearing of a public interest petition on air pollution in Delhi.
It's in connection with this petition that the court had on October 16 appointed Justice Madan B. Lokur as a one-man committee to ensure the prevention of stubble burning in Delhi's neighbourhood, ignoring objections from solicitor-general Tushar Mehta.
On October 26, however, the court put the order "in abeyance" after Mehta conveyed a promise from the Centre for an ordinance that would provide an alternative mechanism to check pollution.
The Commission for Air Quality Management in National Capital Region and Adjoining Areas Ordinance, 2020, applies to Delhi and adjoining areas in Haryana, Punjab, Rajasthan and Uttar Pradesh.
It seeks to "implement a consolidated approach for monitoring, tackling and eliminating the causes for air pollution" not limited to "stubble burning, vehicular pollution, road dust and urban construction".
It sets up a commission that can close any industry or establishment and cut their power supply. It will have search and seizure powers similar to the police's.
"Any non-compliance or contravention of any provisions of this ordinance, rules… or any order of direction issued by the commission shall be an offence punishable with imprisonment for a term which may extend up to five years or with fine which may extend up to one crore rupees or with both," the ordinance says.
"Where any offence under this ordinance has been committed by a company, every person who at the time... was directly in charge of and was responsible to the company for the conduct of the business of the company, as well as the company, shall be deemed guilty of the offence and shall be liable to be proceeded against and punished."
Offences under the ordinance have, however, been made non-cognisable, which means arrests will require a court warrant. The commission's orders can be challenged only before the National Green Tribunal.
During Thursday's hearing, Justice Bobde told Mehta: "We would like to look at the ordinance before passing any order."
Senior advocate Vikas Singh, representing petitioner Aditya Dubey, said the hearing need not be adjourned as "the situation will get worse by next week".
But the bench, which included Justices A.S. Bopanna and V. Ramasubramanian, said it would hear him and Mehta in good time.
Citing experts, Justice Bobde observed: "It is not only stubble burning that creates pollution. All of you should also stop using the beautiful cars. All of you start using bicycles now."
The commission's members will include bureaucrats from the Centre and the affected states. It will function under the overall control of the Centre and "under the oversight of the elected representatives with regular reports to the Parliament".