Jaganmohan Reddy's 5 deputies: Just caste and religion message, say rivals
New Andhra chief minister expected to name a deputy from among SC, ST, backward classes, minority and Kapu communities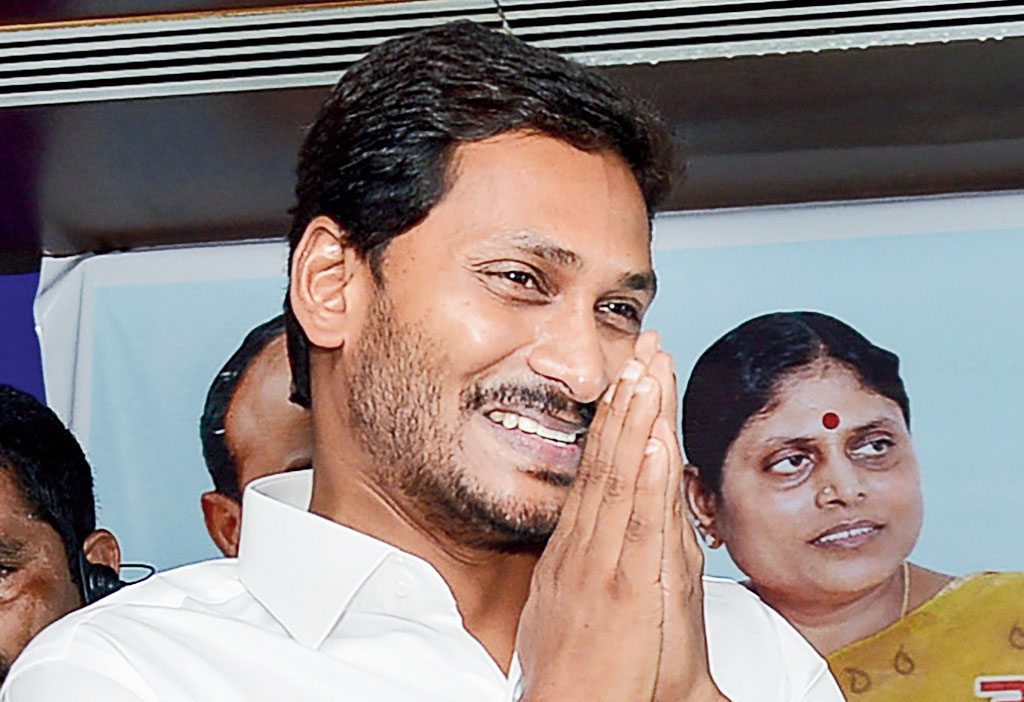 Jaganmohan Reddy during a meeting with party MPs, at Tadepalli in Andhra Pradesh on May 25.
PTI file photo
---
New Delhi
|
Published 07.06.19, 01:40 PM
---
Andhra Pradesh chief minister Y.S. Jaganmohan Reddy, who recently stormed to power by winning a staggering 151 of 175 Assembly and 22 of 25 Lok Sabha seats, is the first chief minister who will have five deputies. 
The YSR Congress Party (YSRCP) chief's announcement to appoint a deputy chief minister each from Scheduled Caste, Scheduled Tribe, Backward Classes, minority and Kapu communities came a day ahead of his planned cabinet expansion.

Mekathoti Sucharita (SC), Alla Nandi (Kapu), and Amjad Basha (minority) are among those likely to be appointed as deputy chief ministers. 
Before this, the maximum number of deputy chief ministers in any state government has been two, such as the last tenure of former Andhra Pradesh chief minister N. Chandrababu Naidu. 
 The YSRCP claims the move is aimed at providing representation to marginalised communities, voices from various political quarters see it as nothing beyond Reddy playing a caste and religion card.
The national spokesperson of the Congress, Shravan Dasoju, said: "It was a move to appease caste and community even when my state Telangana's CM Chandrashekar Rao had a Muslim and a Dalit deputy chief minister till 2018. This time Reddy is appointing five. If YSRCP is claiming this would translate into political empowerment of the disadvantaged, it is an eyewash."
Dasoju added: "Each deputy CM will have only ornamental powers. If Reddy wanted each of the communities to be politically empowered by this move, he could have included them as cabinet ministers across departments."
The YSRCP has a strong vote bank among marginalised communities in the state. It won in 34 out of 36 SC constituencies and swept all seven ST seats in the Assembly polls.
Dasoju instead asked "why the share for minorities in the state budget hasn't increased, why an SC ST Subplan act is not successfully implemented in AP".
A youth TRS leader pleading anonymity said: "I see Jagan's move as a caste and religion card he just played, but I won't make strong statements as the TRS is itself is in the purview of criticism for removing both deputy CMs and not having any at present."
The names of all the deputy chief ministers will be finalised at Jagan's Amaravati residence by today.