IPS officer connects with Kashmir
Not from Valley but rath clicks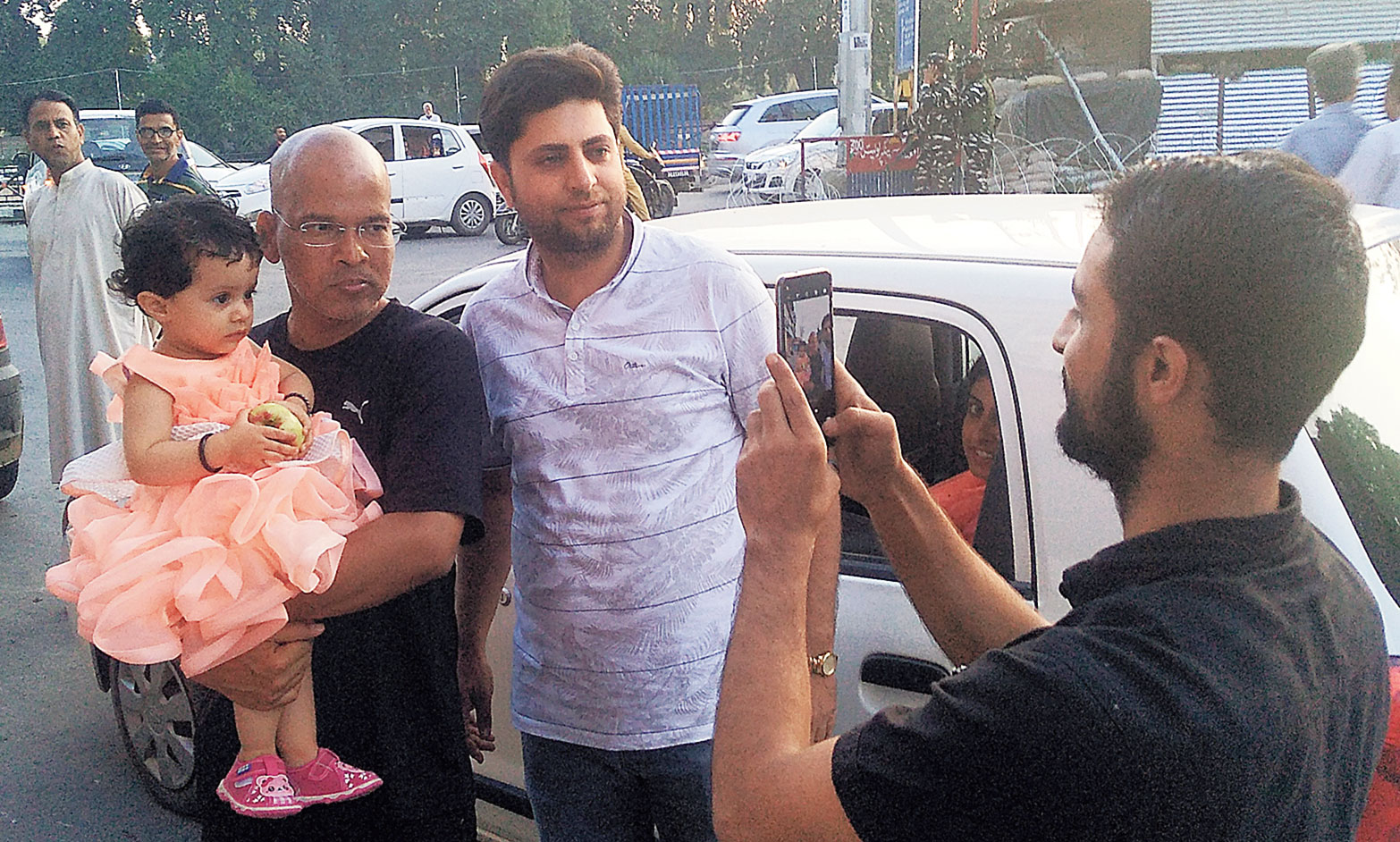 A family clicks a picture with Rath (in black) at Dalgate
(Sourced by Correspondent)
---
Srinagar
|
Published 27.08.19, 10:43 PM
|
---
Non-locals are unwelcome in Kashmir now, but Basant Rath is an exception.
Rath, an IPS officer from Odisha and an inspector-general of police, has been busy building bridges in the three weeks since the clampdown was imposed.
Rath, 46, is one of several senior officers whose phones are working in the Valley and he is using the facility to connect with people.
"In the past three weeks, I made six visits to different localities in the city. On every occasion I spent some hours with them, offering my phone (for them) to connect with their relatives or friends and I never returned on an empty stomach as people arranged for the lunch," Rath said.
The Centre's decision to scrap the state's special status has widened the chasm between locals and non-locals like never before.
That does not prevent Rath, IGP Home Guards, from moving around without security, in civvies, sometimes alone, at places where even local officers might dread going with security.
Rath did not travel to these areas in his official vehicle. Sometimes, he went on a motorcycle, sometimes on a cycle.
The Telegraph caught up with Rath during one such visit at Dalgate on Monday and accompanied him on a long walk through areas where restrictions have been eased.
Smiles have dried up in Kashmir these days but the sight of the officer brings smiles on many faces. Some alight from their vehicles to click selfies, others simply wave at him.
When people are not forthcoming, he reaches out to them with a gentle punch on their fists or a hug.
At Chinar Bagh, he takes a child in his arms, leaving him crying bitterly. The mother does not object and instead asks Rath to give advice to her elder son, 16, standing there. The IGP asks him to concentrate on his studies.
A girl standing next to the woman, asked who Rath was, replies: "He is Kashmir's Singham." But he is also an Indian police officer?
"He seems to be different," the woman says.
At Athrout, a charitable organisation at Nawa Kadal that provides free dialysis to the needy, he helps make an important call to an engineer in Delhi to repair a machine lying defunct.
Sometimes he stays with the crowd for hours to help people make calls from his mobile; sometimes he drops the phone with them and returns hours later.
At Nawa Kadal, he gave his phone to strangers and returned after two hours. Perhaps a hundred calls were made.