Influence of autocracy on democracy is increasing: Sonia Gandhi
'Our founding fathers and nation-builders wouldn't have imagined we would face such a difficult phase after 75 years of freedom'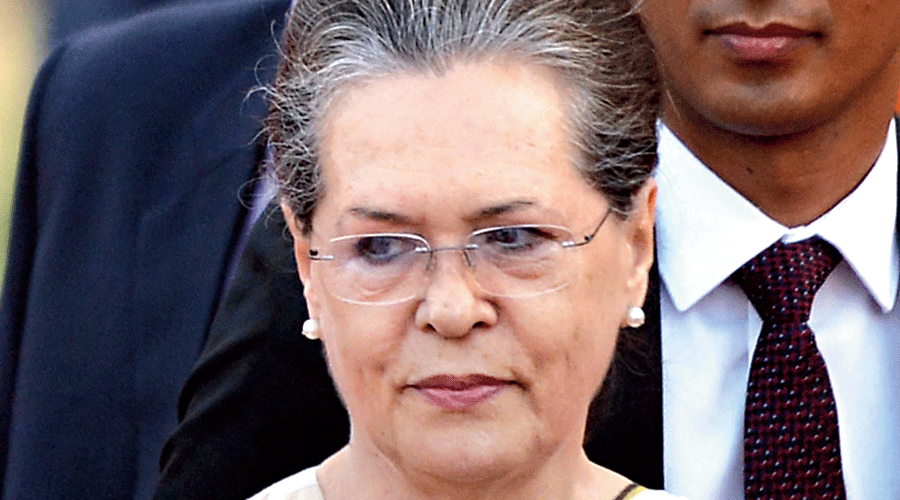 ---
---
Congress president Sonia Gandhi on Saturday said the country's founding fathers would never have imagined that democracy would be in peril at a time when the 75th anniversary of Independence was not too distant.
Without mentioning the Narendra Modi government, Sonia referred to the attack on institutions, attempts to silence voices of discontent, and the spread of hatred and violence in society, regretting that regressive thinking had clouded progressive vision.
Speaking at a videoconference on the occasion of the foundation-laying ceremony of the new Assembly building in Congress-ruled Chhattisgarh, Sonia said: "Regressive thinking is dominating good thinking. The influence of autocracy on democracy is increasing."
Alleging that democratic institutions were being systematically demolished, the Congress president said: "After two years, we will complete 75 years of Independence. Our founding fathers and nation-builders wouldn't have imagined we would face such a difficult phase after 75 years of freedom when our democracy and Constitution would come under threat."
Prime Minister Modi never misses an opportunity to refer to the 75th anniversary of Independence, viewing that milestone in terms of development targets such as a doubling of farmers' income and improving cleanliness. He has never referred to the occasion in the context of the strengthening of democracy, constitutional culture or the freedoms guaranteed to citizens.
Sonia made it clear that the threat to democracy was among her overriding concerns.
"Hamara samvidhan bhavano se nahin, bhaavnaon se bachega (Our Constitution will be saved not by buildings but by feelings)," she said.
Modi plans to build a new Parliament under the Central Vista project that has drawn criticism.
Sonia said: "We have achieved a lot of success in the last seven decades but much is yet to be done to fulfil the vision of the founding fathers of our democracy. For some time now, there has been an attempt to derail the country. Our democracy is grappling with new challenges. The anti-poor, anti-national forces have captured power by instigating people to fight among themselves and by spreading hate and violence in society."
She added: "What do they want? They want to silence the people of India; they want to silence our youths, our tribals, our farmers, our small traders, our women, our soldiers…. They want to shut this nation up. They want everybody to keep their mouths shut."
Sonia, grappling with discontent within her party, understands that the Congress can regain its political space by sharpening the ideological battle lines through a reaffirmation of its commitment to secularism and constitutionalism.
Unlike many other Congress leaders, she has been exceptionally forceful and forthright in her averments on ideological issues, which helped her dislodge the Atal Bihari Vajpayee government in 2004.