22.80 million doses administered
India's record vaccination coincides with Modi's birthday
Internally, the BJP felt that the devastation caused by the second wave had scarred the PM's image, necessitating this all-out attempt at perception management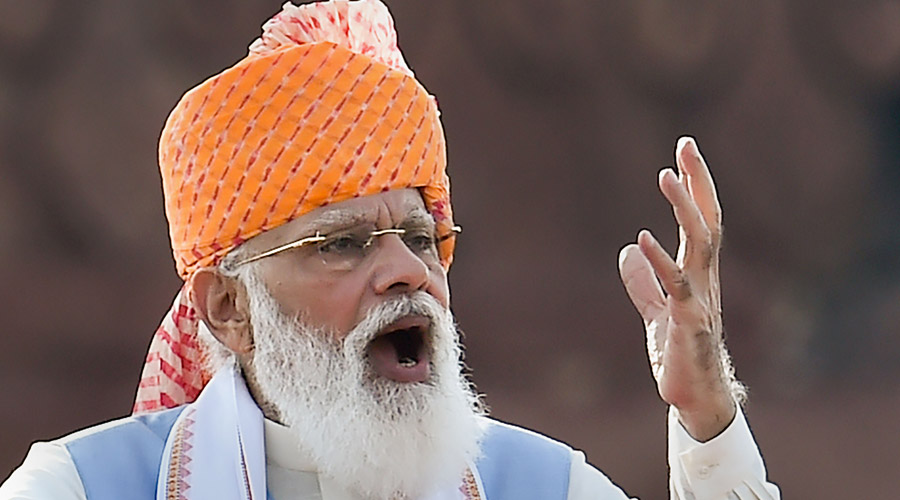 Narendra Modi
File picture
---
New Delhi
|
Published 18.09.21, 02:33 AM
|
---
India's Covid-19 vaccination campaign delivered a record of over 22.80 million doses on Friday, the feat coinciding with Prime Minister Narendra Modi's birthday.
The vaccination campaign's average daily doses have increased month after month. But sharp spikes in doses over the past month have been preceded and succeeded by smaller counts that, experts say, possibly helped the authorities organise the planned increases. "2,00,00,000 mark crossed!" BJP president J.P. Nadda tweeted past 5pm. "This figure is a reflection of New India under PM @narendramodi's leadership. India has set a path in successfully fighting Covid with visionary and diligent leadership," Nadda added. Modi turned 71 on Friday.
2,00,00,000 mark crossed!

This figure is a reflection of New India under PM @narendramodi's leadership. India has set a path in successfully fighting COVID with visionary & diligent leadership. Congratulations to those who got vaccinated & those who made this campaign a success. pic.twitter.com/dlaRlytRV8

— Jagat Prakash Nadda (@JPNadda) September 17, 2021
"527 vaccinations per second today. Breathing...!!! #HappyBdayModiji," a gushing B.L. Santosh, BJP general secretary (organisation), tweeted.
527 vaccinations per second today . Breathtaking ...!!! #HappyBdayModiji #Vaccinationforall

— B L Santhosh (@blsanthosh) September 17, 2021
"India's gift to PM @narendramodi Ji! 2 crore vaccine doses in a day and counting," tweeted minister Smriti Irani.
India's gift to PM @narendramodi Ji!

2 crore vaccine doses in a day and counting.

A big shout out to our frontline workers for their dedication.

Thank you India! pic.twitter.com/GDeBxXFv1j

— Smriti Z Irani (@smritiirani) September 17, 2021
Internally, the BJP felt that the devastation caused by the second wave of the pandemic had scarred Modi's image, necessitating this all-out attempt at perception management on his birthday.
The party leaders expressed confidence that the vaccine blitzkrieg would deal a blow to the Opposition's criticism of the tardy pace of vaccination in the country.
Ahead of Friday's 22,835,858 doses up to 10.45pm, the campaign had administered 6.4 million doses on Tuesday, 6.7 million on Wednesday and 6.4 million on Thursday. Similarly, two other spikes of 14.1 million doses on August 31 and 11.9 million on September 6 were followed by several days of under 10 million doses.
Only China has so far administered similar quantum of counts on a single day — 22.42 million, for instance, on June 28 this year.
The record count was possible because health authorities had organised around 109,000 vaccination centres across the country — compared with 58,000 on Thursday — through a preparatory exercise that a health official said would have taken up to two weeks.
"Such sharp increases do not happen overnight — they are planned with precision," the official said. "The doses need to reach each vaccination centre; the staff have to be prepared; and in some places, people need to be mobilised for the day."
A vaccination policy adviser said India had the capacity to activate nearly 120,000 vaccination centres daily across the country, depending on the availability of vaccine doses. In the coming weeks, as more doses become available, the number of centres operating daily is expected to increase.
"These periodic spikes are not photo-ops — they demonstrate India's existing capacities that can be used for the campaign as more doses become available," said Narendra Arora, a paediatrician and public health specialist who has been advising the government on vaccines.
Amid increasing vaccine supplies, health officials say, the average daily doses have risen from 4.3 million in July to 5.9 million in August and to 7.4 million during the first half of September.
"The steady increase in the number of doses allows us to organise such spikes once a week on average," Arora said. "We hope to see more such high counts in the weeks to come."
Arora said the credit for such high counts should not go just to the campaign's planners, among them district health officials, but also to the people who are coming forward to take the vaccines.
But health experts tracking the campaign said India would be able to achieve its goal of fully vaccinating all its adults by December 31 only if it administers at least 10 million doses daily for the rest of the year.
The vaccination campaign, launched on January 16, had cumulatively administered over 790 million doses by Friday night, but only 198 million (about 21 per cent) of the country's estimated 943 million adults had received the two doses required for full immunisation.
Experts say that day-to-day fluctuations in the vaccination count are not unusual because the number of jabs administered depends not just on the doses available but also on the counts of people seeking immunisation.
"But dramatic fluctuations such as a jump from about 60 lakh one day to over 2 crore the next day point to an orchestrated campaign to show a very large increase on certain days," said R. Ramakumar, an economist and professor of developmental studies at the Tata Institute of Social Sciences, Mumbai.
"The key to achieving the December 31 goal is to maintain consistency in vaccination rates and achieve a monthly average of such high levels," he added.