India's purchases of Russian oil set new records yet again
Change is massive, says data firm Kpler; now Russian crude makes up 35% of oil imports, up from pre-war level of 1%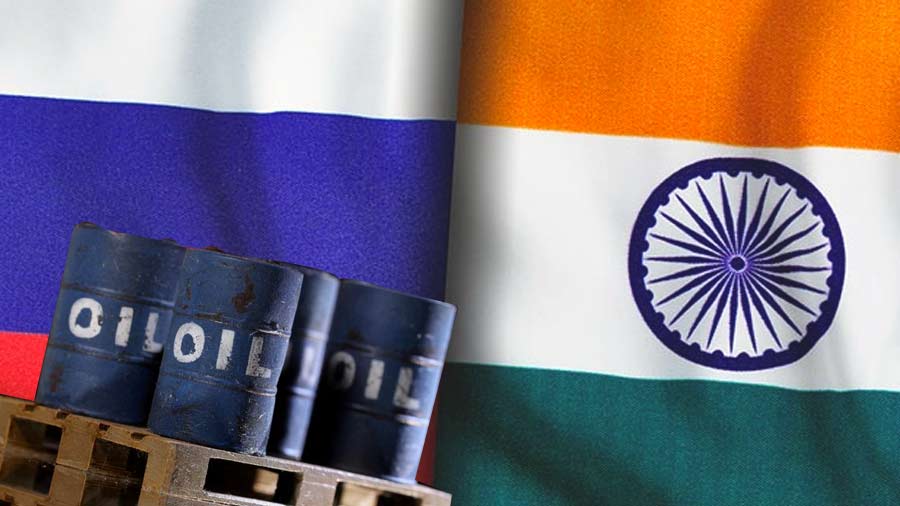 Representational image
File picture
---
Published 03.03.23, 02:43 PM
|
---
India is smashing records once again as it accelerates its purchases of Russian oil for a third straight month from already sky-high levels in December and January. And it's exporting finished petroleum products to both Europe and the US.
In February, about 1.9 million barrels per day (bpd) of Russian oil has been processed at Indian refineries. That's up from the record 1.4 million bpd in January and that was sharply up from 1.2 million bpd in December 2022. 
In addition, India's also buying Russian naptha and about 500kbd (500,000 barrels) of fuel oil used for shipping bunker fuel and home heating. Altogether, India purchased over 2 million bpd in February. 
Discounted Russian oil purchases now make up 35 per cent of India's total crude imports, up from just one per cent before Russia invaded Ukraine just over a year ago.
Massive change
"The change is massive even though we thought January numbers were already near peak levels," says Viktor Katona, lead crude analyst at data analytics company Kpler.  
India and China are now almost the world's only buyers of Russian oil, except for tiny Bulgaria which has been allowed an exemption from European sanctions. And India's the biggest buyer of seaborne Russian oil.
The changes in the international oil business have come about because of the Russia-Ukraine war and the sanctions imposed on Russia. But many analysts believe the changes are here to stay. Partly that's because Nayara is partly owned by Russian oil giant Rosneft which has found it can supply oil to its own refinery and reap extra profit. Great deal
Russian oil has turned into a great deal for India thanks to discounts offered by Moscow. While Europe has moved away from purchasing crude from Russia to punish Moscow for its invasion of Ukraine, it's keen to purchase the same oil from India after it's been refined to meet its energy needs.
The US Biden Administration says India is buying Russian crude at prices "well below" the $60 barrel a day price cap imposed by the West on Russian oil exports. Benchmark Brent oil is currently trading at over $80.
Diesel exports from India to Europe are currently at the highest levels since March 2022. Both private sector giants Reliance and Nayara are key exporters to European markets.
Exports: marginal rise
However, India's total exports of petroleum products have not risen steeply and that's largely because all the refineries are working at full tilt with no extra capacity to spare. In January exports were around 1.1 million barrels per day. That's lower than the 2022 monthly average of 1.2 million bpd.
Says Katona: "The refineries are at full capacity, and potentially even higher, because it's so profitable."
Since Russia invaded Ukraine in February, 2022, India has emerged as the primary destination for seaborne cargoes of Urals crude. Russian oil suppliers are seeking to use their own ships and those of shipping partners to transport Urals oil to India to cut costs, traders say.
Ultra-low sulphur diesel
The refiners are mostly exporting what's called ultra-low sulfur diesel (ULSD) to Europe. However, they insist that Russian oil is now being processed and sent into the domestic Indian market. They add that crude oil from other countries is being used to feed export markets in Europe and the US. Many Europeans used to buy large quantities of ULSD from Russia but have been forced to stop such purchases because of the sanctions' regime that's now in force.
Export opportunities are also limited because demand in India is currently at high levels of about 5.3 million bpd. That's likely to fall only in the run-up to the monsoon season in April-May when domestic consumption traditionally takes a step back.
Reliance, which has the world's largest refinery operation, is the biggest importer and takes in around 600million bpd which is almost half its total capacity. Similarly, Nayara imported more than 50 per cent of its 300,000 million bpd monthly capacity.
PSUs also importing big
India's public sector oil companies are also importing huge quantities of Russian oil. As a result, buying from Saudi Arabia, which is normally one of India's top suppliers, has fallen steeply. Imports from Iraq have fallen much less.
Russia became India's biggest oil supplier in November, supplanting Iraq, according to trade officials.
Russia has been seeking to get around the sanctions by the West by finding new markets in Asia and official data shows that it has increased its money from crude exports. European officials are hoping that the new Western controls – imposing an embargo on most sales to Europe and a price cap on Russian crude sold to other countries – will hit Moscow's energy earnings. However, J. P. Morgan forecast this week that Russia will be able to maintain its oil output at pre-Ukraine invasion levels due to demand from China and India.