Indian scientists come up with coronavirus-busting antibody effective against multiple variants
It has broad neutralisation potential, says vaccine immunologist Sanjeev Kumar of Delhi-based International Centre for Genetic Engineering and Biotechnology that conducted collaborative research with National Institute of Malaria Research (New Delhi) and Emory Vaccine Center (Atlanta, USA)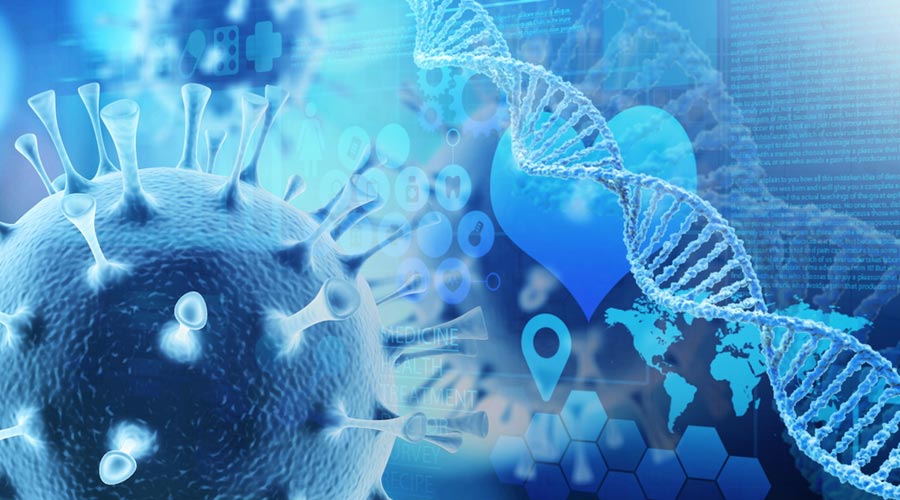 Representational image.
Library
---
Published 10.10.22, 02:08 PM
|
---
Indian scientists say they have come up with a coronavirus-busting antibody that counters a wide range of Covid-19 variants, a breakthrough which paves the way for new treatments and vaccines for the virus. 
Since the pandemic began, researchers have been looking for the holy grail of antibodies – one that can fight not only one strain of the virus but subsequent variants. Now, scientists at the Delhi-based International Centre for Genetic Engineering and Biotechnology (ICGEB) say that they have discovered one antibody which does exactly that.
They have tagged the antibody 002-S21F2. 
"This novel Ab (antibody) has excellent potential as a therapeutic agent against a broad range of SARS-CoV-2 variants," said Sanjeev Kumar, who's an experimental vaccine immunologist at ICGEB. 
The discovery comes as the world braces for a surge in Covid-19 cases. The World Health Organization has warned of a global spike in new Covid-19 cases as colder weather pushes more activities indoors with Omicron behind the majority of infections. 
'Maintains neutralization potential'
The antibody has been tested against SARS-CoV-2 variants including Alpha, Beta, Gamma, Delhi and the different Omicron sub-lineages including, BA.1, BA.2 and others. The results showed that 002-S2-1F2 "maintains its neutralization potency against all these variants of concern", the research paper showed.
What makes this new antibody effective against different strains is that it targets a portion of the virus that remains the same, whatever the variant. This means that the antibody can be applied to "a diverse spectrum of the emerging SARS-CoV-2 variants", researchers said. 
Researchers have been playing endless rounds of catchup as they fight Covid-19. No sooner do they develop one antibody to attack the latest virus mutation, than another variant comes along for which they need to develop a different antibody. 
Hence, the importance of coming up with a monoclonal antibody that can neutralise most, if not all, variants of Covid-19. Scientists at ICGEB believe the development of human monoclonal antibody 002-S21F2 is the answer to the problem of mutations in the virus.
Many unreported cases
In India, the coronavirus active caseload fell below the 30,000 mark this weekend after 122 days but doctors say many cases are going unreported as many people are not testing for the virus or are using at-home tests for which there is no formal reporting method.
But the UK, for instance, has witnessed a surge in Covid cases, months after the infection curve flattened. The daily fresh caseload there is numbering more than 200,000. 
China, which has stuck to its zero-Covid policy, has gone on high alert with the country reporting more than 1,700 cases on Sunday over the previous 24 hours, more than triple the number from the previous week. The climb in Chinese cases is being driven by a spin-off of the Omicron sub-variant BA.5, known as BF.7. The US Centers for Disease Control and Prevention has warned that BF 7 "appears to be more infectious" than previous highly infectious Omicron strains and forecasts it will cause a surge in infections this winter. 
What is 'monoclonal' antibody?
Infection-fighting monoclonal antibodies target specific cell surface structures and either destroy the infected cell or eliminate the virus from the host bloodstream. They are called "monoclonal" antibodies as they come originally from a single cell. 
Discovery of the antibody came as a result of research carried out on patients in India who had had mild cases of the original Wuhan strain of Covid-19. The collaborative research was carried out by ICGEB in tandem with the National Institute of Malaria Research (ICMR-NIMR, New Delhi) working in collaboration with the Emory Vaccine Center (Atlanta, USA). 
The research involved "single-cell screening memory B cells derived from Covid-19 recovered individuals from India," the researchers said. Memory B cells are one of the organisms that create lifelong immunity to infecting pathogens.
'Bebtelovimab' in US 
Companies around the world can now use 002-S21F2 to create therapies or vaccines for Covid-19, researchers said. The antibody has "broad neutralization potential," said Kumar. Currently, in the United States, since the emergence of Omicron, bebtelovimab is the only monoclonal antibody prescribed. 
This particular antibody is effective against different strains because it targets a portion of the virus that remains the same and can be applied to "a diverse spectrum of the emerging SARS-CoV-2 variants", the research paper said.
The difficulties of developing treatments for Covid-19 are that it has been transmitted very widely and that so many have emerged. This has complicated all efforts to develop a treatment that can be effective against all varieties. As one report says: "This highlights a continuous need to identify mAbs that are effective against emerging variants."
One problem that has emerged with Covid-19 is that the "immunological memory" created by the illness may not be very long and therefore people can get re-infected several times. However, researchers believe that re-infections can be milder. Recent research has shown that memory B cells are crucial for responding to reinfections.