Indian astrophysicist and teacher passes away at 64
Thanu Padmanabhan had tweaked Albert Einstein's theory of gravitation to explain an all-pervasive mysterious energy in the universe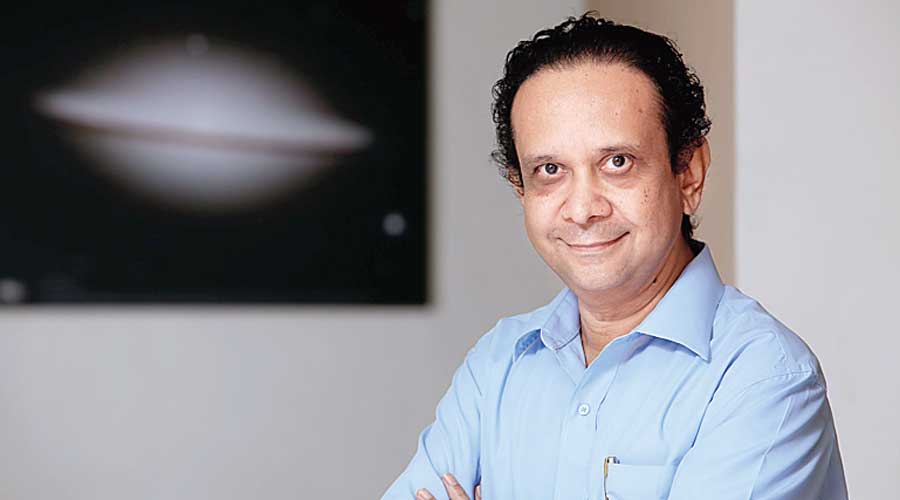 Thanu Padmanabhan
File picture
---
New Delhi
|
Published 18.09.21, 01:20 AM
|
---
Thanu Padmanabhan, an Indian astrophysicist who tweaked Albert Einstein's theory of gravitation to explain an all-pervasive mysterious energy in the universe and was viewed by India's science community as an outstanding teacher and mentor, passed away on Friday. He was 64.
Padmanabhan — fondly known as Paddy — who was at the Inter-University Centre for Astronomy and Astrophysics (IUCAA), Pune, and worked on cosmology and gravity among other physics areas was among the most-cited authors in the physical sciences from India, his fellow scientists said.
"Scholar, communicator, extraordinary scientist, friend to many. He will be much missed," principal scientific adviser to the government Krishnaswamy VijayRaghavan tweeted.
Padmanabhan, whose work on gravity provides a possible understanding of so-called dark energy, a repulsive force discovered in the late 1990s that pushes everything in the universe away from everything else, was also known for his efforts at science communication through books, columns and wit.
"Paddy was deeply engaged in all levels of the academic process," said Somak Raychaudhury, IUCAA's director who had known Padmanabhan for over 35 years. "His textbooks are among the most widely read and each of his popular books on science are unique in every way."
Padmanabhan's lectures on myriad topics of physics available on various online platforms have "guided many a soul into physics", said Ajay Thakur, an associate professor of physics at the Indian Institute of Technology, Patna, whose own research deals with another physics field.
Among Padmanabhan's many books, Thakur recalled, was one titled Sleeping Beauties in Theoretical Physics.
"Padmanabhan's wit shines through all his books," said Raychaudhury.
And his website that features the line: "Beam me up Scotty! There is no intelligent life out here," a reference to a character and a line from the acclaimed US TV series Star Trek.
In 2016, Padmanabhan won a 10-year old bet with a physicist David Wiltshire at the University of Canterbury, New Zealand, who had challenged his ideas, and received a $200 decorative lamp that Padmanabhan placed in his living room.
At an international physics symposium in 2006, Padmanabhan claimed there was no evidence to contract his hypothesis. Wiltshire took up the challenge — and lost the wager in 2016. "I don't think I'm going to make any more money from the cosmological constant," Padmanabhan had said in 2016.
Through his career, Padmanabhan had won multiple awards, including the Shanti Swarup Bhatnagar Prize, a prestigious award from the Indian government, the Infosys Foundation Prize, among other national and international awards.
Padmanabhan post-graduated in physics from Kerala University before joining the Tata Institute of Fundamental Research, Mumbai, for his PhD studies with the noted |Indian astronomer Jayant Narlikar as his supervisor.
"He was committed to training young people and to reach out to the public.… He was still very young in his outlook and mind and had a long way to go," said Raychaudhury who had first met Padmanabhan when he was a student at Cambridge and Padmanabhan was a visiting fellow there.
"This is a loss beyond repair not just for his friends, students and associates, but for the Indian science community at large," Raychaudhury said.
Padmanabhan is survived by his wife Vasanthi and daugher Hamsa.