Officials in Delhi signal reluctance
India on Russia vaccine site list
Plans for 'Phase 3' clinical trials in countries including Brazil, the Philippines, Saudi Arabia and the United Arab Emirates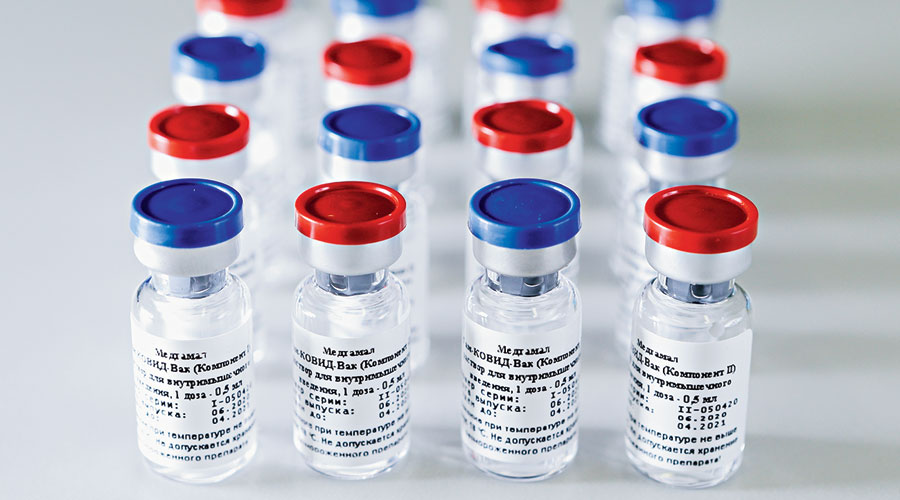 ---
---
Two Russian entities have named India among several sites for planned large-scale efficacy trials and mass production of a candidate coronavirus vaccine that has been approved by Russian regulators without the crucial final round of tests.
But health officials in New Delhi have signalled that India is not ready yet for the trials and the mass production.
The Gamaleya National Centre that developed the vaccine and Russia's sovereign wealth fund have said on a website on the vaccine that they plan to conduct the large-scale "Phase 3" clinical trials in Brazil, India, the Philippines, Saudi Arabia and the United Arab Emirates.
The Gamaleya centre and the Russia Direct Investment Fund have also said they plan to "start mass production" of the candidate vaccine in other countries, including India, Brazil, Cuba, Saudi Arabia, South Korea and Turkey. The plan is to ramp up production to 200 million doses by the end of 2020, including 30 million doses in Russia, they said.
Russia's approval of the candidate vaccine on Tuesday without the completion of efficacy trials has baffled researchers worldwide. They have stressed that vaccines should be approved only after rigorous clinical trials to assess safety and efficacy.
Indian health officials and researchers on Wednesday said that the information available in the public domain about the Russian vaccine was not sufficient yet to build the confidence to proceed with large-scale trials in India.
A senior scientist and member of a government expert panel tasked with formulating India's strategies for developing Covid-19 vaccines told The Telegraph that he had no knowledge of a proposal for Phase 3 trials of the Russian vaccine in India.
The panel, chaired by Niti Aayog member Vinod Paul and including representatives of the Union health ministry, the Indian Council of Medical Research and the states, met on Wednesday and advised the states "not to chart separate pathways of procurement" (of vaccines).
A senior health official underlined that the Russian candidate had been approved even before the start of Phase 3 trials.
The Gamaleya centre and Russian fund have said that the Phase 1 and 2 clinical trials that assess early safety and efficacy were completed on August 1, that is, 10 days before the Russian health ministry's regulators approved the vaccine on August 11 for mass vaccination.
They have said that Phase 3 clinical trials involving more than 2,000 people in Russia, Brazil, Mexico, Saudi Arabia and the UAE "will start on August 12".
A senior health official in India told this newspaper: "This vaccine has not even undergone Phase 3; this vaccine is not even mentioned in the World Health Organisation's inventory of (candidate) vaccines against Covid-19."
A senior virologist said that Phase 3 studies were critical for safety and efficacy assessment, for Phase 1 and 2 clinical trials can only demonstrate early safety and the vaccine's ability to produce an immune response.
"Any protein injected into the body can produce an immune response. The key question is: does this antibody response protect the recipients from future infections?" said Sudanshu Vrati, executive director of the Regional Centre for Biotechnology, Faridabad (Haryana).
"We need large-scale population studies to answer this question."
Phase 3 trials enrol two large groups of people. One group gets the candidate vaccine; the other does not. Such trials count the proportions of people who develop the infection among the vaccinated group and the non-vaccinated group. If significantly fewer vaccinated people develop the infection, the vaccine is said to be protective.
"We should moderate our expectations -– we should not be too excited about a vaccine," the health official said, stressing that even the WHO had iterated that the earliest a safe and effective vaccine could be available was early 2021.
A WHO document on global Covid-19 vaccine efforts lists 28 candidates that have entered human clinical trials and 139 other vaccines under various phases of pre-clinical and laboratory development.
India had in mid-July started early safety and efficacy trials of two home-grown candidate vaccines, and is about to start large-scale efficacy trials of a candidate developed by researchers at Oxford that has already undergone safety and efficacy trials in the UK.