India falls on democracy index
Report cites Kashmir lockdown, Citizen Act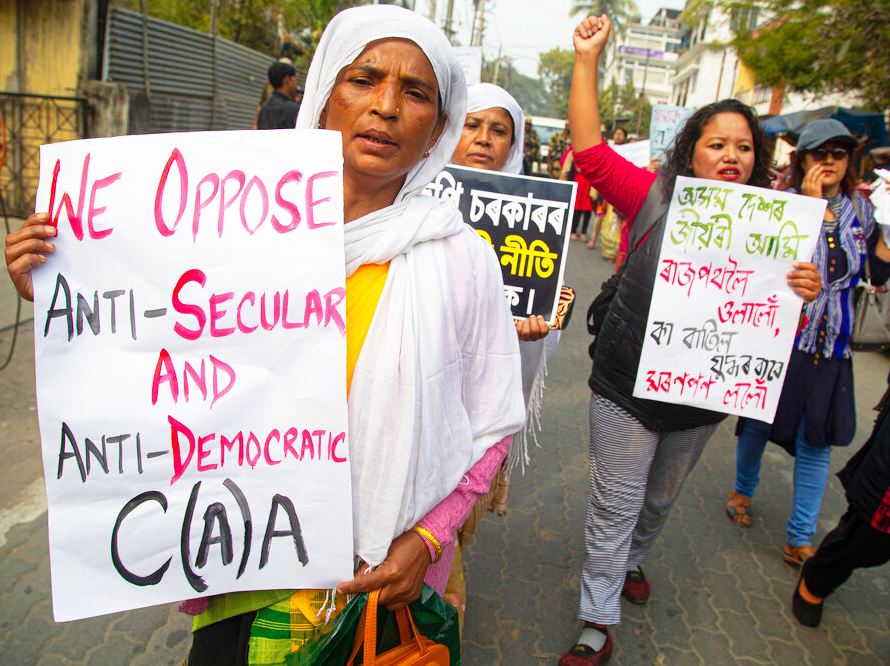 Women walk in a procession against the Citizenship (Amendment) Act in Guwahati on Sunday
(AP photo)
---
New Delhi
|
Published 22.01.20, 10:41 PM
|
---
India has dropped 10 places in global democracy rankings — in a year that saw the world's biggest elections in the country.
The democracy index has been drawn up by the Economist Intelligence Unit which released its report on Wednesday. The unit is the research and analysis division of The Economist Group, the sister company to The Economist newspaper.
Some of the actions taken by the Narendra Modi government, such as the Kashmir lockdown, the National Register of Citizens in Assam and the Citizenship (Amendment) Act, find special mention in the report.
For the first time since the global index was launched in 2006, India's score has fallen below seven.
India has always been regarded as a flawed democracy in this index. Flawed democracies are countries which have free and fair elections and basic civil liberties but where there are significant weaknesses in other aspects of democracy, including governance, political culture and participation.
The difference now is that India has slipped to the below-seven category from above seven.
India now figures among the 11 countries which saw regressions in 2019.
The other 10 countries are Belarus, Benin, Bolivia, Cameroon, Comoros, Egypt, Guyana, Singapore, Mali and Zambia.
"The biggest democracy in the world, India, dropped ten places in the Democracy Index's global ranking to 51st place. India's overall score fell from 7.23 in 2018 to 6.90 in 2019. The primary cause of the democratic regression was an erosion of civil liberties in the country," the report noted.
India's previous score — 7.23 in 2017 and 2018 — was, as it is, the lowest since 2006. The highest was 7.92, in 2014.
The factors considered while working out the score include the electoral process and pluralism, functioning of the government, political participation, political culture and civil liberties.
Elaborating on the reasons for India's sharp drop, the report cited the repeal of two key constitutional provisions that granted Jammu and Kashmir its powers of autonomy. "Ahead of the move, the government deployed a large number of troops in J&K, imposed various other security measures and placed local leaders under house arrest including those with pro-India credentials. The government also restricted internet access in the state."
The report also takes note of the Assam NRC, the CAA, and the criticism that the BJP is trying to target Muslims to change the demographics of India, and the protests across the country.