India doesn't want military conflict with China, says Defence ministry
Sources in New Delhi say Narendra Modi government is looking forward to resolving border standoff in Ladakh through dialogue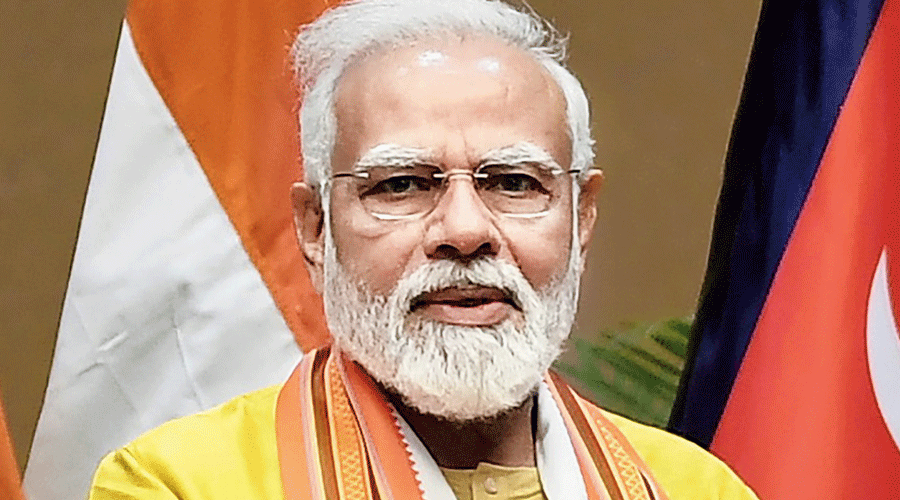 Narendra Modi.
File photo
---
New Delhi
|
Published 17.05.22, 01:45 AM
|
---
Once is happenstance, twice is coincidence and the third time, it's enemy action or — in modern-day spin-doctoring — a test-firing pattern that retains deniability.
A drumbeat of statements and unverified claims have been flowing from the defence establishment and a political gadfly that suggests that the Narendra Modi government is keen on resolving the eastern Ladakh border standoff with the Chinese through dialogue.
But few have yet spoken of a military solution — Prime Minister Modi says almost nothing that may annoy China — which raises the question whether voluntary reference to a diplomatic settlement is a precursor to accepting the "revised status quo" on Ladakh.
Shorn of diplomatese, such a solution would mean that both China and India would remain where they are now, and New Delhi will grin and bear the perceived territorial losses that culminated in the Galwan massacre of June 2020.
As many as 20 Indian soldiers and an unspecified number of Chinese (Beijing says four) were killed in the flare-up two years ago — the consequences of which have become the biggest bilateral millstone around the Modi government's neck and the least discussed within India.
On Monday, defence ministry sources in New Delhi said India was looking forward to resolving the border standoff in Ladakh through dialogue, and not military conflict, as it wanted peaceful relations with its neighbours, including China.
"At present India does not want any military conflict with China in the wake of the continued threat posed by the People's Liberation Army along the Line of Actual Control in eastern Ladakh. We want to wait and resolve the border issues with China through talks. India wants peaceful relations with all its neighbours," a defence ministry official said.
The second hint was dropped soon. Another ministry official said the China frontier (LAC) in Ladakh resembled the Line of Control (LoC) with Pakistan, considering the permanent deployment of Indian army troops since the border standoff in May 2020.
"We want to wait till there is complete disengagement and de-escalation of the Chinese army along the LAC," he said.
Into such a benign discourse — which stands in sharp contrast with the chest-thumping that must accompany any conversation on the western neighbour — was tossed a political grenade by a launcher once nurtured by the BJP to snipe at political rivals but now treated as a loose cannon by the Modi dispensation.
On Monday, BJP member Subramanian Swamy tweeted: "It is quite clear that Modi has decided not to confront China to recover our territory. Thus, like Nehru, we lose to China thousands of sqkms of Indian territory. China's junior partner Russia has some mysterious hold on India because of S-400. So Moscow wants as per China's fatwa."
It is quite clear that Modi has decided not to confront China to recover our territory. Thus like Nehru we lose to China thousands of sq kms of Indian territory. China's junior partner Russia has some mysterious hold on India because of S-400. So Moscow wants as per China's fatwa

— Subramanian Swamy (@Swamy39) May 16, 2022
India had struck a deal with Russia for the supply of the advanced S-400 air defence missile systems. As part of the agreement, India has received the first S-400 missile system while another four are awaited. Defence ministry officials said S-400 missiles would strengthen India's defences along its borders with China and Pakistan.
The Indian and Chinese armies have been locked in a standoff at multiple points in Ladakh. The Chinese army has altered the unmarked LAC at several friction points and is estimated to have taken over close to 1,000 sqkm of India-claimed territory.
The border standoff in Hot Springs and Depsang Plains is continuing even though there has been "partial" disengagement from the Galwan Valley, Pangong Lake and Gogra by creating a dimilitarised "buffer zone" with the Chinese stepping back a few kilometres while still remaining within India-claimed lines.
There is a growing feeling in the security establishment that the Chinese army has been clearly working to establish a "revised status quo" that will allow them to hold on to their newly acquired positions within India-claimed lines. Military veterans have also been flagging the absence of the phrase "restoration of status quo ante" from the joint statements issued by India and China during the recent talks.
China's hardened stand has triggered apprehensions among security officials that the Ladakh frontier could now become a permanently contested militarised zone, similar to Jammu and Kashmir.
"After the Galwan Valley clash in 2020, the Indian government had made the restoration of status quo ante the prerequisite for bringing bilateral ties back on track. But now the phrase 'restoration of status quo ante' has been missing from the joint statements. Does it mean India has accepted the new status quo and given up the demand for restoration of status quo as of April 2020?" a military veteran asked.
Another veteran said there had been no official word from either the Union government or the Indian Army on the specifics of the disengagement plan being discussed during the military talks.
So far, India and China have held 15 rounds of military talks but the PLA is said to have refused to restore the April 2020 status and pressed India to accept the altered frontier created by the Chinese transgressions.
Both sides have amassed men and machinery at 14,000ft above the sea level in Ladakh and deployed 50,000 troops each along the LAC in Ladakh, backed by artillery, tanks and missile systems.