India Covid-19 death toll could be around 6 million, US study reports
Study of Chennai-area pandemic fatalities shows poor much harder hit in 2nd wave than in 1st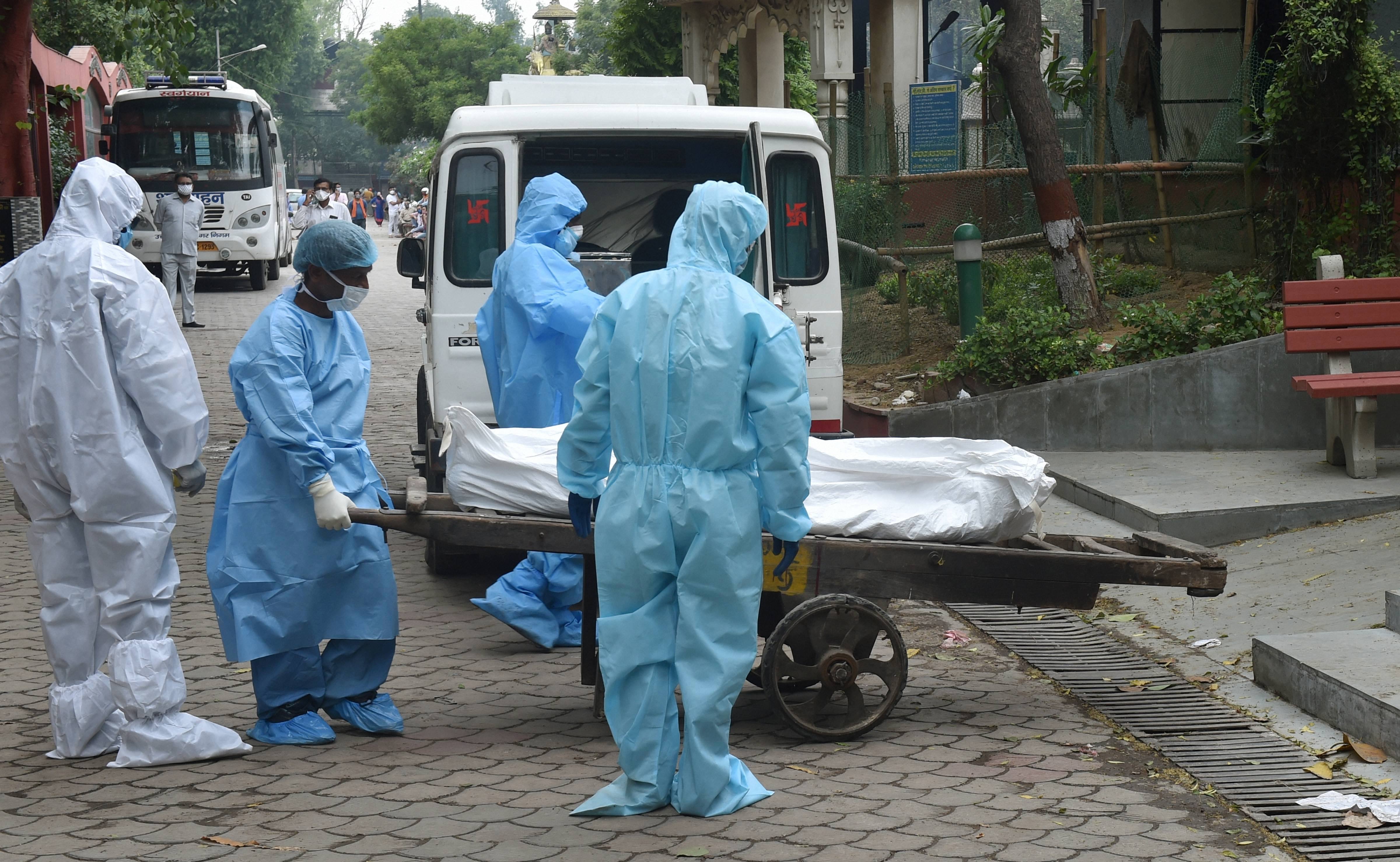 The fact that the official figures have failed to keep up with actual deaths was underlined when the Gujarat state government had approved 68,370 ex-gratia payments for Covid-19 while the state's cumulative pandemic toll stood at only 10,094.
File picture
---
New Delhi
|
Published 21.01.22, 05:51 PM
|
---
The all-India death toll from Covid-19 could be around 6 million, according to a study that examined extremely closely the number of people who fell sick and who succumbed to the pandemic in the Chennai city area.
The study by the Washington-based Center for Disease Dynamics, Economics and Policy (CDDEP) estimates that in the Chennai district there were around 5.2 deaths per thousand in 2020 and 2021 – 41 per cent above the normal death rate. Between March 1, 2020, and June 30, 2021, 87,870 deaths took place and this "exceeded expected deaths by 25,990".
"On the nationwide figures, the 5.2 deaths per 1,000 residents would indicate over 6 million deaths nationwide if the results could be extrapolated to the entire country," Ramanan Laxminarayan, founder and director, CDDEP and the study's lead author, told US TV network ABC News. The government's official death toll stands at 486,821 which is widely believed to be a massive undercounting of the number of fatalities.
Laxminarayan, who's an economist and epidemiologist, is quick to qualify that Chennai's figures can't be extrapolated directly to the rest of the country: "It may not be appropriate to extrapolate directly from Chennai to the whole country. There may have been less Covid in some parts of the country which could mean that the 6 million figure is an overestimate." But he adds: "By the same token, healthcare facilities in north India are less developed than in Chennai, which could imply that the figure nationwide could be higher (than six million)."
Laxminarayan chose Chennai for a detailed study because it has the country's best death registration systems. "Chennai has an excellent death reporting system that is available in very few cities across the country. Hence our focus there," he says.
The number of deaths, Laxminarayan points out, are higher than in richer countries, even though the population here is younger. "Estimates of excess mortality during the Covid-19 pandemic in Chennai, exceed those from numerous higher-income settings despite India's younger age distribution," he says.
In fact, the excess mortality rates are sharply higher than in Western countries, the study says. "Chennai (deaths) exceed those from numerous higher-income settings. Although the USA, UK, Italy and Spain have older populations than that of India, these countries recorded 1.6-2.1 excess deaths per 1,000 residents through June 2021, compared with 5.2 in Chennai." The study was published in The Lancet.  
Besides that, the study shows that deaths in all socio-economic groups were roughly the same during the first wave and were, in fact, lower amongst the lower socio-economic groups. That  picture, however, changed dramatically during the second wave when deaths amongst lower socio-economic group communities were far higher.
Laxminarayan says a possible explanation for this could be that: "When healthcare facilities are overrun, as they were during the second wave, those with a lower socioeconomic status are the most affected since they are the least likely to be able to get a hospital bed, oxygen or appropriate treatment."
The CDDEP study is one of the first to investigate in-depth the death rates amongst different socio-economic groups in India.
Also, the study, says Laxminarayan, is one of the few detailed ones undertaken in lower-income countries. Says Laxminarayan: "There are very few large-scale studies examining all-cause mortality in low-income and middle-income countries."
Unsurprisingly, the study found that "excess mortality was substantially higher in older age groups".
On the subject of whether rural areas had fewer cases of Covid-19 than urban areas, Laxminarayan says: "Rural areas may have had less Covid because of less transmission – sero-surveillance surveys seem to suggest this. However, mortality rates may have been higher in rural areas and also in states like Uttar Pradesh and Bihar where healthcare facilities are less developed."
Laxminarayan reckons a huge amount of research still remains to be done on Covid-19. He says: "The official mortality count is an underestimate since it is only based on reported cases. We should look at Covid-related mortality in a number of ways including excess death counts, retrospective verbal autopsy studies and more systematic estimation based on data that are not yet in the public domain." 
The fact that the official figures have failed to keep up with actual deaths was underlined when the Gujarat state government had approved 68,370 ex-gratia payments for Covid-19 while the state's cumulative pandemic toll stood at only 10,094. Similarly, Telangana has paid out compensation in 12,148 cases while the official death records show only 3,993 Covid-19 deaths in the state. 
There have been various studies earlier suggesting that India's death toll from Covid could be at least in the range of three million to five million and this study clearly backs that.