Eagle wants to join Dragon-Jumbo dance
Ready, willing and able to mediate or arbitrate: Trump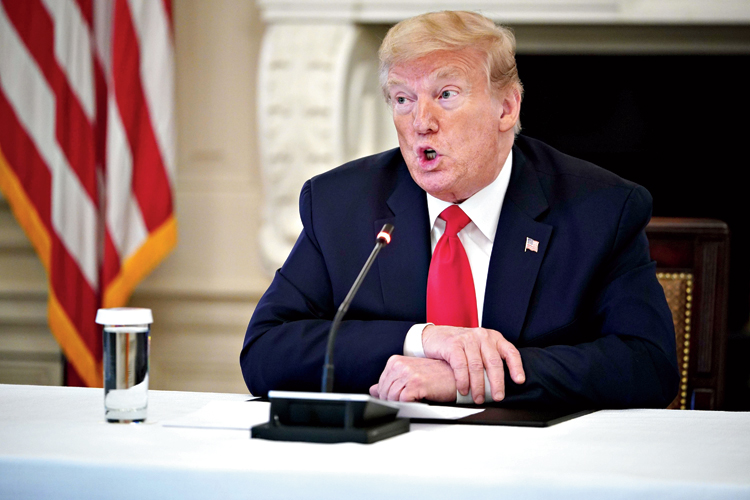 US President Donald Trump at the White House.
(AP)
---
New Delhi
|
Published 27.05.20, 07:27 PM
|
---
US President Donald Trump on Wednesday sprang the M-word — "mediation" — again, this time between India and China, on a day the Chinese ambassador in New Delhi said the "realisation of 'Dragon and Elephant dancing together' is the only right choice" for the two countries.
Tweeting from his personal handle, Trump said: "We have informed both India and China that the United States is ready, willing and able to mediate or arbitrate their now raging border dispute. Thank you!"
This was promptly retweeted from the official handle also.
India has always bristled at offers of mediation, especially when it relates to Pakistan.
Till late in the evening, there was no official word from India to either Trump's jaw-dropping offer — considering his regular tirades against China — or the voices from Chinese officialdom.
Besides the ambassador's tango statement, the foreign ministry spokesperson in Beijing had said the situation at the border was "overall stable and controllable".
Over the past several months, Trump has more than once offered to mediate on Kashmir, drawing a sharp response from India initially.
Subsequent offers made by Trump were met with a sense of resignation, knowing that there is no way to stop him from making such statements and drawing comfort from the fact that the US state department is sensitive to India's position on mediation.
On Wednesday, Chinese foreign ministry spokesperson Zhao Lijian said: "We have been following the important consensus reached by the two leaders and strictly observing the agreements between the two countries."
It was an apparent reference to the mechanisms in place for resolving the face-offs that have taken place along the Line of Actual Control over the past few weeks.
Confirming that diplomatic channels had been activated to de-escalate flashpoints along the LAC from west to east, Zhao further said: "We are committed to safeguarding our territorial sovereignty and security, and safeguarding peace and stability in the border areas. Now the China-India border area situation is overall stable and controllable. Between the two countries, we have good border related mechanism and communication channels. We are capable of resolving the issues properly though dialogue and consultation."
In Delhi, Chinese ambassador Sun Weidong said in response to a question on bilateral relations that "we should adhere to the basic judgement that China and India are each other's opportunities and pose no threat to each other. We need to see each other's development in a correct way and enhance strategic mutual trust.
"We should correctly view our differences and never let the differences shadow the overall situation of bilateral cooperation. At the same time, we should gradually seek understanding through communication and constantly resolve differences.''
He was interacting with the Confederation of Youth Leaders.
Dwelling on the need for the dragon and elephant to waltz together, the ambassador further said: "As the two major emerging economies, China and India should strengthen practical cooperation in investment, production capacity and other fields, and expand the cake of common interests. China hopes to develop itself and India as well. The two countries should help each other to accomplish their respective goals and 'light up' each other.''