De-escalation is 'priority'
'Disengagement' expected to be a long-drawn process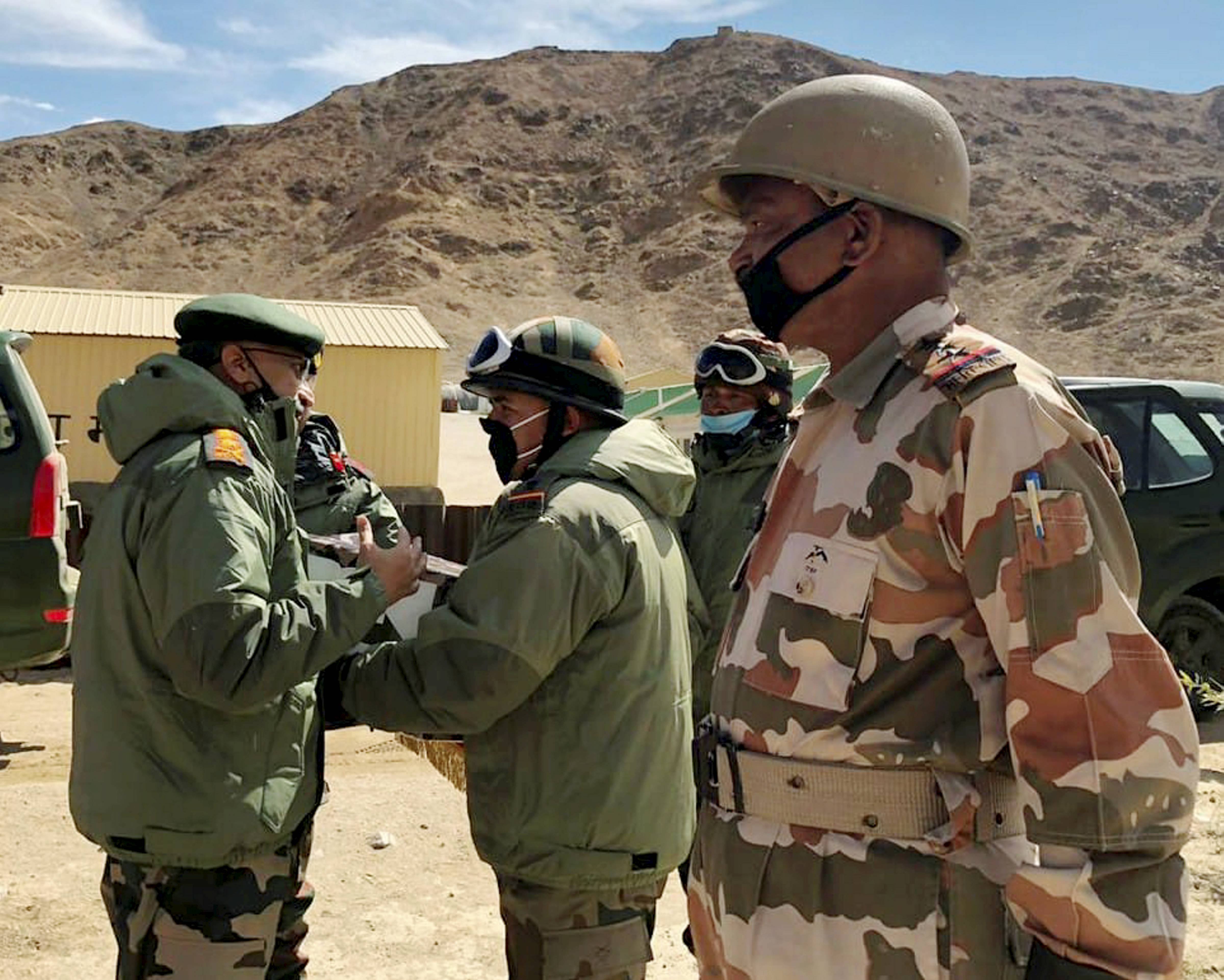 Army chief Gen. M.M. Naravane talks to troopers while reviewing the situation on the ground after the stand-off in eastern Ladakh on June 24
(PTI photo)
---
New Delhi
|
Published 27.06.20, 03:27 AM
|
---
Sources in the defence ministry and some veterans on Friday underscored that the immediate priority for India was to ensure "de-escalation" of the Chinese troops as "disengagement" is expected to be a long-drawn process.
"The ground assessment has revealed that the Chinese troops are attempting to change the status quo in eastern Ladakh in several fronts. Our main priority now is to push for de-escalation of Chinese troops from the sensitive areas and the issue of disengagement can also be taken up simultaneously. Disengagement is a gradual process and at present it appears to be a long-drawn process," a defence ministry official told The Telegraph.
De-escalation means thinning of troops to reduce the intensity of a possible conflict while disengagement refers to restoring status quo by pulling back troops from the occupied areas. The defence ministry official pointed out how the disengagement process agreed upon between the two sides on June 6 had gone awry on June 15 when 20 Indian soldiers were killed.
A day after the second round talks between corps commander of both sides on June 22, an Indian Army source had said that there was a "mutual consensus to disengage" and the modalities for disengagement from all friction areas in eastern Ladakh had been discussed and this would be taken forward by both sides.
"Multiple rounds of talks through military and diplomatic levels are needed for disengagement process to start. It cannot be achieved overnight. The most pressing issue right now is to push them to start de-escalation from the build-up areas and continue the military and diplomatic channel talks simultaneously to ensure phase-wise disengagement," said a retired lieutenant general.
The ongoing escalation between the two sides, he said, is more serious than the 2017 Doklam standoff. "That was also resolved after 70 days following intense diplomatic-level talks," he said.
Another veteran said the Chinese are continuing to transgress inside the Indian claim line amid heavy build-up along the LAC. "It seems they have come well prepared."
After crossing the Indian claim line in the Galwan Valley, Pangong Lake and Hot Springs, the Chinese are now said to have opened a new front on the Depsang Plains near Daulat Beg Oldi in northern Ladakh.
"Forget about disengagement, so far there is no visible sign of de-escalation in Pangong Lake, the Galwan Valley and Hot Springs while they have opened a new front. It's good that the Indian Army has now done mirror deployment in forward areas along the LAC. Right now we need to ensure de-escalation of the Chinese troops along the sensitive areas and continue the dialogue for disengagement from all friction points," the veteran said.
Army chief Gen. M.M. Naravane briefed defence minister Rajnath Singh on Friday.