Crucible of exciting experimentation: Arvind Subramanian on basic income plan
Congress's minimum income guarantee scheme and former CEA's 'QUBRI' have similar grounds but markedly different reach
Arvind Subramanian, former chief economic adviser.
The Telegraph file picture
---
New Delhi
|
Published 28.01.19, 09:37 PM
|
---
If you are going to quibble about concepts such as universal basic income, it may be time to bone up on abbreviations like "QUBRI".
On Monday, Arvind Subramanian, the former chief economic adviser who had first floated the idea of a universal basic income scheme in the Economic Survey for 2016-17, responded enthusiastically to Congress's plan.
"From Sikkim, Telangana, Odisha, our new rural income proposal (QUBRI) & now INC India's minimum income guarantee. India (is a) crucible of exciting experimentation on Universal Basic Income (UBI). Ideas matter," Subramanian tweeted.
Sikkim recently launched a scheme to distribute incomes through contractual jobs while Telangana and Odisha have come up with innovative income schemes for farmers.
Back to QUBRI. Recently, Subramanian had proposed a quasi-universal basic rural income (QUBRI) of Rs 18,000 a year to each rural household, except those that are "demonstrably well-off", at an estimated cost of Rs 2.64 lakh crore to tackle agrarian distress.
The figure of Rs 2.64 lakh crore assumes significance against the backdrop of what Congress leader and former finance minister P. Chidambaram said after Rahul Gandhi's announcement.
Chidambaram told a television channel that the cost of the minimum income guarantee scheme that the Congress had in mind would work out to about 1.5 per cent of the gross domestic product (GDP).
If Chidambaram's ballpark estimate of 1.5 per cent of the GDP is taken as the cost of the Congress's proposed minimum income programme, it would work out to roughly Rs 2.82 lakh crore — not too far off the mark set by Subramanian's QUBRI. But the reach of the two projects appears markedly different.
Early this month, the Central Statistics Office (CSO) had come out with an advance estimate of the GDP at current prices in 2018-19 and put that figure at Rs 188.41 lakh crore.
A per-household annual transfer of about Rs 18,000, or Rs 1,500 per month, encompassing 75 per cent of the rural population, can be covered at a total fiscal cost of about 1.3 per cent of the GDP, or Rs 2.64 lakh crore (at 2019-20 prices), Subramanian had said in a paper he had co-authored with the director of JH Consulting, Josh Felman, World Bank economist Boban Paul and Harvard University PhD student M.R. Sharan.
The paper, titled Quasi-Universal Basic Rural Income (QUBRI): The Way Forward, suggested that the burden should be shared by the central and state governments in equal measure.
The former chief economic adviser's QUBRI plan is a lot cheaper than the one he had proposed in the Economic Survey of 2016-17 — and seems to be closer to Chidambaram's estimates.
In his original plan, Subramanian had proposed a universal basic income plan that would cost roughly 4.9 per cent of the GDP.
The Economic Survey of 2016-17 had said: "Based on the 2011-12 distribution of poverty it seems clear that going from a certain very low level of poverty to eliminating it will be prohibitively high…. So, a target poverty level of 0.45 per cent is chosen. Then the 2011-12 consumption level is computed for the person who is at that threshold. The next calculation is the income needed to take her above Rs 893 per month, which is the poverty line in 2011-12. This comes to Rs 5,400 per year. Subsequently, that number is scaled up for inflation between 2011-12 and 2016-17: this yields Rs 7,620 per year. This is the UBI for 2016-17….
"The Survey assumes that in practice any program cannot strive for strict universality, so a target quasi-universality rate of 75 per cent is set (this is later referred to as de facto UBI). The economy-wide cost is then the UBI number multiplied by 75 per cent. This yields a figure of 4.9 per cent of GDP."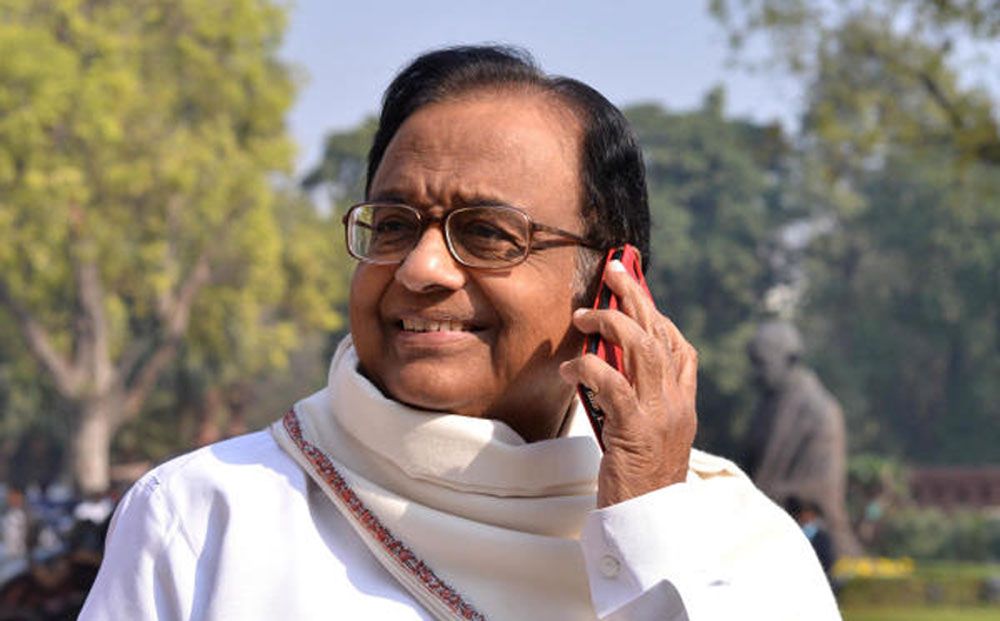 On Monday evening, referring to Rahul's plan, Chidambaram told the TV channel: "The scheme will cover about 20 per cent of the population."
This lends credence to the view that the Congress is preparing to embrace the poverty line drawn by economist Suresh Tendulkar, calculated on the basis of NSS 2011-12 consumption data and estimated at Rs 27 a day in rural areas and Rs 33 in urban areas.
"It is after careful consideration that Congress president Rahul Gandhi made his announcement today. We will flesh it out in the Congress manifesto," the former finance minister said.
"The poor in India must have the first right on the country's resources. We must wipe out poverty in the next five years or so.
"We have done our calculations… and we will require 1.5 per cent of the GDP. Can't this country afford to pay 1.5 per cent of the GDP to the poorest sections of society? This is eminently doable. When we do the fine calculations, I'm sure that we will be able to find the resources.
"There are different estimates of poverty. Let us assume that the poverty line is 18-20 per cent, or one fifth of the population. We can find the resources to lift them over the line."
The Congress estimate of the proportion of people living below the poverty line is similar to the one thrown up by the Tendulkar formula.
Italy's Five Star Movement, led by comedian Beppe Grillo, had come up with the idea of a "citizens' income", a less radical version of the universal basic income, which promises a support income for Italian households earning less than 9,360 euros a year.
The citizen's income scheme is made up of an income support scheme and a housing allowance, which can add up to about 780 euros a month for a single person with no income. It is aimed at pensioners as well as people of working age who earn too little. The latter, however, must be willing to accept a suitable job whenever the state finds a job for him or her, or lose the benefit.
Finland, which experimented with a similar scheme three years ago, gave it up last year, terming it a failure. However, the reason Finland's income support scheme for the "poor" was unsuccessful was that the State already paid education, health-care, housing support and unemployment allowances. The income support scheme was seen as an unnecessary frill.