In Kashmir, an infant Krishna parallel
Scholar recounts ordeal after baby took ill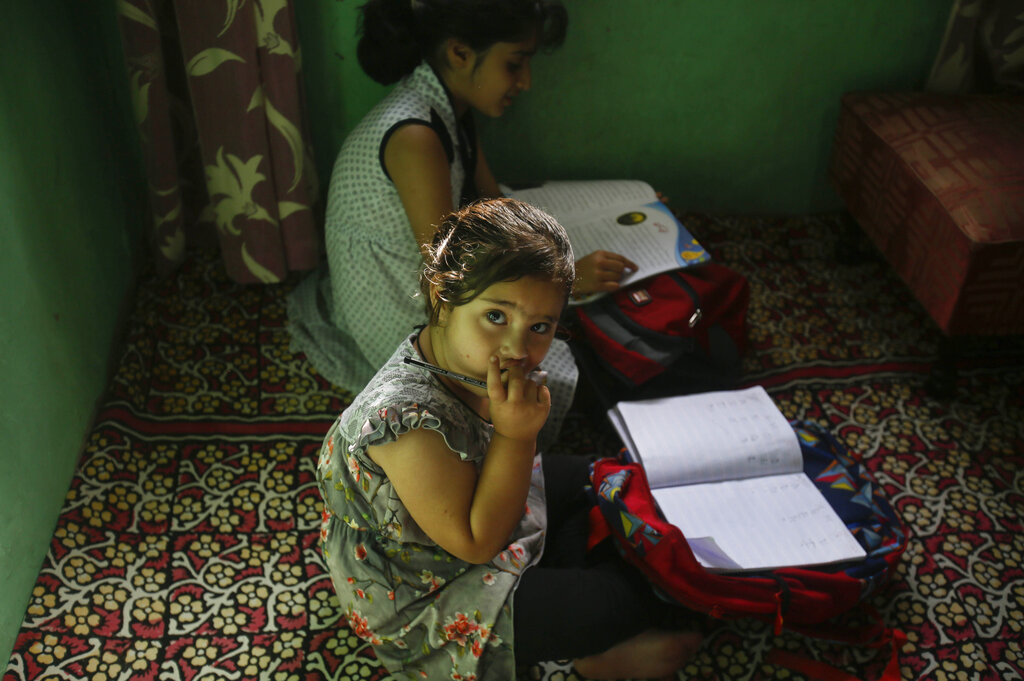 ---
---
A young scholar has drawn a parallel between his struggle to save his ailing baby in locked-down Kashmir and that of Vasudev and Devaki to protect their newborn who grew up to be Lord Krishna.
"Our struggle to save Musa was as hard as that of Vasudev and Devaki," said Ahrar Ahmad Lone, referring to his nine-month-old son.
Lone, 29, who hails from Thindma in Baramulla, Kashmir, is a PhD in folk literature and ethnography from Aligarh Muslim University (AMU). A researcher and teacher at a private educational institution in Kapurthala in Punjab, Lone lives in Jalandhar.
Lone recalled the well-known saga in which Kansa, the king of Mathura, imprisons his sister Devaki and her husband Vasudev to avoid being killed by their eighth child.
"Ahead of Krishna's birth, Kansa had chained Vasudev inside the prison and increased the number of guards around the prison. But all the guards fell asleep and the chains fell off when Krishna was born to Devaki in the prison. Devaki and Vasudev put the newborn in a basket, escaped from the prison and swam across the inundated Yamuna to reach Gokul where their cowherd friends, Nanda and Yashoda, adopted the baby and raised him."
Then Lone narrated his own experience in Kashmir. "Unlike the guards in Mathura, the guards, all wielding lethal Kalashnikovs in intimidating military fatigues, around our home in Baramulla were vigilant when our Musa took ill a day after Bakr-Id (August 12). The nine-month-old vomited for two days.
"With Musa running a high fever and getting pale and feeble with each passing moment, my wife was in panic. My parents and other family members administered the baby some homemade concoction but it did not work. There were no medicine shops and doctors around."
Lone continued: "Hoping against hope, my wife and I carried the baby in our car. Negotiating at least 10 barbed-wire security cordons manned by the army and paramilitary forces on a stretch of about 8km, we reached Baramulla town. We couldn't have taken more family members in the car because that would have meant arousing the suspicion of the guards and questioning.
"Call it our luck or the intervention of the Almighty, we found a paediatric opening his clinic in a corner of the town which otherwise wore a deserted look. He administered some medicine which worked on Musa."
Lone, who grew up at his native Thindma village and studied at Hanfia Mission High School at nearby Kreeri, was at Jalandhar when news came in on August 5 that the Union government had decided to revoke the special status of Jammu Kashmir, convert it into a Union Territory and carve out Ladakh.
He tried to contact his family over his mobile phone but in vain. Then he managed to phone Kreeri police station and expressed his desire to visit his family members.
"You can't come here so soon. Try a day ahead of Bakr-Id. We may get the permission to let you join your family a day ahead of the festival," the voice from the other end said and the line fell silent.
"The next six days were like more than six years. It was hard to sleep. I was thinking about my wife, baby, parents, brothers and other relatives. I was unable to concentrate on my work. Meeting or talking to researchers and students belonging to Kashmir and stationed in Jalandhar and Kapurthala were of no use as they too were as blanked out as I was," Lone said.
On August 11, "I got up at 4am and booked a taxi for Jammu from Jalandhar. At Jammu airport, I booked a flight ticket to Srinagar. I didn't know whether I would reach my home and join my family. Still, I was doing all these things mechanically. But as I got out of Srinagar airport, I found my father waiting for me."
Lone said his father told him that an officer from the police station had informed him of the scholar's plan.
"My father had brought our car. The journey with my father on the 12km-stretch from the airport to my native place was most terrifying. The entire stretch was flanked by gun-wielding security men. Not to mention the ubiquitous barbed-wire check-posts. The security men looked at us as if we were some ferocious animals packed into a car and we would pounce on them if they took their eyes off us even for a second. They appeared more focused than the Mahabharata hero Arjuna fixing his gaze on the eye of the fish. Inside the car, with my father at the wheel, we were praying to the Almighty to help us reach home safely."
At their home, Lone found his wife holding their baby. "My mother was among a dozen family members huddled at our door to greet us, but they were neither speaking nor smiling. An equal number of security men in military fatigues stood guard, watching us closely."
Lone stayed with his family for 10 days. "We were living in a state of house arrest. The festival of Bakr-Id came the next day and passed by. In principle, we were allowed to visit the nearby mosque for Bakr-Id namaz. But when we reached the mosque, we were told that the namaz was over. The mosque was deserted.
"All the bazaars which used to be abuzz with goats, garments, grocery and sweet shops on the occasion were shut. There was an eerie silence all around."
This Id was unlike any earlier. "We had no goats to sacrifice. Some of our neighbours who had domesticated goats sacrificed them and sent meat to our home. But it was too little. We just ate food to keep ourselves alive. It was impossible to know what was happening outside the walls of our house. Inside too, we spoke in hushed tones." It was in such a situation that little Musa took ill. "Thanks to the Almighty, we found a doctor to cure Musa," Lone said.
"I left home after staying there for 10 days in 'house arrest' with them. I have not spoken to my family since I left home. There is no way I can talk to them because all the mobile phones are dead and there is no Internet. I read in some newspapers that the administration had opened some landlines for families to talk to their relatives, but my family members have so far not contacted me from the so-called landline phones," he said.
"Baby Krishna grew up to be Lord Krishna under the patronage of Yashoda and Nanda to end the tyranny on innocent people. I pray to Lord Krishna to bless Musa and make him robust enough to end the bondage and suffering of the people around us," Lone said.