Civilian presence in adventure sports inhibited by cost: Reports
Traditional (trad) climbing, particularly multi-pitch, brings a climber closer to the range of contexts and skillsets required for rescue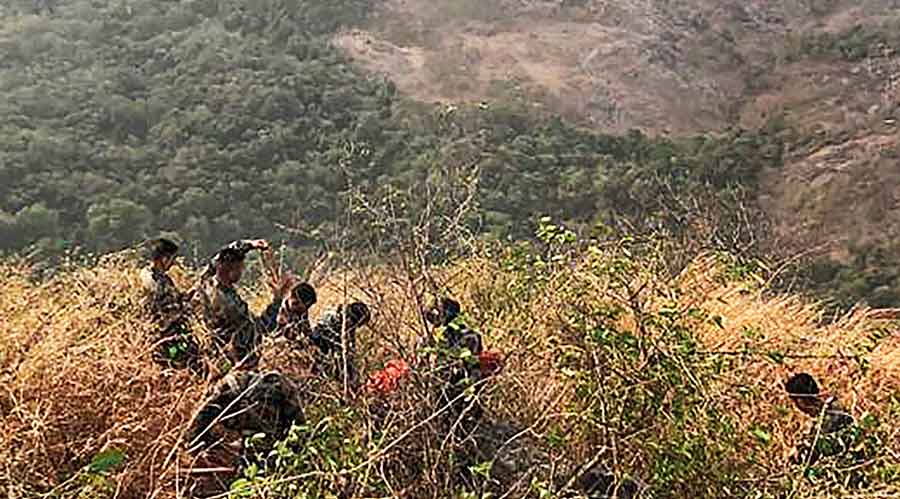 Army personnel perform rescue work to save Babu, a trekker trapped in a steep gorge in Malampuzha mountains in Palakkad, Kerala. Babu has been rescued.
PTI Photo
---
Published 15.02.22, 02:24 AM
|
---
The recent incident of a trekker stuck on a high rock face near Malampuzha and eventually rescued by army personnel should be cause for reflection in Kerala.
Footage broadcast on TV showed a rescuer descending from the top of the rock face, collecting the trekker who endured nearly two days without food and water, and the duo then being slowly hoisted up. It seemed a fairly straightforward operation. Reports said the army personnel were trained mountaineers. By the evening of the rescue, TV debates were asking why local police lacked the required rescue skills.
In India, civilian presence in adventure sports like climbing was traditionally inhibited by cost. When it came to the ability to afford gear and access prized terrain like the Himalaya, the armed forces always scored.
Rock climbing in India, evolved differently from mountaineering. Engaging rock faces are available in the ranges south of the Himalaya along with access less constrained by weather and security issues. As a consequence, domination by the military is absent.
From the perspective of rescue, civilian rock-climbing matters because notwithstanding difference in terrain tackled and variations to equipment thereby, many of the basic systems of mountaineering and rock climbing are similar. Besides south of the Himalaya, you are not dealing with snow and ice.
In peninsular India, Maharashtra and Karnataka have produced good rock climbers. Maharashtra has a number of hiking and climbing clubs. Rescue related to outdoor activities in Maharashtra rarely sees the army called in; it is done by a combination of the clubs and local authorities.
According to Umesh Zirpe, among the most respected expedition leaders from Maharashtra (he has led successful civilian expeditions to several 8000m peaks in the Himalaya), in the above-mentioned combination, as much as 90 per cent would be civilian volunteers familiar with hiking and climbing, working for free.
The club Zirpe belongs to — Giripremi — was instrumental in starting south India's only mountaineering institute in Pune. In 2016, the club and the institute launched the Maharashtra Mountain Rescue Coordination Centre (MMRCC). Today, the state has a 24x7 mountain rescue helpline that gets volunteers to respond in the event of a mishap, he said.
The most crucial aspect in this ecosystem are the clubs and the treatment of climbing as sport. Done so, learning happens. A good rescuer has to be competent at the technical systems involved. One gets good at this in direct proportion to how often one is practising the sport and which sub-category of climbing one is interested in.
Traditional (trad) climbing, particularly multi-pitch,  brings a climber closer to the range of contexts and skillsets required for rescue. "In multi-pitch trad climbing, one navigates on rock in a fashion that isn't simply a continuous vertical progression. One may climb up, then correct by climbing down. Unlike sport climbing, there is more looking around. Plus, we get situations that require applying one's sense of judgement," Dinesh Kaigonahalli, among Bangalore's best-known senior climbers, said. To be a rescuer, there are specialised techniques to master additionally.
Skills-led, civilian-based approaches are in tune with models reported overseas. For instance, one of the world's greatest big wall-climbing destinations is Yosemite in the US. Rescue there is done by Yosemite Search and Rescue (YOSAR). Rescue machinery in several countries is managed by motivated civilians familiar with the sport and locality, and trained in rescue systems. This is unfortunately yet to happen in India at large, although as mentioned earlier, in states like Maharashtra, there is an emergent self-reliance in rescue around adventure sports.
In Kerala, trekking and climbing remained small. Given the eco-sensitivity of the Western Ghats and presence of wild animals, the state's wilderness is officially protected (as it should be). Extended monsoon adds to the complexity; it shrinks the region's potential climbing season as rock climbing needs dry rock.
Further, when it comes to full-blown trekking or rock climbing (or adventure in water and air), there is the tendency to initiate youngsters into the sport via agencies like the National Cadet Corps (NCC), which endorses the widespread view that adventure is the domain of the armed forces. The paradigm was visible in TV programmes around the rescue in Malampuzha as well — most discussions featured police officers and ex-military personnel.
Given Kerala's limitations in rescue, the solution is to treat adventure as an instinct within sport. Base it in the civilian realm to which it naturally belongs and let a responsible club culture take roots. This will produce a wider base of climbers, competence in related first aid, indoor climbing infrastructure to complement the limited outdoor climbing window, and above all, a regimen of regular engagement with the sport.  For, ultimately you are only as good as the last time you practised those skills.
The above said club model is already available in recreational running and cycling, in the state.
⚫ The author is a freelance journalist based in Mumbai