Imaginary stories masquerading as history, says MK Stalin
A knowledgeable, enlightened society will not accept such an approach to history writing, says Tamil Nadu chief minister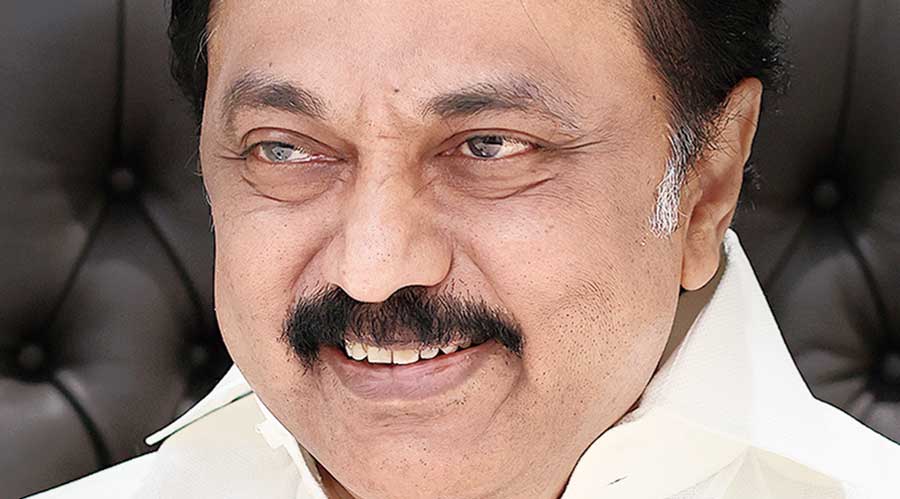 ---
Chennai
|
Published 28.12.22, 03:50 AM
|
---
Tamil Nadu chief minister M.K. Stalin on Tuesday flagged the dangers of the "distortion of history" to suit narratives that justified divisions among people, and called for "objective" historiography backed by evidence and steeped in the spirit of secularism.
"Some people promote imaginary stories masquerading as history. We should not get deceived by such false narratives," the DMK leader said at the inauguration of the 81st Indian History Congress (IHC) on the Madras Christian College campus in Tambaram near Chennai.
"A knowledgeable, enlightened society will not accept such an approach to history writing. This distortion of history is a danger to the country today," Stalin, speaking mostly in Tamil, added.
His comments seemed to provide a counterweight to recent attacks by Prime Minister Narendra Modi and Union home ministry Amit Shah on history that has been written in the country from a secular and progressive perspective.
Shah had accused historians of over-emphasising the Mughal period and neglecting the "glorious rule" of many Hindu empires, while Modi had on Monday alleged that "certain narratives" taught "in the name of history" had given Indians an "inferiority complex".
Stalin said the study of history was "necessary to understand ourselves as a collective" and chart "our future course", arguing this was why history writing needed to be "truthful and objective".
He blended his appeal for truthful historiography with a call to the IHC to uphold secularism and constitutional values in general.
Without naming any political party, Stalin said that whether in the fields of education, language and culture or in those of politics, economy or governance, "the spirit and values of the Constitution should be protected".
"Under such circumstances, the role of the Indian History Congress is very, very important," he added.
Stalin cited the S.R. Bommai vs Union of India judgment (1994) by a nine judge bench that upheld secularism as part of the basic structure of the Constitution. He said the judgment entailed that no political party should be allowed to function as a "communal party".
"If we permit political parties to divide people on religious lines and thereby create a situation that allows forces to instigate murderous violence, then democracy itself will disappear," he said.
Stalin added that the Indian subcontinent had down the ages practised secularism but "some people have sought to create divisions".
"The false historical narratives to justify such differences should be eschewed and people-centric history should be written in a factual and truthful manner," the chief minister said.
He added that while "we (the people of Tamil Nadu) are deeply attached to our ancient past, we are not conservatives". The pride Tamils take in their "historical achievements" is, however, based on "scientific and epigraphic evidence".
Stalin referred to the extensive archaeological excavations undertaken in various parts of Tamil Nadu since the DMK came back to power last year. He said that places such as Keeladi, Azhagankulam, Korkai, Sivakalai, Adichanallur, Kodumanal, Mayiladumparai and  Gangaikonda Cholapuram had thrown up artifacts that had pushed the origins of Tamil civilization back to 600 BCE.
He added that the paddy remains in big jars found at Sivakalai had been carbon-dated to a period earlier than 1155BCE.
Stalin said there was a good methodological case for "writing the history of India beginning with ancient Tamil Nadu". He said his government would be open to suggestions from the IHC on these matters. Kesavan Veluthat, chairperson of the history department at Mangalore University, took  over as general president of the 81st session of the IHC from Amiya Kumar Bagchi, president of the 80th session.