Illegal immigrants are termites: Amit Shah
'They are eating the grain that should go to our poor and they are taking our jobs. They carry out blasts in our country and so many die'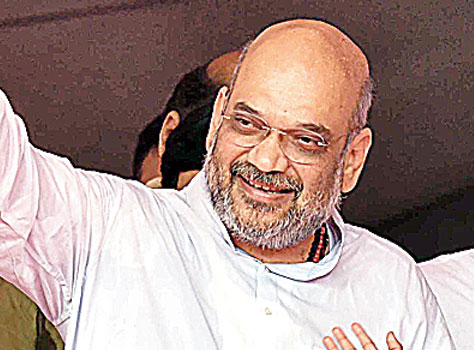 Amit Shah in New Delhi on Sunday.
Prem Singh
---
New Delhi
|
Published 23.09.18, 11:00 PM
|
---
BJP national chief Amit Shah on Sunday said the party would seek out and deport every single illegal immigrant from the country if it returned to power in the 2019 general election.
"These crores of illegal immigrants are like termites and they are eating the grain that should go to our poor and they are taking our jobs. They carry out blasts in our country and so many of our people die," Shah told a party rally at the Ramlila Maidan in Delhi.
"I want to assure you that if we come to power in 2019, we will find them one by one and send them away," he said.
"After forming government in 2019, the BJP will undertake a nationwide identification of illegal infiltrators living in the country."
The BJP president attacked Congress president Rahul Gandhi and Delhi chief minister Arvind Kejriwal, saying they appeared to be sympathetic to illegal immigrants.
"Why are both Kejriwal and Rahul baba so sympathetic to the infiltrators? The BJP doesn't believe in vote-bank politics. We believe India is above everything," he said, adding illegal immigrants were causing trouble in the national capital and action against them should not worry any patriot.
Shah said the BJP would repeat its 2014 feat and win all the seven parliamentary seats in Delhi, and asked both Rahul and Kejriwal to clear their stand on illegal immigrants living in the country.
Referring to the draft National Register of Citizens, recently published in Assam, he said: "The BJP government brought the NRC and identified 40 lakh illegal immigrants who will be deported. Our government will remove every infiltrator from the voters' list."
The BJP president accused Kejriwal of preventing the development of Delhi in his three-and-a-half-year rule.
"Kejriwal's only mantra is to tell lies and talk forcefully and repeatedly but Delhi cannot develop with telling lies," he said.
He slammed the Opposition parties for trying to forge a mahagathbandhan (grand alliance) against the ruling NDA led by the BJP and said the BJP was ready to take on the challenge.
"This mahagathbandhan has neither any policy nor leader. Rahul wants to lead the bandwagon but leaders like Sharad Pawar, Mamata Banerjee, Mayawati and Akhilesh Yadav are against it," he claimed.
Shah justified the recent arrests of several rights activists by Maharashtra police, saying these "urban Maoists" were planning to assassinate Prime Minister Narendra Modi. "Those who carry out anti-national activities should be put in jail," Shah said.