IIT graduate digitises almost-extinct Saura script
Soni's work has come to a halt because of lack of resources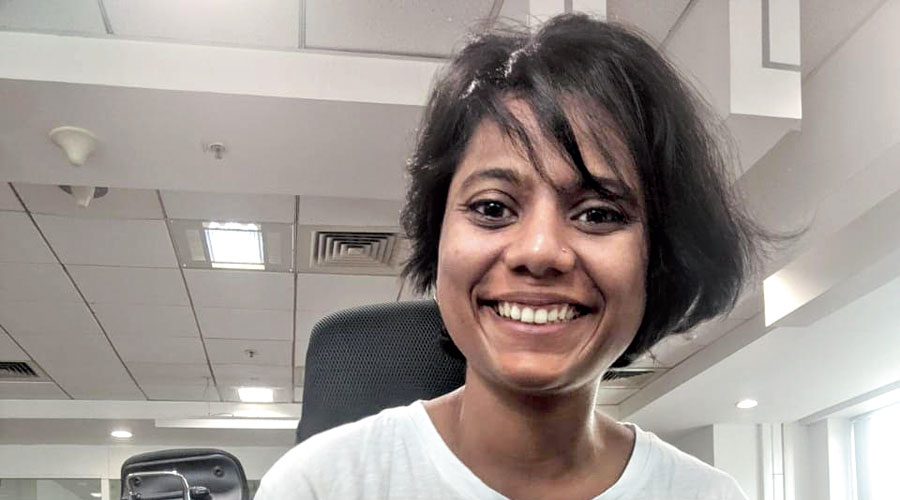 Soni Salma Priyadarshini
Telegraph picture
---
Bhubaneswar
|
Published 03.10.20, 05:13 AM
|
---
An IIT-Mumbai graduate, Soni Salma Priyadarshini, has finished the digitisation of Saura script, one of the most complicated tribal scripts.
Saura is the mother tongue of around 3 lakh tribal people inhabiting parts of southern Odisha and north Andhra Pradesh. Saura language and script are on the verge of extinction for want of patronage. It has received little support from the state government with precious little literature available in the language.
Soni, who hails from the tribal dominated Rayagada district of southern Odisha, told The Telegraph, "With the support of my teacher Prof Girish Dalvi, I have completed the digitisation of the language. However, more work needs to be done on the size of the fonts of the script. Once it is complete, members of the Saura tribe can communicate with others on WhatsApp. They can use it for writing even on computer like any other language. But my work has come to a halt as I don't have the resources to pursue the project."
Soni joined IIT-Mumbai in 2014 to pursue her study in industrial design. During her study, she had done a project on typography and did a research on the digitisation of Saura script prepared by a Sabar scholar (pundit) Mangei Gomang of Rayagada district. "Gomang is a great scholar. He had developed a written script by producing 25 letters and 10 digits in 1936. But due to lack of encouragement and patronage over the years from the successive governments, the written tribal language is almost finished," she said.
However, she lamented that her work of digitising the Saura script to disseminate the culture and tradition of the community, has come to a halt because of lack of resources and sponsorship. "Where would I get the funds? It needs another two years' of work with a team. It needs a good amount of budget," she said. Hoping for support from the Naveen Patnaik government, which is promoting tribal culture, Soni said, "After passing out from IIT, I had joined a German multi-national company. But to do something for my own tribal people, I quit the job and came here. Meanwhile, I have completed the digitisation, Now, I am feeling constraint of funds to go ahead with the project. I plan to rise the issue with the state government."
Out of 62 tribal communities in Odisha, the spoken languages of five communities have been digitised so far. The Saura language is not confined to tribes from southern Odisha and Andhra, it is also spoken by tribals in certain parts of Jharkhand, Madhya Pradesh and Maharashtra.
Soni said: "At home they speak their mother tongue which is an Austro-Asiatic language. It belongs to the class of the Munda family. Now it is mostly an oral language and is not written or read extensively. Most texts in the recent past were written using Odia and Telugu script. Though thriving in some areas, it is considered to be threatened overall."
Once it's fully computerised, it would be widely used and Sauras will be able to keep alive their identity as a tribe and contribute to the movement for documenting endangered languages and cultures.
"Initiative should be taken to publish textbooks, calendars, informal documents and other materials of daily use in saura language. It would enable the tribe to take forward their literary heritage in both formal and informal space," she said.
Tribals feel that similar efforts can be made to keep alive other tribal scripts. "With technological advancement more scripts can be incorporated and can co-exit under the typographic umbrella," she said, adding that any language can be most appropriately written in its own script.