I am from Earth, says Tamil teenage climate activist as she reads the riot act to world leaders
Stop talking, start doing, 15-year-old Vinisha Umashankar tells COP26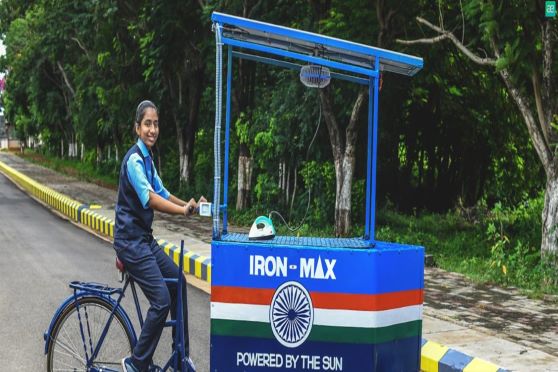 Vinisha Umashankar
Facebook
---
New Delhi
|
Published 04.11.21, 04:37 PM
|
---
India now has its own home-grown version of Swedish climate activist Greta Thunberg. Meet Vinisha Umashankar, a Tamil Nadu schoolgirl who's 15, and just stole the show from world leaders at the COP26 climate change conference in Glasgow by issuing a clarion call for politicians to "stop talking and start doing."
Vinisha, one of the finalists in Prince William's Earthshot Prize (nicknamed the Eco Oscars) began her speech by telling her listeners, who included British Prime Minister Boris Johnson, US President Joe Biden and Prime Minister Narendra Modi, that she was not "just a girl from India -- I am a girl from Earth." 
"We need actions rather than promises to live in a habitable world," Vinisha told the audience. And she emphasized that the actions need to be "practical."
Like 18-year-old Swedish campaigner Greta Thunberg, Vinisha expressed frustration at the slow pace of measures to control climate change. "Young people have every reason to be angry and frustrated at leaders who have made empty promises and failed to deliver," Vinisha said.
"We need to stop thinking about old debates because we need a new vision for a new future. So you need to invest your time, money and effort in us to shape our future," she said.
On an upbeat note, Vinisha emphasized that "I'm an optimist." 
Vinisha, who's from the temple town of Tiruvannamalai in Tamil Nadu and studies in Class 10, is described by her school as a "class topper." Vinisha's mother, U. Sangeetha, a science teacher, and her father, S. Umashankar, a business consultant, accompanied their daughter to Glasgow and watched her speech.
Vinisha's project that made her an Earthshot finalist and has brought her plaudits globally is her creation of a solar-powered ironing cart that could be used by presswalas instead of the traditional charcoal ironing box. The solar-powered cart offers a coal-free alternative and the idea could also be used for other kinds of street vending carts across the world.
The student's imagination was fired by seeing the charcoal-burning ironing carts around her neighbourhood. She and her mother used to deliver the family's laundered clothes to the presswala who would iron them using a charcoal-filled cast-iron box. Such ironing carts work well but they belch smoke into the air. And so, Vinisha's solar-powered ironing court was born.. Her invention won her the prestigious Children's Climate Prize which was granted last year by Sweden's Children's Climate Foundation. 
Vinisha's blue-painted mobile ironing cart is called, appropriately, Iron-Max and carries the legend 'Powered by the Sun'. The Iron-Max is shaped liked an iron box with solar panels on its roof and is mounted on a bicycle to make it mobile. 
People normally don't consider ironing carts as major polluters. But it turns out there are an estimated 10-million ironing carts plying the streets in India, data from the government's science and technology department shows, Each cart uses about 11 pounds of charcoal daily and those emissions add up.
So impressed was Prince William by Vinisha's innovation that he asked her to speak out on the urgent need for clean energy at the conference. Vinisha was the youngest finalist for the first Earthshot Prize, a one-million sterling award. The scheme is aimed at distributing 50 million sterling in awards over the next 10 years to fight climate change.
Prince William said later in a message how proud he was to see Vinisha speak. "Feeling optimistic as I head home from COP26 having met our @EarthshotPrize Winners & Finalists and discussed their solutions to repair our planet. Especially proud to see Vinisha speaking in front of the world, demanding change so that her generation can have a better future," he tweeted.
Vinisha didn't mince words in her speech to global leaders.
"You are deciding whether or not we will have a chance to live in a habitable world," Vinisha told climate gathering. "You are deciding whether or not we are worth fighting for, worth supporting and worth caring for."
"I am not here to talk about the present, I am the future. In 2030 I will be just 24 years old.. In 2050 when we will assess whether met zero has been achieved or not, I will be in my early 40s … The point is that I and my generation will live to see the consequences of our actions today, " 
"Much of my generation is angry at politicians who have made empty promises and failed to deliver. We have reason to be angry. We do not need an economy built on fossil fuels and smoke. 
Vinisha listed an impressive list of goals that have been set by the Earthshot Prize Winners and finalists They include a commitment by the end of this decade to protect and restore our nature, clean our air, revive our oceans, build a waste-free world and fix our climate. The greatest challenge in the history of our Earth is also the greatest opportunity. We lead the greatest wave of innovation humanity has ever known," Vinisha said.
Prince William launched the Earthshot Prize in late 2020, taking the inspiration for its name from US president John F. Kennedy's "Moonshot" project in the 1960s to put a man on the moon.
Vinish, who has been passionate about science since her parents gave her an encyclopedia at the age of five, says she aspires to become a scientist and invent products to help protect the planet against climate change. 
"Remember when it comes to climate change, there's no stop button. We cannot hit pause or even rewind. There is no rewind, We can only move together -- so united we rise and together we will definitely succeed," Vinisha concluded in her speech to the COP26 delegates who gave her a standing ovation.