Hysterectomy risk finding baffles doctors
Minimally invasive procedure poses higher risk of death than open surgery for early stage cervical cancer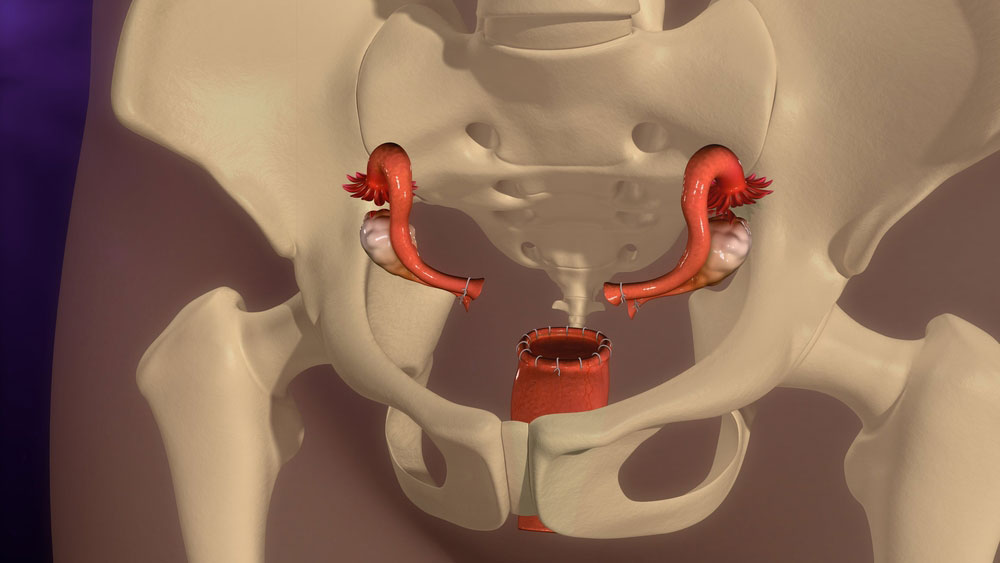 Thousands of women in India undergo minimally invasive hysterectomy for early stage cervical cancer or endometrial cancer every year
Shutterstock
---
New Delhi
|
Published 01.11.18, 08:56 PM
|
---
Women who undergo minimally invasive hysterectomy for early stage cervical cancer face an increased risk of death compared to patients treated with open surgery, according to two studies released on Wednesday and described by doctors as "surprising".
The US researchers, who assessed the surgical outcomes through a clinical trial and a patients' database, found that minimally invasive radical hysterectomy is associated with higher recurrence rates and worse overall survival than abdominal open radical hysterectomy.
In minimally invasive hysterectomy, surgeons make small incisions or punctures and use instruments called laparoscopes or robotic devices to remove the uterus. For patients, the procedure means less pain, fewer medications, lower blood loss and shorter hospital stay.
The procedure has gained acceptance among doctors over the past decade as an alternative to open hysterectomy.
"This (new) result is very surprising, since randomised trials have demonstrated the safety of minimally invasive surgery for uterine, gastric and colorectal cancers," Alexander Melamed, a gynaecologic oncologist at the Massachusetts General Hospital in the US and lead author of one of the studies, said in a media release.
The researchers tracked the surgical outcomes of 2,461 patients in the US National Cancer Database who had radical hysterectomies for early stage cervical cancer from 2010 to 2013. About half had received minimally invasive surgery and the other half, open surgery.
In the minimally invasive group, 94 died in the four years after surgery compared with 70 in the open surgery group. These figures imply a 9 per cent risk of death in the minimally invasive group and 5 per cent in the open surgery group.
In the second study, which started in 2008, the researchers had planned to track the surgical outcomes of 740 women with early stage cervical cancer at 33 centres worldwide, half receiving minimally invasive surgery and the other half, open surgery.
But the doctors, alerted by the increased death rate, stopped the study in 2017 when they had enrolled only 631 women. Their analysis found that cancer-free survival rate was 86 per cent at four-and-a-half years in the women who had minimally invasive surgery but 96 per cent in those who had open surgery.
The findings of both studies were published on Wednesday in the New England Journal of Medicine.
"Given these two studies, we can no longer recommend minimally invasive radical hysterectomies for patients with early stage cervical cancer," said Alejandro Rauh-Hain, assistant professor for gynaecologic oncology at the University of Texas MD Anderson Cancer Centre and co-author of the studies.
Minimally invasive surgery was first used for radical hysterectomy in the early 1990s and has since been adopted by gynaecologic oncologists in many countries, including India. Doctors estimate that several thousand women in India undergo minimally invasive hysterectomy for early stage cervical cancer or endometrial cancer every year.
Some gynaecologists say the results of these studies should be interpreted with caution.
"I don't think we should condemn or give up on minimally invasive hysterectomy," Bhagyalaxmi Nayak, a senior gynaecologic oncologist at the Regional Cancer Centre, Cuttack, who was not associated with the two studies but is familiar with their findings, told The Telegraph.
"I think we should wait for more research that takes into account factors such as surgical skills or the experience of the surgeons," said Nayak, who's also chairperson for the gynaecologic oncology committee at the Federation of Obstetrics and Gynaecological Societies of India.
"The outcomes of the procedure are likely to be different between hospitals that do 50 procedures a year and hospitals that do 1,000 procedures a year."
The US researchers say their studies do not explain the higher risk of death with minimally invasive surgery.
Rauh-Hain said it is possible that minimally invasive surgery was taken up "as an alternative to open radical hysterectomy before high-quality evidence (about) its impact on survival was available".
Melamed said one possible explanation for the findings is that there is "something technical about minimally invasive radical hysterectomy that is different from the open procedure and makes a difference in long-term survival".
An alternative explanation, he said, is that surgeons in the US may have been less experienced with the minimally invasive procedure than with open surgery during the period of study.
"Personally, I will not offer minimally invasive radical hysterectomy to patients who come to me for cervical cancer treatment until compelling new research demonstrates that a minimally invasive procedure does not carry these risks," Melamed said.
"Surgeons who wish to offer minimally invasive hysterectomy to cervical cancer patients must ensure they are informed of these risks."