Public applause black mark
'Sign of loss of faith in justice system'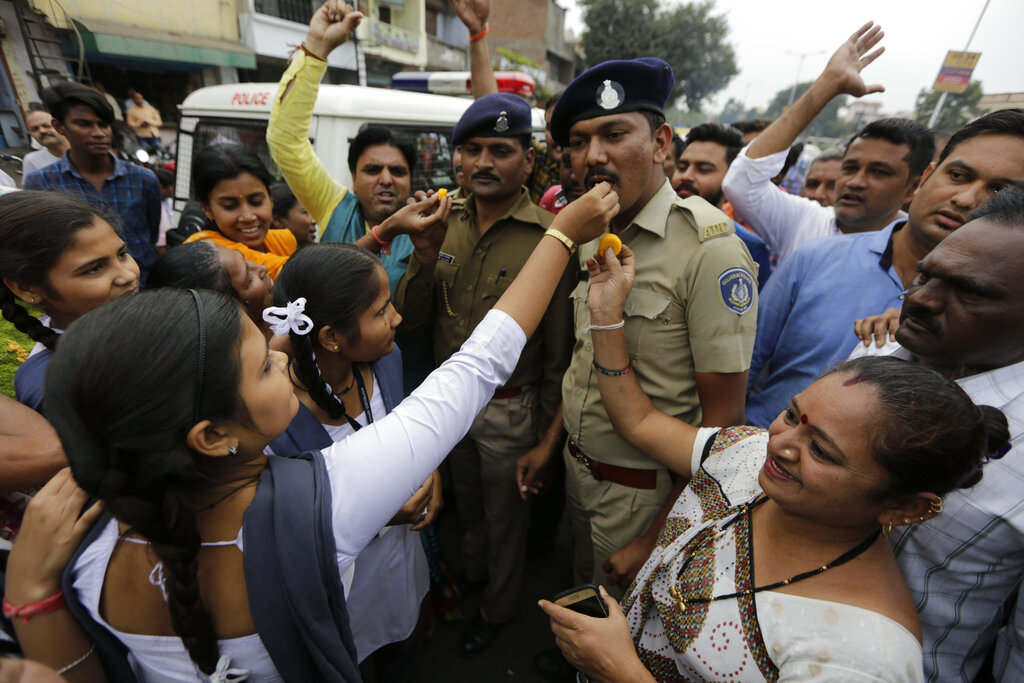 People feed sweets to policemen on duty and shout slogans in favor of police to celebrate killing of four men suspected of raping and killing a woman in Shadnagar in the southern state of Telangana, in Ahmadabad, on Friday, Dec. 6, 2019.
AP
---
New Delhi
|
Published 06.12.19, 09:02 PM
|
---
A loss of faith in India's criminal-justice system and perceptions that wrongdoers can evade punishment can explain celebratory responses from sections of the public to the Hyderabad police killing of four rape-murder accused persons on Friday, mental health experts said.
The experts, including specialists in community psychiatry, said Thursday's incident in Unnao where an alleged rape accused on bail stabbed and burnt the rape victim could also have amplified the public anger that interpreted the killing in Hyderabad as required justice.
"What we're seeing are expressions of frustration — a lack of confidence in the criminal-justice system," said Mrugesh Vaishnav, a senior consultant psychiatrist in Ahmedabad and national president of the Indian Psychiatric Society.
Such sentiments, Vaishnav said, are rooted in widespread perceptions that criminals are able to escape punishment. "Many people believe that criminals can manipulate the system and escape, whether they are petty thieves or people accused of financial embezzlement or rapists," he said.
Vaishnav and others believe that the long periods that standard judicial processes take to resolve cases are likely to be perceived by many as helping keep criminals away from justice.
"Justice is also a core human need, but slightly higher in the hierarchy of needs," said Shobhana Mittal, a consultant psychiatrist in New Delhi and organising secretary for the Indian Psychiatric Society meeting on women and mental health on Sunday. "The most basic human needs are food, shelter, security and sexual gratification, but everyone also wants justice. If justice is viewed as unavailable or even delayed for too long, it can trigger impatience, anger and distrust of the system," Mittal said.
Experts also believe the horrific nature of the crimes themselves are also likely to fuel the demand for quick justice. "The outrage is not unjustified," said Savita Malhotra, professor of psychiatry at the Post-Graduate Institute of Medical Education and Research, Chandigarh, and chairperson of the Indian Psychiatric Society's mental health policy panel.
"When horrific crimes like these take place amid growing discontent with the criminal investigation system and the judicial system, people become sick and tired. They believe that criminals don't have to fear the law and can get away."