Hunt for name takes Centre to RSS lab
A resume bursting with diabolic qualifications has been sprung on the govt after it decided to name a new campus at the Rajiv Gandhi Centre for Biotechnology in Kerala after MS Golwalkar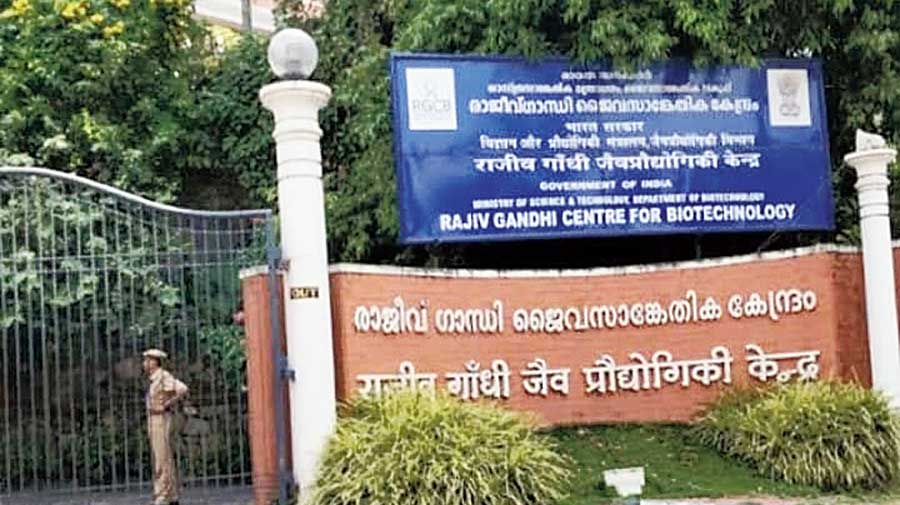 The Rajiv Gandhi Centre
Telegraph picture
---
Bangalore
|
Published 06.12.20, 01:44 AM
|
---
"Hitler admirer", "promoter of communalism", "Hindu supremacist", "Godse's friend"….
A resume bursting with diabolic qualifications has been sprung on the Centre after it decided to name a new campus at the Rajiv Gandhi Centre for Biotechnology in Kerala after M.S. Golwalkar, the late RSS chief.
Science and technology minister Harsh Vardhan had on Friday announced that the new campus in Thiruvananthapuram would be named "Shri Guriji Madhav Sadashiv Golwalkar National Centre for Complex Disease in Cancer and Viral Infection".
On Saturday, the CPM and the Congress, the principal political players in Kerala and sworn enemies, spoke in one voice, albeit without coordination, against the decision.
The expression of outrage was not confined to blind opposition. An alternative name has been suggested — that of a 19th-century bacteriologist and social reformer who overcame caste-based prejudices.
Chief minister and CPM leader Pinarayi Vijayan on Saturday wrote to the Union health minister: "I request you to reconsider the decision, if it has already been taken, or not to contemplate such a decision, if already not taken."
Vijayan suggested that the new campus be named after an Indian scientist of international repute. "This will keep up the reputation of the institution and help avoid controversies in the public domain," he wrote.
"The institute is a premier research institution and has been above political divides."
Leader of the Opposition Ramesh Chennithala, who is locked in a bitter feud with Vijayan over multiple controversies, wrote to Prime Minister Narendra Modi objecting to the new campus being named after Golwalkar.
"Rajiv Gandhi was a great leader who laid the foundation for the country's progress in science and technology. We can never agree with the decision to give an RSS leader's name for the second campus named after him (Rajiv)," a statement issued by Chennithala's office quoted the Congress leader as saying in the letter.
The letter demanded that the second campus too be named after Rajiv. "An organisation that stands for communal hatred, fascism and intolerance, RSS is an organisation that is accused of fomenting several communal riots in India," Chennithala wrote.
"It is ridiculous to give the name of a man who once headed such an organisation to a centre of science. This will only help in the growth of communalism. What was Golwalkar's contribution to science for the campus to be named after him?"
Congress politician and Thiruvananthapuram MP Shashi Tharoor tweeted: "What is MSG's (Golwalkar) contribution to science other than promoting the disease of communalism?... Must GoI (government of India) memorialise a bigoted Hitler-admirer who in a 1966 speech to VHP asserted the supremacy of religion over science?"
Tharoor suggested the campus be named after P. Palpu, a bacteriologist and social reformer born in Thiruvananthapuram in 1863. An expert in serum therapy and tropical medicine, Palpu was director of the Vaccine Institute and Fellow of the Royal Institute of Public Health.
"This forward-looking scientist and medical practitioner would be far more appropriate than an obscurantist ideologue of no scientific achievement and no discernible contribution to public health," Tharoor said. "It's an insult to Thiruvananthapuram and it should be resisted."
CPM politburo member M.A. Baby accused the government of a "mischievous move to create communal polarisation in Kerala".
"Naming an institution in Kerala after this Hindu supremacist who laid the foundation for communal polarisation is a deliberate move to provoke," Baby wrote in a Facebook post.
"It is to insult and humiliate our state, which is the land of leaders of cultural renaissance and secular progressive ideals."
Baby added: "Golwalkar was a close friend of Nathuram Vinayak Godse who killed Gandhiji. Golwalkar was arrested on February 4, 1948, in connection with the Gandhi murder case. He got bail after being in jail for six months.
"He was the one who gave the lead in spreading communal hatred in India as the chief of RSS when Gandhiji was shot dead. It was during his leadership between 1940 and 1970 that the RSS carried out the biggest communal riots in India."