Two women were allegedly sacrificed as part of black magic rituals by a Kerala couple and their agent in the hope of attaining prosperity.
Close to 30 body parts, believed to be of Rosyln, 50, and Padma, 52, were found buried in the backyard of the house of Bhagaval Singh, a massage therapist, and his wife Laila at Elanthoor in Pathanamthitta district. The couple and Mohammed Shafi alias Shihab, a black magic practitioner who had allegedly lured lottery ticket sellers Rosyln and Padma from Ernakulam district, were arrested on Tuesday.
Police sources said Shihab had confessed to luring the two women with up to Rs 10 lakh for acting in a sleaze video and took them to the home of Bhagaval and Laila where they were killed.
While Thrissur native Rosyln was reported missing in June, Padma from Tamil Nadu was last seen on September 26. Both lived in Ernakulam. Roslyn's daughter Manju, who works in Uttar Pradesh, lodged a police complaint in August. Padma's son Selvan filed a complaint a day after she went missing.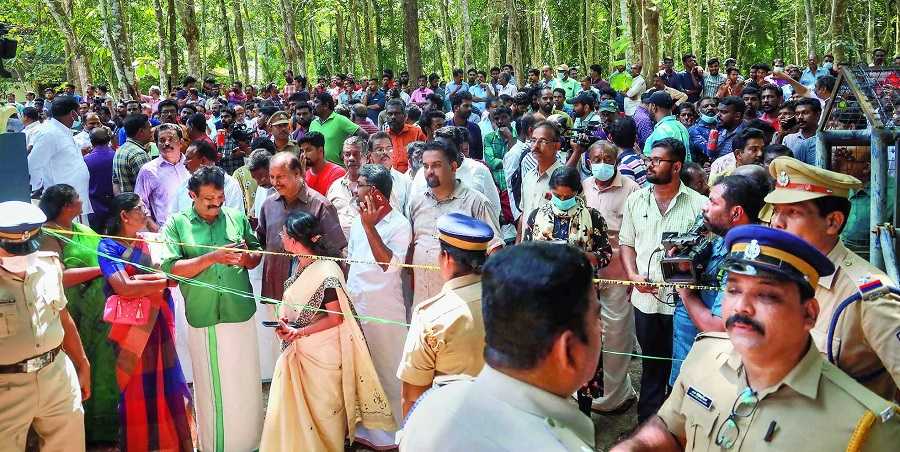 Based on confessions by the three accused, the police exhumed at least 30 human body parts on Tuesday afternoon from the backyard of the couple's house in Elanthoor, a small village in Pathanamthitta district. Only a detailed forensic analysis will confirm the identities of the dead.
It was the investigations into Padma's disappearance that led a police team from Ernakulam to the couple based in Pathanamthitta in south Kerala. South zone range inspector-general of police P. Prakash told reporters: "We started an investigation in the Padma case and came across this (second) case too."
"Shihab took her (Padma) to Aranmula police station limits in Pathanmthitta district to the wife of one Bhagaval Singh. Rosyln was missing since June. Both are suspected to have been killed. We need to investigate to see if any more missing persons have been killed by them (the accused trio)," the officer said.
The clincher that led to the case being cracked came in the form of security camera footage that showed Shihab walking with Padma in Ernakulam. The cyber cell then found that their mobile phones were in the same locations on September 26 before Padma's phone went off the grid after they reached Elanthoor. The investigating team came across a Facebook post of Shihab offering rituals to attain prosperity and called him for questioning a few days ago.
Padma's son Selvan came from Dharmapuri in Tamil Nadu to lodge the police complaint on September 27. He told reporters that he had suspected something was amiss when his mother did not call him.
"My mother always called every day. So when I didn't get a call on September 26, I suspected something was wrong. I went to check on her but could not find her," he said, citing the police complaint that helped crack the case.
Neighbours of Singh and Laila told reporters that the couple led a normal life. While Laila is his second wife, Singh has a son and a daughter from his first wife. The children work in the Gulf.
Singh's neighbour Abraham, who said he was his classmate, told reporters that Singh's father was a masseur and traditional healer named Vasu. "He did not study after tenth standard and became a masseur. We, his neighbours, never found his activities suspicious," he said.
Kerala Women's Commission chairperson P. Sathidevi said the incidents pointed to the prevalence of superstition even in an educated society. "The Kerala society needs to take this very seriously since it's proof that such superstitions still prevail in our society that we proudly proclaim (ourselves to be) fully literate and educated," she told reporters.
"This is also a reminder of the importance of developing scientific temper among children with the aim of building a better society," Sathidevi added.
Chief minister Pinarayi Vijayan said: "Vigilant investigation of a missing case by the police has led to the unfolding of the twin murder." Abducting and killing people for wealth and superstitious beliefs are crimes beyond imagination in a state like Kerala, he said. Stating that the police would take stringent measures against the guilty, the chief minister urged everyone to come forward to identify such evil practices and bring them to public notice.