Massive under-reporting of Covid casualties
How many deaths will it take 'til we know too many people have died of Covid?
India declares around 4,000 daily deaths, but experts agree the true number is closer to 25,000; Gujarat, UP lead in massive under-reporting of casualties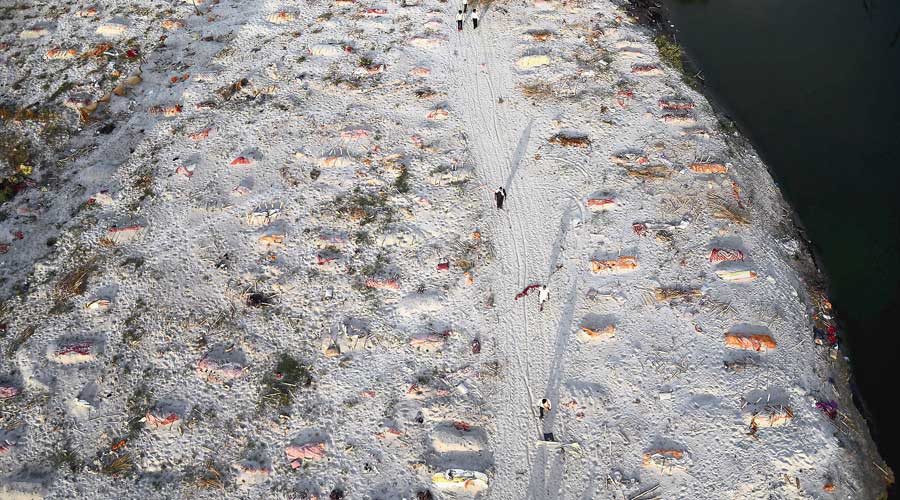 Bodies buried in the sand near the banks of the Ganga in Allahabad, as seen on Saturday during the second wave of Covid-19.
PTI
---
New Delhi
|
Published 16.05.21, 12:54 PM
|
---
Long line-ups for space to cremate loved ones, crematoriums operating 24/7, parking lots turned into cremation grounds, bodies floating down the Ganges. The evidence is overwhelming that the real death toll from the pandemic sweeping India is far higher than official numbers.
It's the question on everyone's lips: What's the real death toll of the pandemic that's sweeping India? Now, we may have confirmation that in some parts of the country it's far greater than our worst fears.
Gujarat issued more than double the death certificates between March 1 and May 10 than during the same period last year according to an investigative report by regional newspaper Divya Bhaskar, leading to charges that the state is vastly under-counting its Covid-19 deaths.
The state issued 1.23 lakh death certificates compared to 58,000 during the same 71-day period last year. Interestingly, the Gujarat government's official figures show that only 4,218 people died from Covid-19 during the March 1-May 10 period. However, 65,000 more death certificates than the previous year were issued during the period.
On Saturday evening, Opposition leader P. Chidambaram said his party had independently cross-checked the Divya Bhaskar stories and he also called on all states to release figures on the number of death certificates issued. "We have a strong suspicion that the Government of India, in conjunction with some state governments, is suppressing the true number of new infections and Covid-related deaths," said Chidambaram.
The Gujarat Government, caught on the backfoot by the allegations of a large-scale cover-up of mortalities, now says the higher number of death certificates issued this year may be due to an operating glitch in its new online system. Gujarat's state home minister Pradipsinh Jadeja told a news conference that: "Death certificates are issued for various reasons, so we cannot rule out the possibility of more than one registration for a person sometimes."
Going city-by-city, Divya Bhaskar found that in Rajkot, 10,878 death certificates were issued in the 71 days from March 1-May 10. That compared with 2,583 death certificates issued during the same period last year. Rajkot city's official data shows 288 people died from Covid-19 during that period.
Similarly, Ahmedabad city issued 13,593 death certificates from March 1-May 10 this year compared to 7,786 during the same period last year. Government data lists 2,126 people as having died from Covid-19 during the period.
The same pattern is repeated across the state with Vadodara city issuing 7,722 death certificates compared to 2,373 during the 71-day March 1-May 10 period last year. Officially, government figures show 189 Covid-19 deaths in the city during the period. And in Surat, 8,851 death certificates were issued compared to 2,769 during the same time last year. Gujarat government data indicates that 1,074 people died of Covid-19 during the March 1-May 10 period.
The Divya Bhaskar investigation comes after months of allegations that Gujarat has been under-counting both the number of cases and the Covid-19 deaths by a huge margin. It could indicate that the number of Covid-19 deaths are up to 15 times more than indicated by the state's figures. 
Global toll 7m to 12m, says The Economist
If that's true, it would put Gujarat amongst the worst under-counting offenders at a global level. The Economist magazine reckons that globally between 7.1 million and 12.7 million people have died from Covid-19. It says under-counting ranges from 1.7 per cent in developed countries in Europe and the US to 14 times the official number in Sub-Saharan Africa. The official global death toll is 3.3 million.
In Asia, The Economist reckoned there could have been between 2.4 million and 7.1 million excess deaths since the pandemic began.
Trying to work out the death rates both in India and elsewhere has become a global preoccupation. The direst forecasts come from the Washington-based Institute for Health Metrics and Evaluation which reckons that by end-July 1.01 million Indians will have died after suffering from Covid-19. More conservatively, an Indian Institute of Sciences model estimated 404,000 deaths by early June.
Other experts concur that the actual fatality figures must be much higher than the official ones. Says Professor Ashish Jha, dean at the Brown University of Public Health in Rhode Island: "India reports 400,000+ cases and 4,000+ deaths a day. A sustained level of horribleness. And it's not correct. The true number is surely closer to 25,000 deaths. There are lots of simple ways to estimate but here's a simple one. Look at the crematoriums."
'Can't ignore the dead'
Jha argues that about 27,000 Indians die daily during normal times. "Crematoriums handle that level of deaths every day. An additional 4,000 deaths won't knock them off their feet. Crematoriums across the country reporting 2-4x times normal business." He adds: "So, best estimate. 55K to 80K people dying daily. If you assume baseline deaths of 25-30k. Covid likely causing additional 25K to 50K deaths daily."
Jha goes on to point out: "India can't be experiencing 4k deaths a day. If it were. it would barely be a blip in the background. There's an old saying in global health. 'You can ignore, fail to test for, or undercount whatever disease you want. But you can't ignore the dead.' " In the same vein, another medical expert notes: "India has shown a consistent drop in mortality. About 27,000 deaths daily. If there are 4,000 more people dying every day how come crematoria and graveyards are so overloaded." 
In Uttar Pradesh, too, most experts and on-the-ground journalists reckon under-counting must be on a massive scale, as in Gujarat. There have been devastating scenes of bodies floating down the Ganga and crematoriums where huge pyres are burning late into the night. Says Virologist Shahid Jameel: "If we are getting only 4,000 daily Covid deaths, that is just 15 per cent more. Would we see the cremation and burial scenes that we are witnessing with just a 15 per cent increase? It has to go up by at least 50 per cent, possibly 100 per cent to reach this situation."
UP panchayat polls
Villagers in Uttar Pradesh insist that deaths have soared ever since the panchayat elections in mid-April. The panchayat elections are of supreme importance in rural India because panchayat officials get to control the purse strings of numerous schemes.
Also, in smaller villages, every vote counts, so people of all ages are dragged out to vote. One Bangalore techie originally from Uttar Pradesh tells of how his grandmother was pulled out of the house to vote and later caught Covid-19 and died. Other villagers too have confirmed that the pandemic spiralled out of control after the panchayat elections.
Official statistics show that daily deaths peaked in Uttar Pradesh at 373 on May 7. This is widely considered to be a gross underestimate. Virologist Jameel tells about a relative whose test results were delayed for several days and finally came back only after the patient had died. Since the test results hadn't come in, the death wasn't classified as due to Covid. Also, very frequently, many people who have tested positive but who died following a cardiac arrest or other illnesses that may have been triggered by being infected by the coronavirus are not classified as Covid deaths.
Gujarat testing very few people
The Gujarat government has been facing charges of testing very few people from the start of the pandemic and had appeared to defend itself against this charge by saying it did not wish to trigger panic.
Gujarat's huge number of deaths could be partly due to the fact that medical treatment for other illnesses, not just Covid, has been hard to access in the last year. Says Dr Arun N. Madhavan, who has been tracking Covid-19 deaths during the last year: "Lots of deaths may not be Covid-related but because of the difficulty getting hospital beds" for other illnesses. Madhavan notes that in Gujarat, there's a big urban-rural divide and public health is generally very poor. Madhavan suggests conducting door-to-door surveys in selected districts to establish the exact number of Covid-1 deaths.
Chidambaram has also suggested that that the National Human Rights Commission should call for death certificates from all states so that accurate fatality figures could be worked out.
Even in Kerala, which had kept a tight hold on its fatalities, deaths rose to 97 on Friday. Kerala on Saturday announced what it termed a "triple lockdown" in four districts where stringent restrictions have been introduced. Through most of the pandemic Kerala has been able to keep its deaths at below 30 per day. But new infection rates have climbed in recent weeks and that is finally pushing up the death toll. Analysts looking at Kerala insist that the state could be under-counting but not by huge amounts.
Similarly, in Maharashtra the pandemic was simmering all through last year. The state has around 79,000 fatalities but it appears to have made fewer efforts to conceal its problems.