Home ministry blames Bengal government for Sandeshkhali violence
Bureaucrats wonder how officials could be blamed even before an inquiry had been carried out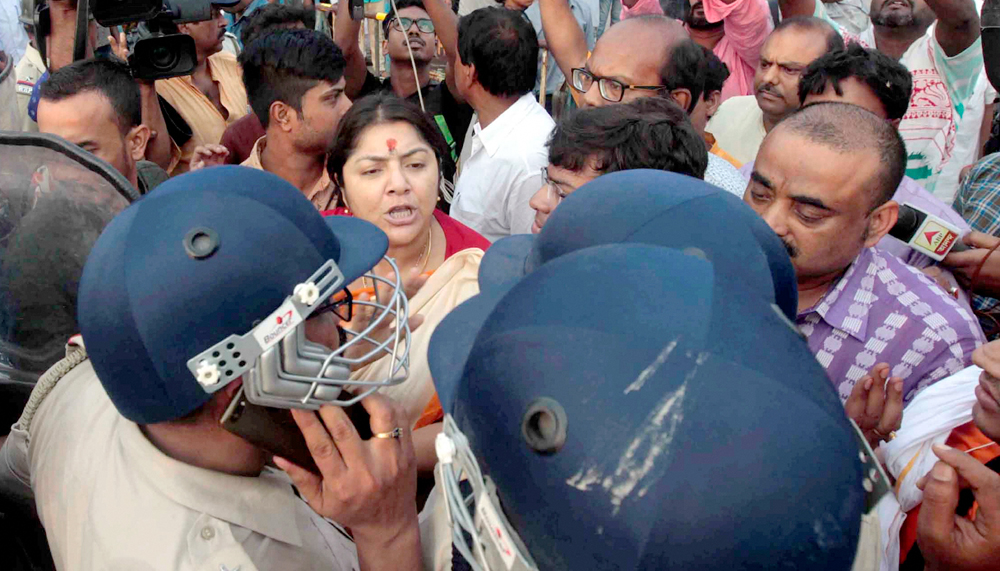 BJP MP Locket Chatterjee seen in an argument with the police personnel who stopped BJP workers to take the bodies of 2 party workers to Calcutta, at Minakhan in North 24 Parganas district of West Bengal, Saturday, June 9, 2019.
(PTI)
---
Calcutta/New Delhi
|
Published 09.06.19, 09:55 PM
|
---
The Union home ministry has accused the Bengal law-enforcement machinery of "failure to maintain the rule of law" and sought action against "delinquent" officials, sources in New Delhi said.
Bureaucrats in Calcutta expressed surprise at the language used in an advisory from the Union home ministry to the state government, wondering how officials could be blamed even before an inquiry had been carried out.
"The unabated violence over the past weeks appears to be a failure on the part of the law-enforcement machinery of the state to maintain the rule of law and inspire confidence among people," the Union home ministry's advisory to the Bengal government said.
"It is strongly advised to ensure that all necessary measures are taken to maintain law and order, peace and public tranquillity. It is also requested to take strict action against officials found delinquent in discharge of their duty," the advisory added.
On Sunday night, Bengal chief secretary Malay Kumar De replied to the Centre, challenging the assessment that the law-enforcement machinery in the state had failed to maintain the rule of law and the suggestion that officials were delinquent. 
The advisory is being viewed as a rap on the Trinamul-run state government, which is locked in skirmishes with BJP cadres. The missive comes a little over a week after BJP chief Amit Shah took over as home minister at the Centre.
Although Bengal has been witnessing sporadic incidents of post-poll violence, sources in Delhi said the blood spilled in Sandeshkhali, North-24 Parganas, on Saturday evening was the trigger behind the advisory.
Nabanna, the state secretariat, is viewing the advisory as unusual on the ground that law and order is a state subject and an assessment that the political clashes cannot be construed as a breakdown of law and order in Bengal.
"The state has witnessed severe political clashes in the past and handled those situations. The state handled the situation in Darjeeling effectively more than a year ago. It appears that the situation is being politicised," said an official in Nabanna.
Other sources said the Centre had acted in a hurry, probably to meet the demands of some state BJP leaders. BJP leader Mukul Roy had met home minister Shah on Saturday evening immediately after the Sandeshkhali violence.