Home hope dashed, migrants pour out
A labourer who asked not to be named said volunteers were giving them food, but they wanted to go back because they had no work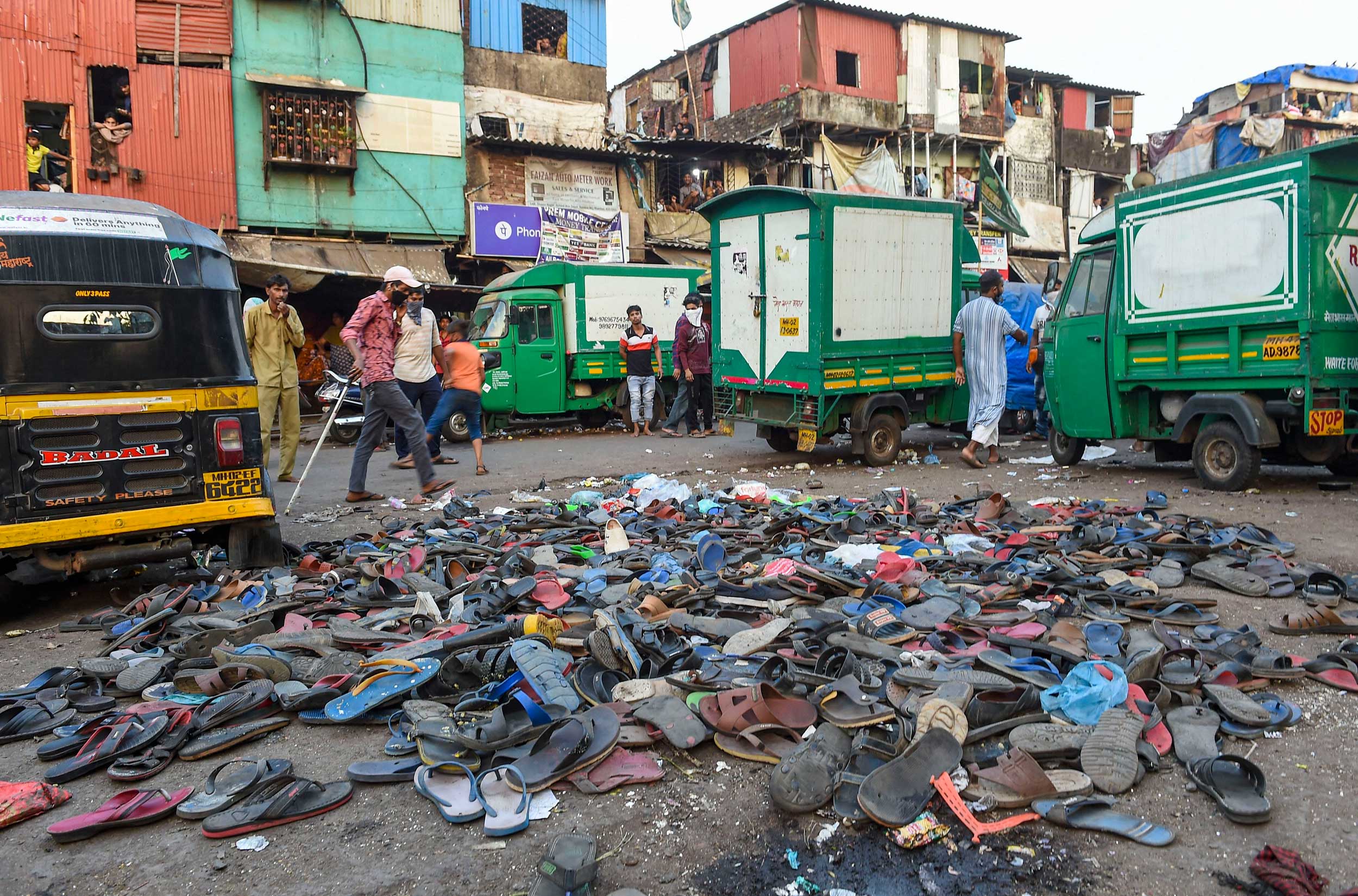 Footwear left behind outside the Bandra railway station in Mumbai after police dispersed a crowd of migrants on Tuesday during the extended lockdown.
(PTI)
---
New Delhi
|
Published 14.04.20, 10:13 PM
|
---
At least 1,000 migrant workers stuck in Mumbai in the lockdown gathered near Bandra railway station on Tuesday afternoon, demanding to be allowed to return home, hours after Prime Minister Narendra Modi's address.
A labourer who asked not to be named said volunteers were giving them food, but they wanted to go back because they had no work. "We don't want food, we want to go back home, we are not happy with the announcement (extending the lockdown)," the labourer said.
In Modi's home state Gujarat, migrant workers descended on the streets of Surat for the second time in less than a week on Tuesday for the same reason.
The workers in Mumbai, mostly from eastern India, dispersed two hours after they had gathered at 3pm and only after a police lathicharge. An FIR has been registered against them.
The 21-day nationwide lockdown, announced with less than four hours' notice at 8pm on March 24, sparked an exodus of migrant labourers from cities across the country. Some crammed into buses and trucks and left while many others walked hundreds of miles, deciding that was better than staying on in a city where they had no work or money for food.
Asadullah Sheikh, a worker from Malda in Bengal stuck in Mumbai, said: "We spent our savings during the first phase of the lockdown…. We just want to go back, the government should have made arrangements for us."
The workers who gathered at Bandra appeared to have been led to believe that the government was going to run trains to take migrant workers back to their states.
Maharashtra home minister Anil Deshmukh at night announced a probe to find out the source of that rumour.
"I have ordered an investigation into the rumour that claimed trains to take migrants back home. Those found guilty of sparking such rumours will be dealt severely invoking the fullest force of law," he tweeted.
The railways had continued to book train tickets through April and will now cancel 39 lakh tickets for travel dates between April 15 and May 3.
Chief minister Uddhav Thackeray, who spoke to Union home minister Amit Shah after the protest, in an 8pm address to the state sought to allay the fears of the migrant workers. "Nobody wants that you stay in a lockup without your will. Lockdown doesn't mean lockup. It is our country. You are safe in my state. Don't worry," he said in a televised speech.
"The day the lockdown is lifted, not only me, the Centre too will make arrangements for you…. What happened in Bandra today was unfortunate. It might have happened because they thought that trains would start from April 14 (when the initially announced 21-day lockdown ended) and so they would be able to go back to their villages."
Uddhav's son and Shiv Sena minister Aditya Thackeray blamed the Centre for the labour unrest.
"The current situation at Bandra station, now dispersed, or even the rioting in Surat is a result of the Union Govt not being able to take a call on arranging a way back home for migrant labour. They don't want food or shelter, they want to go back home," he tweeted. "Right from the day the trains have been shut down, the state had requested trains to run for 24 hours more so that migrant labour could go back home."
Aaditya said the chief minister had raised the issue in the video-conference with the Prime Minister and had requested a roadmap for migrant labourers to reach home.
A police source said the crowd at the Mumbai bus depot, near the railway station, had initially been pacified but scuffles broke out when food packets were being distributed by cops and volunteers. The workers dispersed after the lathicharge.
The workers also fell prey to a vilification campaign on social media and some TV channels, which sought to lend a communal colour to the protest, reporting that they had gathered near a mosque. There is a mosque in the vicinity of the railway station.
Minister Deshmukh warned of "action" against anyone trying to "spread rumours or create fissures among communities through WhatsApp, Facebook or any other social media platform during the lockdown period".
Congress MLA Zeeshan Siddiqui, who was part of the Maharashtra government's efforts to pacify the workers, said: "They don't want food any more, they just want to go home. We are supplying them with rations and telling them that they need to stay put for the good of the country, but they are scared of the uncertainty…."
He continued: "These men stay with at least eight others in small rooms and they are demanding that since they can't have any social distancing in the slums, they should be allowed to go back to their villages."
A police officer in Surat, where the workers had sat on a road in protest, said: "The migrant workers want to go to their native places. We have asked them not to be impatient because a lockdown is in force. Since some of them were complaining about food, we called an NGO and immediately brought food packets for them. The situation is now under control."
In Delhi, transport commissioner in charge Manisha Saxena said in a message to journalists on Tuesday night that it appeared that rumours were being spread that buses were available to go to the border. She requested the media to "strongly dispel this rumour and inform that no Delhi Transport Corporation buses or any other buses are available and the lockdown is to be strictly observed".
In a webcast address in the evening, Delhi chief minister Arvind Kejriwal spoke against the communalisation of the workers' bid to return home. "It saddens me that in the time of the pandemic, there are still people who are trying to create a divide between Hindus and Muslims.
"I observe on social media that even in times when the whole world is in distress, people are trying to create a rift between the two communities by posting hate videos and content," he said.