We know what we should do
Hijab controversy swivels spotlight on guiding documents on education
The National Education Policy, formulated by the Narendra Modi government, stresses on removing biases and stereotypes in school curriculum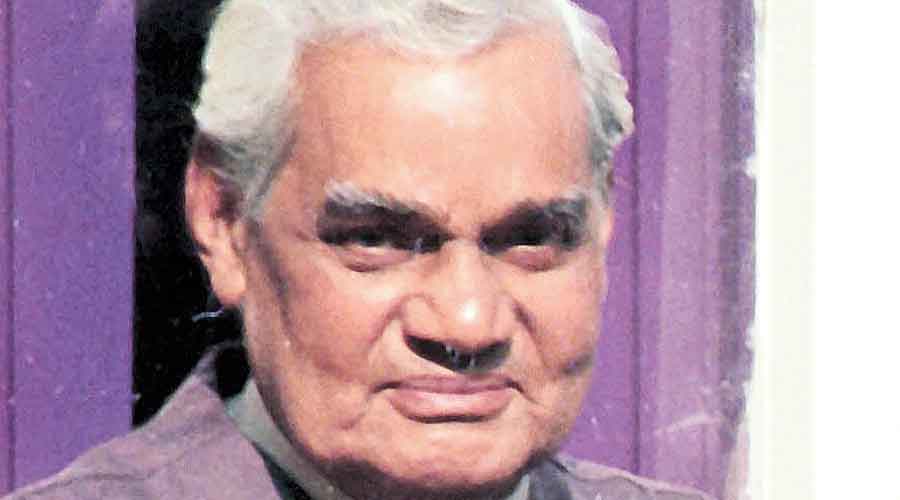 Atal Bihari Vajpayee.
File photo
---
New Delhi
|
Published 20.02.22, 02:16 AM
|
---
The hijab controversy has swivelled the spotlight on two guiding documents on education, both formulated under BJP regimes, that speak of religious tolerance and equality, caution against discrimination on the ground of religion and extol the need to respect diversity.
All these values have come under extreme stress because of the hijab row that has pitted students against students on religious lines in the middle of the Assembly elections in five states, including Uttar Pradesh. It can also be said that the failure to inculcate these values has led to the prevailing state of affairs in which howling hordes have chased a lone student and many girls have been shut out of educational institutions.
The National Curriculum Framework (NCF) of 2000, which was prepared by the National Council of Educational Research and Training (NCERT) when Atal Bihari Vajpayee was in power, had underlined the need for respecting religious diversity.
The National Education Policy (NEP) of 2020, formulated by the Narendra Modi government, stresses on removing biases and stereotypes in school curriculum.
Former NCERT director J.S. Rajput, during whose tenure the NCF was drawn up, said the controversy over the hijab was more political and suggested that such disputes should be left to the institutions to handle.
"The NCERT thought of a long-term strategy for social cohesion and religious amity in the country. The NCF, released on November 14 (Children's Day) in 2000, had recommended that children should be made aware of the basics of all religions and they should respect the diversity in religious practices wherever they exist," Rajput said.
The NCF of 2000 said: "What is required today is not religious education but education about religions, their basics, the values inherent therein and also a comparative study of the philosophy of all religions. These need to be inculcated at appropriate stages in education right from the primary years."
The NCF of 2000 said: "Students have to be given the awareness that the essence of every religion is common, only the practices differ. The students should also be led to believe that differences of opinion in certain areas are also to be respected."
It added: "All steps must be taken in advance to ensure that no personal prejudice or narrow-minded perceptions are allowed to distort the real purpose of this venture and no rituals, dogmas and superstitions are propagated in the name of education about religions. All religions, therefore, have to be treated with equal respect (Sarva Dharma Sambhav) and that there has to be no discrimination on the ground of any religion (Panthnirapekshata)."
The NEP of 2020 says school curriculum will include, at an early stage, materials on human values such as respect for all persons, empathy, tolerance, human rights, gender equality, non-violence, global citizenship, inclusion and equity.
"It would also include more detailed knowledge of various cultures, religions, languages, gender identities, etc, to sensitise and develop respect for diversity. Any biases and stereotypes in school curriculum will be removed, and more material will be included that is relevant and relatable to all communities," the NEP states.
Rajput, who was principal of the Regional Institute of Education in Bhopal, a branch of the NCERT, for 11 years in the 1970s, said nobody should play politics over the hijab controversy or resort to provocation.
"When I was the principal of RIE Bhopal, I never saw any Muslim student wearing the hijab and coming to the Demonstration School on the campus that provided schooling to children up to Class XII. It is a recent trend. But if there is a controversy, I appeal as an elderly teacher that let the issue be decided by the children and the school. There should be no external provocation. No political tricks should be played on these issues," Rajput said.
Prof. N.K. Ambasht, former chairman of the National Institute of Open Schooling, a central government board, said schools prescribed uniforms for students with the aim of ironing out differences between economic classes.
"There is no specific policy prescription on what students can wear or not. The schools locally decide their uniform. Higher educational institutions largely do not have the concept of uniform. If there is any dispute over dress despite a prescribed uniform, the matter should be left to the school authorities," he said.
Ambasht said wearing the hijab or the burqa to school might facilitate impersonation and exam malpractice.
The guidelines of the Kendriya Vidyalaya Sangathan (KVS) on uniform allow Muslim students to wear headscarves of certain specifications.
Prof. N. Sukumar, a faculty member of political science at Delhi University, said the hijab row had taken a political turn. Matters related to dress should not have been communalised, he felt.
"Another concern is that such controversies may now be witnessed in colleges and universities which do not have any dress code," Sukumar said.