High false positives result in mammogram, says research
The new study hasn't seen much difference in false positive rates between 3D and 2D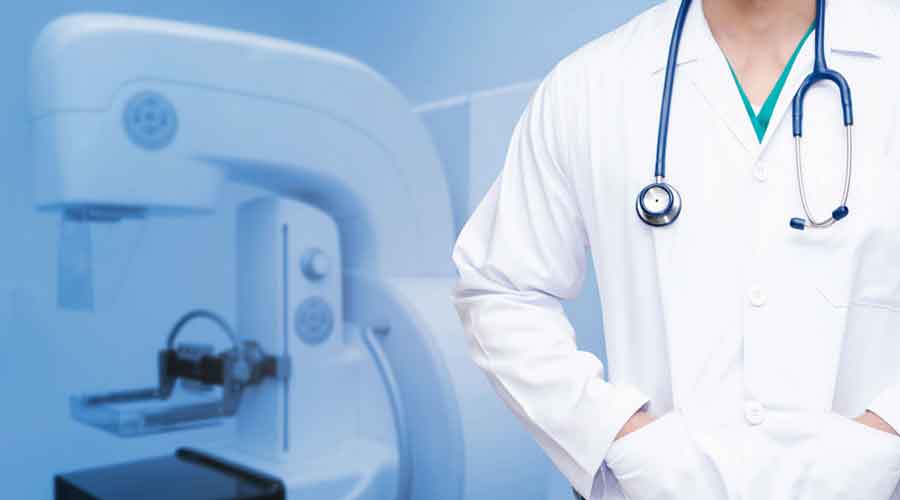 Representational image.
Shutterstock
---
New Delhi
|
Published 26.03.22, 01:53 AM
|
---
Half of all women who undergo annual mammograms receive at least one false positive result every 10 years, according to research released on Friday that doctors say underlines the importance of patient-physician discussions to decide test intervals.
A false positive result — an abnormal mammogram scan even though there is no breast cancer — can mean heightened anxiety, extra imaging and biopsy procedures for patients who do not have cancer. A mammogram is a non-invasive diagnostic imaging test done with low-energy X-rays whose use is being increasingly encouraged for possible early detection of breast cancer.
The study by US researchers has found that over 10 years, 50 per cent of women who had periodic 3D mammograms had at least one false positive result, 17 per cent had short-interval follow-ups, and 11 per cent had received biopsy recommendations.
A biopsy is a much more rigorous test that mostly provides accurate results.
Among women who had periodic 2D mammograms, 56 per cent had a false positive result, 18 per cent had short-interval follow-ups, and 12 per cent received biopsy recommendations.
The study was published in JAMA (Journal of the American Medical Association) Network Open on Friday.
Many diagnostic centres in India provide 3D mammograms — also called digital breast tomosynthesis — that doctors say improve cancer detection rates and reduce false positive findings in comparison with 2D tests through improved imaging of tissues.
But the new study hasn't seen much difference in false positive rates between 3D and 2D. "We were surprised that the newer 3D technology in breast cancer screening does not substantially reduce the risk of having a false positive result after 10 years of screening," said Thao-Quyen Ho, a radiologist and research fellow at the University of California, Davis, School of Medicine, and member of the study team.
According to the study, while 12 per cent of 2D mammogram screenings were recalled for follow-ups, only 4.4 per cent of those recalled, or 0.5 per cent overall, concluded with a cancer diagnosis.
The researchers analysed the outcomes of periodic mammograms on over 903,000 women aged between 40 and 79 years who were screened between 2005 and 2018. "Despite the benefit of screening mammography in reducing breast cancer mortality, it can lead to extra imaging and biopsy procedures, financial costs and patient anxiety," Diane Miglioretti, a biostatistician and study co-author at the UCD department of public health, said in a media release.
Her colleague Michael Bissel, an epidemiologist, said the study's findings highlight the importance of patient-doctor discussions that consider a patient's preferences and risk factors before deciding on screening intervals between the mammograms.